Kāpiti's restored Whareroa Farm 'Kiwi Caravan' now features a stunning large scale mural around it.
Reflecting the landscape, the mural comprises Kāpiti Island, Tararua Ranges, native flora and fauna and is designed to be viewed from all sides.
Over the last year the caravan, used on nearby Kāpiti Island by the National Provident Fund from 1980 for work on little spotted kiwi, has been restored for Whareroa Farm.
Flown over from Kāpiti Island to Whareroa Farm in 2015, it has been restored by Kāpiti Menzshed over the last year.
The last step to be completed was a mural by artist Julie Oliver.
The mural is inspired by its location, with Julie not starting work on it until she knew its exact location and could evaluate its positioning and facing.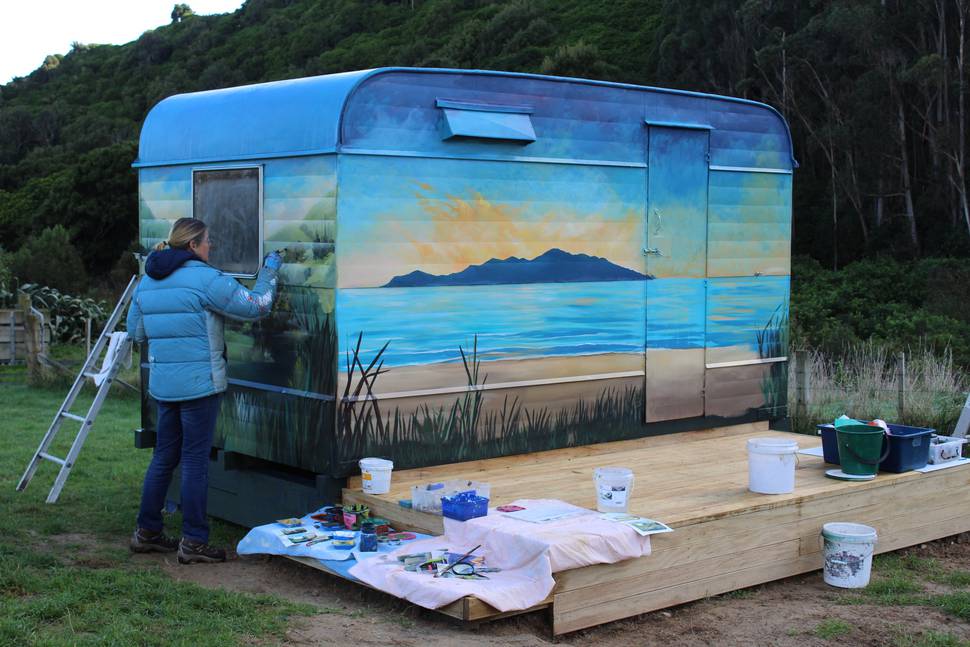 "Every job required a unique angle," she said.
"I had to get down to the location and get as much knowledge as I could.
"When I got there, questions started to arrive, conversations happened, and then I get a clearer picture and just went for it."
Julie's process normally took around four days but the conditions were challenging.
"My first thoughts when I arrived at Whareroa were 'what another stunning location, how lucky am I to be an artist in this industry?'
"I then got familiar with the native plants and became familiar with where the Whareroa Guardians were at with the restoration process, what flora and fauna there is and what it might look like in 10 years' time.
"Talking to both the Department of Conservation and the Whareroa Guardians and finding out the history of the place was a very integral part of what's involved in analysing the situation.
"I started by getting colour on there and not messing with it too much.
"I'm not an artist that plans mathematically — I don't think this kind of art should work that way."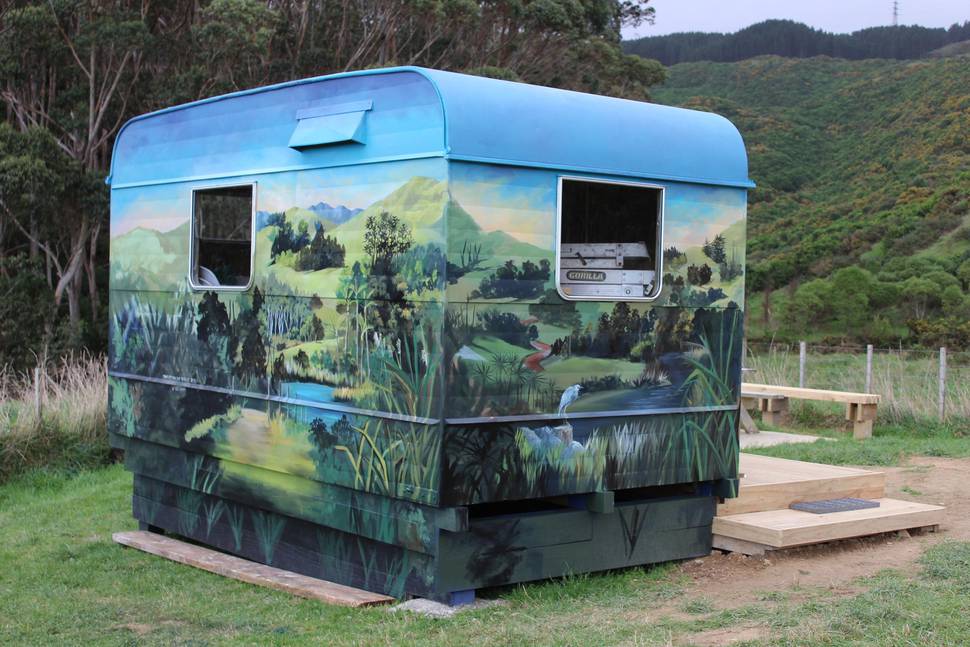 However this process nearly unravelled after Julie found the conditions very different to her previous experience painting outdoor murals at Rangiwahia Hut.
With at least seven or eight layers of paint on each side, a reflection of her fine art background, each layer was expected to take about 20 minutes to dry — on a good day however at the farm the dampness and challenging environment turned the project into a bigger project than expected.
"I had to evaluate the conditions when I got there and this has turned into a seven or eight-day project.
"So unfortunately the mural will not be finished before winter.
"But be reassured that it will be one of the best."
Finishing touches to the mural will be done in August.
The opening of the caravan hub will take place on June 3 which coincides with the celebration of the kohekohe flowering, a unique plant which only buds every few years.
The celebration of the caravan opening and kohekohe flowering is on Sunday, June 3 at 10.30am, Whareroa Farm, Mackays Crossing, Paekākāriki.