Sketchy Rides is the catchy name for Foxton artist Jenny Benfell business of custom-made drawings of people's treasured possessions, such as classic cars, houses, truck, stock cars or motorbikes.
Her work is popular among owners of classic vehicles.
The former Hamiltonian moved to Foxton six years ago with her family as her husband is from Foxton.
"I have always enjoyed drawing and have worked in pastels, done carving, woodwork and painting as well," she said. She admits that art wasn't quite her thing while in school.
Her Sketchy Rides are done in pencil. Initially she worked in black pencil only but now does colours too. She is a big user of these pencils.
"I go through at least 10 black pencils a week."
"It all started two years ago with a Christmas gift for a classic car owner in our family. I did at least 20 drawings of classic cars immediately after that and we decided to go to Beach Hop in 2017 and show some of those drawings.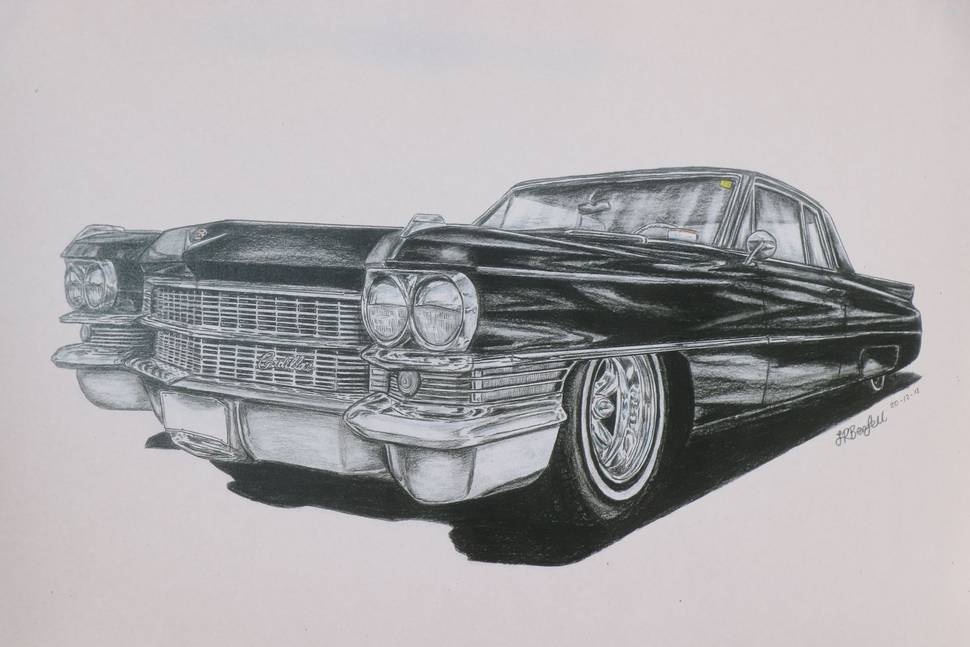 "It went crazy after that," she said. "Now I do at least six a week."
She said she enjoys being creative, and though classic cars and motorbikes are popular she also does drawings of other things, such as houses. All she needs is a good photo or two. Motorbike drawings are the hardest, because a large part of the engine is visible and those details are very intricate.
"My husband loves cars and bikes, so he makes sure I do it all correctly," she said.
"We both love going to Beach Hop together and this year we did Shannon's Car Spectacular for the first time. It is a great opportunity for him to explore these shows and talk to car owners."
He also acts as her eyes and ears and takes pictures if needed of the cars people want a drawing of.
She did a drawing of a stockcar for the first time last year and has done 30 more since then. She said each drawing is unique to the owner. Though she keeps a copy of each drawing, she does not offer any for sale other than to the original customer.
She's also done the rebranding of a car business.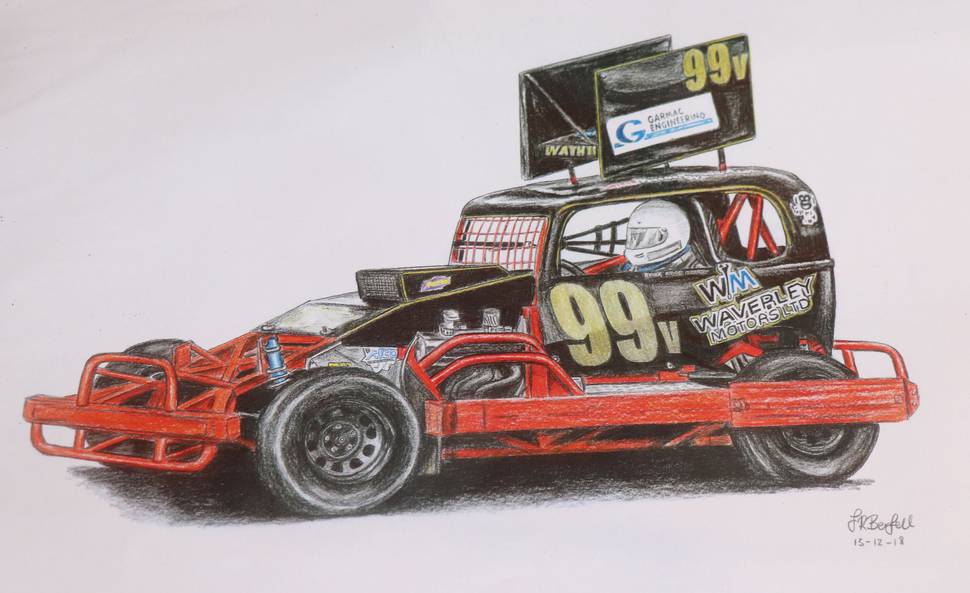 Her drawings have gone beyond the North Island to the South Island, Australia and the UK. She is keen to explore other options, such as doing murals.
"For now I paint on the walls in my kids' bedrooms. I think every home should have some original art on its walls," she said.
She works on A4 sized paper up to A1, because she cannot get quality paper larger than A1.
She works from home, so her work fits in with family demands.
She uses good-quality non-wax pencils and high-quality acid-free paper to ensure the drawing lasts for years. She supplies just the drawing but said many customers frame the drawings themselves. Framed drawing are just too hard to transport.
They are dispatched in either a protective sleeve or a tube, depending on the size of the drawing.
"If they get the frame themselves they can choose something they like or what fits with their decor."
She said that once the drawing is done there are other possibilities for the clients to help promote their team, such as calendars, t-shirts, posters, flags or stickers.
While each drawing takes days to do, she keeps prices low. An A4 drawing of a car costs $90 in black and white, $100 in colour, while A3 prices are $170 to $180.
A stock car, motorbike or truck costs $210 for A3 in black and white, $230 for colour. Those prices are for one vehicle in each drawing.
For more information ph 0275123370, email sketchyrides@hotmail.com or find Sketchy Rides on Facebook.