Construction progress is advanced on Onehunga Bay Terraces with a three-bedroom freehold terrace house completed onsite as an example of the first residences due to be completed this July.
The 44-dwelling complex by developers Avanda Group delivers six three-storey buildings, 38 three-bedroom terrace houses across five buildings and a well-advanced sixth block of six one-bedroom apartments. They're walking distance to the train station, Dressmart, Onehunga Mall's shops and eateries and local schools.
Avanda Group project manager Joe Holden says: "We're really pleased with how they are coming along and I know for myself from being here onsite what a great local community this is, with lots of cafes and parks nearby."
The 5575 sq m community sits just 200m from Onehunga Bay Reserve on the corner of Church Street and George Terrace.
The display terrace house, which is available to buy, is complete bar finishing touches such as landscaping and lawn. Its exterior contrasts bricks and powder-coated panels accented by louvers and screens.
All terrace houses have the same floor-plan with end dwellings having extra windows along one face. There's second car parking spot outside its internal-access single garage.
An alternative to the front door lock incorporating keyless entry is a keyed ranch-slider into the ground floor bedroom, accessed after opening the garden gate on the property's fenced Church Street boundary.
Joe says: "Being here you can see Church Street isn't particularly busy and George Terrace is even quieter."
The entrance hallway introduces that ensuited ground floor bedroom with ranch slider out to the dedicated courtyard.
The second level's open-plan kitchen-dining-living opens out onto a north-facing deck topped with a pergola.
The smart kitchen includes a Fisher & Paykel dishwasher, hob and oven. Duo Design chose engineered stone bench tops, white and timber-look cabinetry and white tiled splash backs. Dark fixed shutters outside windows add privacy and sun protection. The cupboarded laundry is off the living space.
On the top level Joe says: "I think these raised ceilings look fantastic."
Both upstairs bedrooms flanking the upstairs bathroom feature partially raised dormer ceilings vaulting much of the ceiling to about 3.4m-high, enhancing spaciousness.
Bedrooms feature a mechanical ventilation system to bring air inside when double-glazed windows are closed. The northerly bedroom's wardrobing is quadruple width.
Joe says: "All the fittings and fixtures are exactly the same in the one-bedroom apartments as in the terrace houses."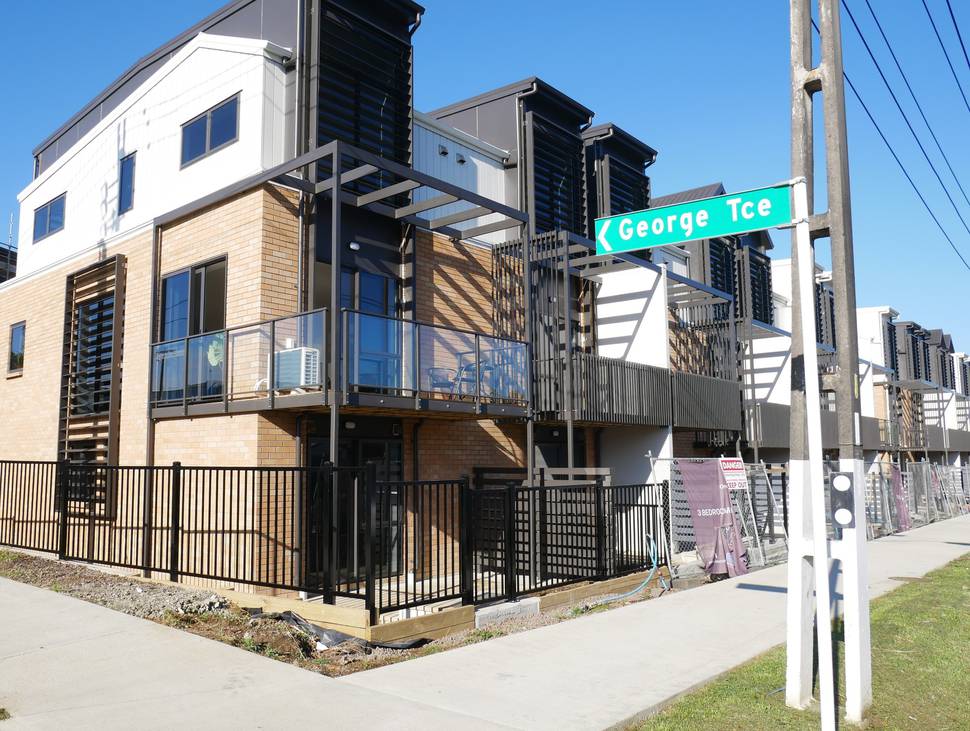 The six apartments are two-to-a-level in a three story brick block with the uppermost two apartments featuring those partially raised dormer ceilings seen in terrace houses' top floors. Layouts have open-plan living-dining-kitchen — opening to a deck on levels one and two — one bedroom and a bathroom integrating a cupboarded laundry.
All but the least expensive apartment come with an open-air parking spaces alongside the building. The complex's pocket park will feature lawn and big boulders for children to play on.
The address is a short walk from landscaped seaside Taumanu Reserve with its walkways, 10 minutes drive from Auckland Airport and 25 minutes off-peak to Auckland's CBD. It's handy to Onehunga Wharf which Auckland Council bought last July as part of a vision to transform it into a new community retaining its seafaring history with cafes, retail, public spaces and homes in up to five years.
All residences pay a compulsory $730-a-year residents' society fee; apartments only (as terraces are freehold) pay about $2563 to $2685 annual body corporate fee which includes this resident's society fee.
The first two blocks of terrace houses are scheduled to be completed for July possession and the remaining four blocks, including the apartment block, completed for September possession.
• What You Need To Know: Onehunga Bay Terraces at 23 Church St, Onehunga features a range of terraced homes and apartments.
• Options: A) Freehold terrace houses with courtyards, three-bedroom, two-bathroom, 138-144sq m home on 88-155sqm of land; priced from $939,000, all with single internal-access garage and one open-air car park.
B) Apartments, one-bedroom, one bathroom, 52-53sqm (plus 7sq m balcony on level 1 and 2); priced from $535,000*.
• Annual Fees: All residences pay compulsory $730 residents' society fee; apartments only (as terraces are freehold) pay approx. $2563 to $2685 body corp fee which includes the residents' society fee.
• Inspect: Corner of George Terrace and Church St, Onehunga, Thursday to Sunday, noon to 2pm.
• Schools: Onehunga Primary, Royal Oak Intermediate, Onehunga High School.
• Contact: Sherryl Todd, Colliers, 021 222 6308.
• On The Web: OnehungaBayTerraces.co.nz
*SHA terms and conditions apply