Twenty-seven years ago, when Debbie Slater's husband John asked her how much money they had in the bank, she didn't realise he was planning to buy a new property. When she answered him, he said: "We're going to sell our house and build".
They put their Blockhouse Bay house on the market and it sold in a week. With nowhere to go and Debbie pregnant, they moved in with her brother and started looking for land.
"We found this block and decided to build what we could afford and finish it later," Debbie says.
The choice of a 1.2ha block in Kumeu was based on John's desire to give his family the same sort of lifestyle he'd had as a child — country living with pet lambs, goats, dogs and a school that had ag days.
He drafted up a design for the house according to a fairly simple wish list — two lounges and lots of bedrooms for visiting family members.
John lived in a caravan on site and Debbie lived with her brother, and as soon as the house was habitable, they moved in.
"We lived downstairs while we finished the upstairs, and then we moved upstairs and finished the downstairs," Debbie says.
A lot of thought went into creating a functional, versatile home. There are the five large bedrooms that were top of the original wish list, two bathrooms, a study, three separate living areas, which open via French doors to the outdoor living area, and an entertainer's kitchen which was recently updated with stainless steel appliances, white cabinetry, glossy black benches and tiled floors.
The ground floor is built of brick and the upper storey is clad in weatherboards, with a tiled roof. Four dormers at the back and three at the front give it a classic, country look.
But practicality wasn't the only consideration in putting the design together. John and Debbie wanted a substantial outdoor living area, and commissioned an expansive terrace with an in-ground, solar-heated pool, a spa room with its own shower, a covered dining pavilion, and a petanque court.
The spa room is a favourite space. It's timber lined with bifold doors and windows of louvred timber on three sides, and deep blue and lime green tiles to give it a Pacific flavour.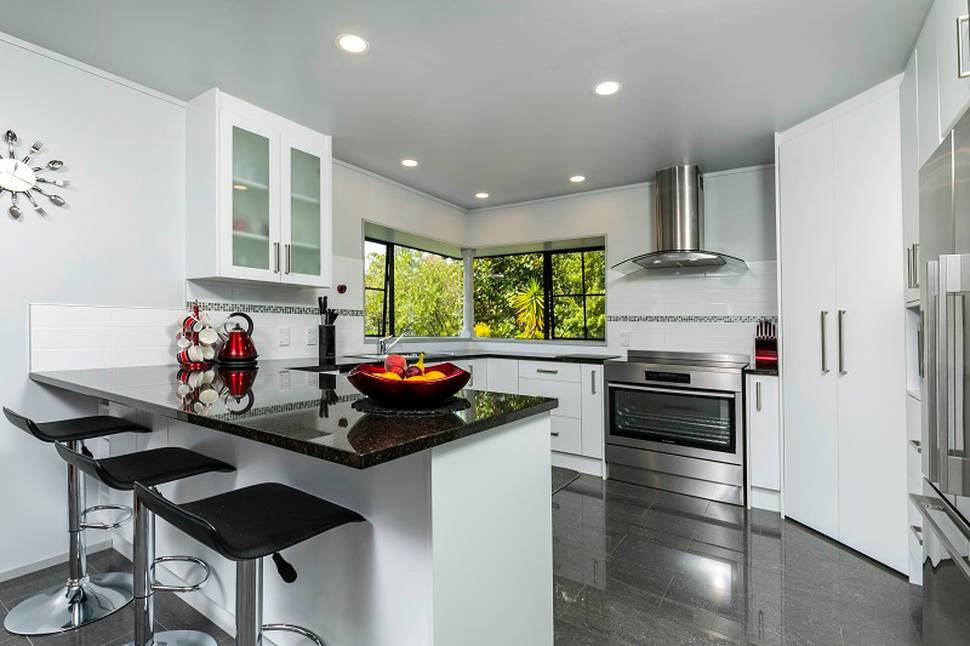 The matching dining area is open-sided and sits on a timber deck area.
The outdoor living space was designed to match the architecture of the house. On the far side of the pool, opposite the house, there are three triangular planter boxes that reference the dormer windows.
John and Debbie have planted many trees around the property, which was originally an old apple orchard.
There are now manicured lawns, mature gardens, specimen trees and fruit trees, all bordered by good-looking shelter belts.
Many of the plants came from cuttings gathered from John's mother's Remuera garden, and it's Debbie's plan to do the same again, taking another generation of cuttings to their next home.

Where that might be is undecided, but the plan is to spend time at the house they own in Taupo, so they can figure out their next step.
59 MOTU RD, KUMEU
• 5 bedrooms, 2 bathroom, 5 parking spaces.
• Home 270sq m, land 1.2ha.
• Price: By negotiation.
• Inspect: Today, noon to 12.30pm.
• Schools: Huapai District School, St Paul's School, Massey High School.
• Contact: Jayne McCall, Bayleys, 021 968068.