Want a house design that's out of the box? Tania and Trevor Newman may be the people to talk to.
In 2004, the couple had three small boys and were debating whether to buy a bach.
Tania had spotted a 1970s house on the Manly Esplanade. "We changed our plans, and thought, why not live on the beach, year round," she says.
"But the house didn't work — the best views were from the garage, all the kitchens and living were upstairs, so there was no flow to the outside.
"You couldn't tell the boys to run outside to play — outside was downstairs and hard to get to."
The couple back-and-forthed for a while, then five years ago decided to do a major renovation. Perhaps more major than they'd envisaged ... pretty much everything is new.

They couldn't be more delighted with the lifestyle it's given them, their boys, now aged 13 to 17, and Tania's parents, Cliff and Wendy.
"We hear the house was built on what was the local tennis court," says Trevor. "But council wasn't sure it was up to modern building code, so we had to re-do whole sections of the concrete floor.
"We built the second dwelling for Cliff and Wendy, putting in all the regulation firewalls to make it all legal.
"And our neighbours were good enough to let us build a new garage to their boundary, so I now have a four-car garage for my rally car and workshop, and boys' gym gear and stuff ... lots of stuff."
The couple's best moment was when they realised that they could turn the old garage, with its views to the esplanade and beach, into living space. In went floor-to-ceiling bi-fold doors and hedging to create a private courtyard. They pushed out the back of the house to create a kitchen, sliding in a second sitting room/media room and guest bathroom.
They wrapped the whole house with a deck covered in louvre ceiling. It holds a sitting room, dining room, Trevor's pizza oven and barbecue and is the family's main living space from spring through to autumn.

At the front there's a boardwalk entrance, complete with tropical planting and dramatic evening lighting. At the back is a vegetable garden, with its own water tank (supplied from the roof of the house) and mini barn. There are also fruit trees.
Next to the spa pool the family tucked in a little cabin, a triumph of tiny-house design: built-in seats can be converted to a giant bed.

Tania rearranged the kitchen to feed a crowd and added drawers under the dining room bench seat to hold games and gear.
The couple built a feature wall of vintage apple crates — which will be staying in the house — adding bottles and other finds that were excavated during the renovation and garden build.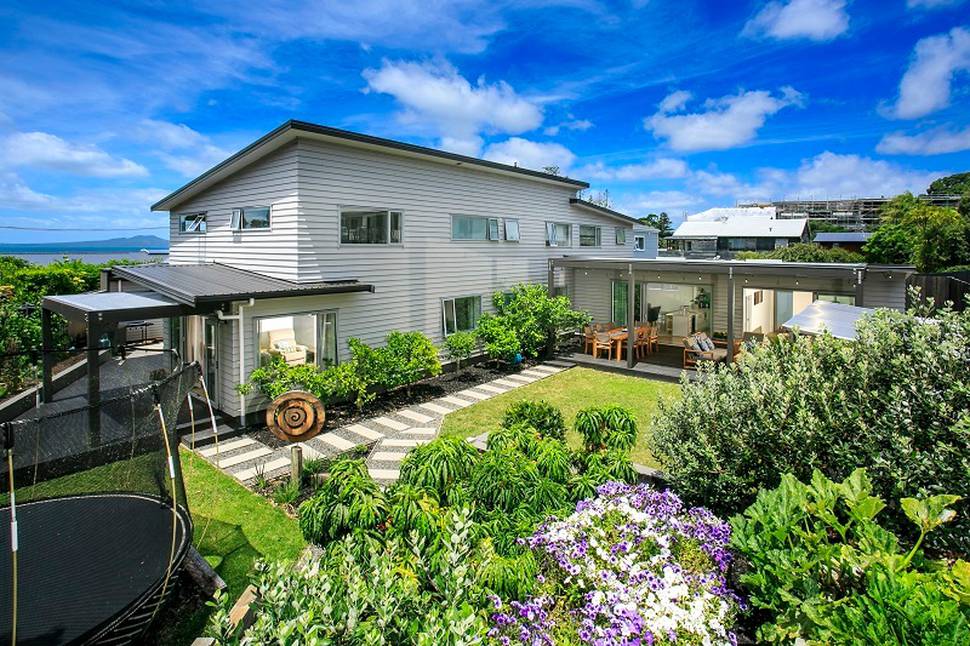 But it is upstairs where Trevor and Tania finally got to enjoy their labours. The original kitchen and living room became the couple's master bedroom , with en suite, walk-in wardrobe and office.
The finishing touch, added only last year, is their own private balcony.The boys each have their own double bedroom, plus there's a fifth guest room, all sharing a modern bathroom.
Downstairs, Wendy and Cliff love their two-bedroom flat, with doors that open to their own private decks and a service courtyard.
The family have loved sharing school pickups and weekend meals, and the convenience of a walk to the shops and cafes of Browns Bay village.
But now the extended family are upping sticks to work on another house further up the bays and closer to more extended family.
29 MANLY ESPLANADE, BROWNS BAY
• 5+2 bedrooms, 2+1 bathroom, 4 parking spaces.
• House 279, plus 86sq m, Land 971sq m.
• Sale: By negotiation.
• Inspect: Sun 11am to noon.
• Schools: Torbay, Northcross Intermediate, Long Bay College.
• Contact: Mehran Zareian, Barfoot & Thompson, 021 023 02469 Geraldine Zareian 021 184 0312.