Sellers often worry when the weather's not great for their open homes, but Julie O'Toole's introduction to her family's home of the last 14 years goes to show this needn't be a deal breaker.
She says: "It was wintery; we first saw it in the rain and we'd been looking for a property for about six months.
"We drove down the end of the cul-de-sac in that rain and came in and looked down the hallway and I had this feeling of 'Oooh, I think this is it.' It felt warm and friendly."
Mind you, this charming home has so many often-sought features that it might have appealed even in a hurricane.
It has street appeal, 1906 villa charm, multiple living spaces, and an attractive flat section, all bundled up in a quiet location at the end of a cul-de-sac.
Julie says: "I grew up on a farm in Southland and you hear less traffic noise when you wake up here than you did there."
Julie, who works in a strategy role at Coca-Cola, lives here with daughters Mia (13), Francesca (11), her husband John O'Toole — a business consultant she married last year — and their cat, Rosie.
She says the no-exit road is a friendly little community where children ride their bikes and scooters. "A lot of the neighbours know when our fejoa tree is dropping and they come knock on our door and ask, 'can we take some fejoas please?' So they're hoping we'll sell to someone who'll let them carry on doing that."
The street is zoned for popular schools and school buses go past the family's gate.
They're within walking distance to Dominion Rd, Kingsland and its train station, handy to the CBD and enjoy the celebratory atmosphere when there's a game on at nearby Eden Park.
The villa's front veranda provides shade on sunny days and there's plentiful of off-street parking in the driveway.
Julie says: "I think I create warm, family spaces people want to come into."
She'd been impressed with European home-heating during a stint living in Denmark and had gas central heating installed here after Mia was born.
The villa's interior showcases multiple character features including high beamed ceilings, ceiling roses, sash windows and matai floors. The three bedrooms off the central hallway are good sizes with decent wardrobing.
Then there's a butterscotch coloured lounge adjoining a wine-coloured rear dining room which opens out to the back deck.
The dining area has a servery-style opening to the kitchen, which is slightly older style but appealing with its timber cabinetry and timber and stainless benches.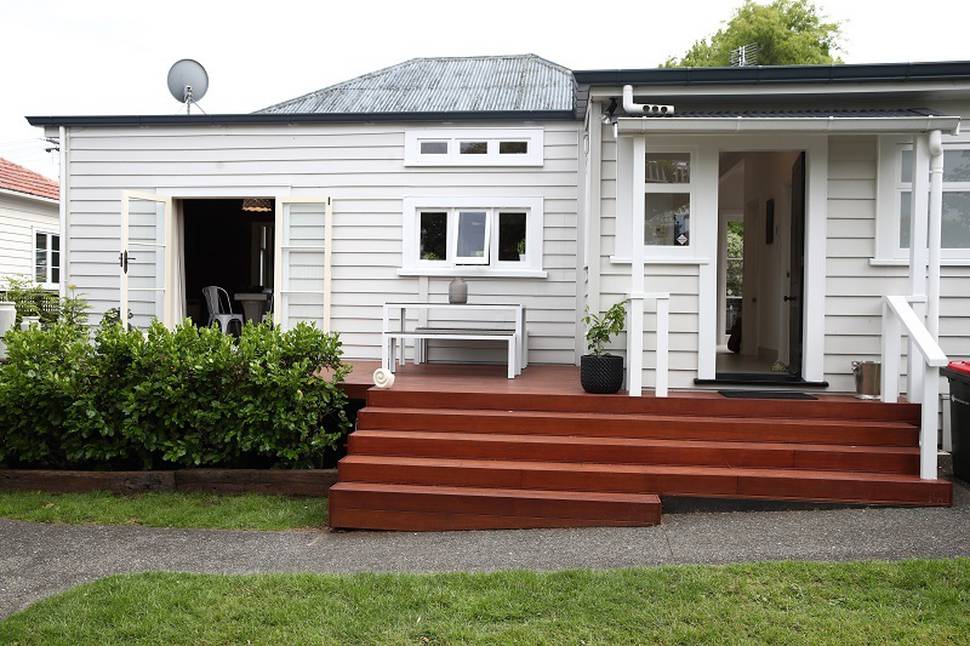 Julie says: "The kitchen is probably one of the least decorated but most loved places because we spend a lot of time in there together."
Visitors often comment "oh, there's more" when they spot a side rear extension, which would have been built earlier in the villa's life but has been extensively renovated of late.
There's a light-filled second living area opening to its own little deck, a smart laundry area and a modern bathroom with under-floor heating Julie had overhauled using interior design advice from online service decorilla.com.
As well as the back deck, lawn and fruit trees the fenced backyard features what 11-year-old Francesca might argue is the property's most brilliant asset — a tree-house.
Julie's household has adored living here but are Epsom-bound, where Mia will explore her love of English and literature at Epsom Girls' Grammar and be closer to her ballet academy, MEBA.
21 WARD TERRACE, SANDRINGHAM
• 3 bedrooms, 1 bathroom, 1* parking spaces.
• Land 506sq m, house 130sq m.
• Auction: Nov 28.
• Inspect: Sat/Sun 1.30-2pm.
• Contact: Julie Davies, Harcourts, 0275 299109 or Richard White 021 051 8404.
*Plus 4 OSP