Character homes are all the more enticing when the stories and whims of earlier owners emerge. This handsome villa, built around 1910, holds delightful glimpses of those who lived here before Melinda Syzmanik and James Norman arrived with their three young children in 1999.
Melinda, an award-winning children's author, says the house was originally a return verandah villa. When architecture styles changed in the 1930s, it was given a stylish Art Deco makeover.
Along with a stucco and brick exterior, timber beams and pressed tin ceilings were installed inside. Striking honey-toned, glazed tiled fireplaces became focal points, and arched Art Deco sun motif windows trained the eye to sweeping garden and mountain views. Art Deco leadlights added elegance high along the front aspect.
FOR MORE PROPERTY NEWS AND LISTINGS GO TO ONEROOF.CO.NZ
Set in an alcove in the dining room, a built in timber cocktail bar with a flip-top lid sits against a dramatic 1960s black wallpaper featuring champagne glasses and a classic 60s radio is built into the wall above.
Then there is the cute self-contained cottage in the large rear garden.
Melinda and James were both enamoured with the home's sense of space; the high ceilings as well as the character when they bought the property. It also fitted the bill for top school zones for the children and it was also an easy stroll to Mt Eden village with its cafes and restaurants.
However, they were not so keen on the wallpaper and the tiny kitchen with bathroom next door.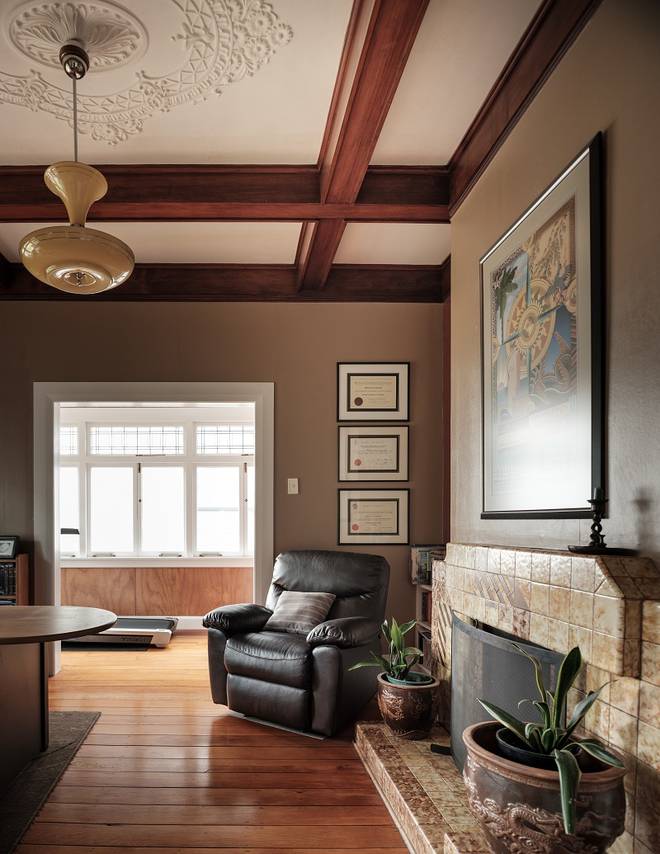 Renovations began in 2004 and Melinda and James opened up the rear portion, to create a spacious modern kitchen reaching through bifolds to a large deck that catches the afternoon sun. All windows in the back part of the house were double glazed.
"The people before us had two daughters and they all fitted on the ground floor. But three children was one too many," says Melinda, so they were keen to make much better use of the space.
A bathroom became another downstairs bedroom and they were delighted to find more space for the girls in a generous attic.
"They must have planned to put bedrooms up here when they renovated in the 1930s," says Melinda, "because there was already a window in place."
To provide versatility, the bedrooms are separated by a sliding timber panel. Large Velux windows fill these upstairs rooms with light and look over the neighbourhood.
Melinda and James' eldest daughter is an artist so an adjoining study is her studio while Melinda works from the office downstairs.
The cottage was updated to become the perfect freestanding guest house with a new bathroom and stained plywood walls.
Both James and his son play football so the expansive lawns have provided ample opportunity to set up goal posts. The family no longer needs a big garden nor a big home, so are heading for a central Auckland apartment.
24 VALLEY RD, MT EDEN
• 5 bedrooms, 2 bathroom, 2* parking spaces.
• Land 1186sq m, house 230sq m.
• Inspect: Sat/Sun 1-1.30pm or by appointment.
• Auction: 18 Nov, 1.30pm onsite.
• Schools: Auckland Grammar, Epsom Girls' Grammar, Mt Albert Grammar, Auckland Normal Intermediate, Mt Eden Normal School.
• Contact: Rick Mozessohn 021 042 5512, Ray White, Jared Cooksley, 021 913 518, oneroof.co.nz/1211871
*4 OSP