Ian and June Hendry didn't look back when they replaced their holiday home in the Bay of Islands with this waterfront gem in Omaha.
Ian says although lovely, the Bay of Islands property didn't work for weekends.
"It was just too far to drive for a couple of days. We were looking for somewhere else and on Saturday morning we picked up Herald Homes and this property jumped off the page at us.
FOR MORE PROPERTY NEWS AND LISTINGS GO TO ONEROOF.CO.NZ
"It looked stunning so we went and had a look and two days later we bought it."
That was 19 years ago and Ian — co-founder of Sovereign life insurance — says the property has been wonderful.
"We're totally waterfront — it's just a beautiful property."
You can go to the end of the lawn and jump into the sea for a swim or kayak, or you can sit back on the deck to watch visiting dolphins.
"Dolphins come right up to the estuary and they're happily playing right in front of our property."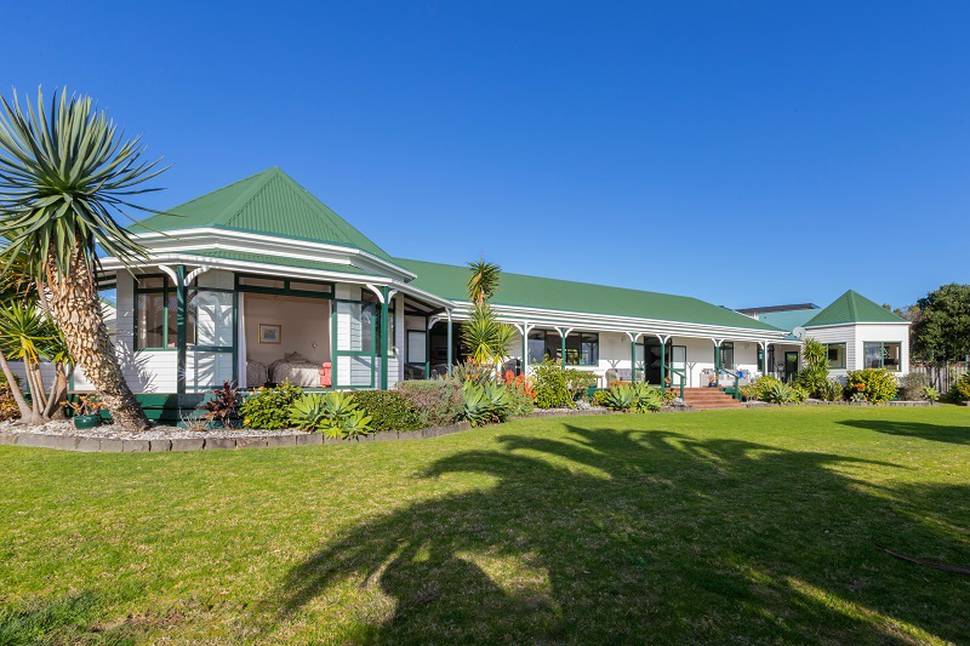 Not only is Omaha special, their property is the largest harbour-side, waterfront site.
The design of the house is also appealing, Ian says. Where most of the other houses are square, this one is long and low (though a metre off the ground) with a green roof and turrets at either end.
"It's an unusual house. It's a Queenslander, so it's different to most other houses in the area.
"It's a fantastic entertainer's house. In Omaha we have a group who meet every Friday night socially and everyone loves coming to our property because it's just such an ideal place for entertaining.
"We've got big decks on the waterfront and in the summer, sitting there with the barbecue and a glass of wine, looking out at the water is just stunning."
June says they loved the house so much they decided to live in Omaha for 10 years before buying in Milford to be near her 94-year-old mother.
They did a lot to the house when they bought, including upgrading the bathrooms and kitchen "and just about everything really".
There is a big kitchen with the cooker in the centre and seating all around, so the kitchen is a place where everyone gathers, June says.
The dining and lounge areas are open-plan and all rooms flow to the deck. June loves how each end of the house has a turret, one of which is the master bedroom, which also has a walk-in wardrobe and en suite.
"Every room has a view to the water," says June.
The couple built a library and there is underfloor heating, an HRV system to purify the air, plus HRV water filters to keep the water pure.
They are only two minutes from the golf course and the bowling club, and in the other direction is "the best boat ramp in the area".
They are on the estuary side of the sandspit and say this side has ramps that people with Sealegs (amphibian craft) use to drive down to the water.
Within minutes is Matakana, with its restaurants, cafes, cinema and markets, and Warkworth, now a major town.

Or, you can just stay in Omaha.

"We think the people who live there are privileged to live there," Ian says.
"It's a very social place. It's got a golf course and bowling greens and one of the best beaches up the east coast — it's just a fantastic beach.
"It's got a surf club, it's got a little shopping precinct with a superette and a cafe."
And it's an easy commute from Auckland, roughly 50 minutes.
The journey will shorten again when the motorway extension is completed around 2020.
Ian says tension falls away when you arrive in Omaha. "As you go over the causeway you're entering a different world and you're very conscious of that."
The couple, who are retired, are moving to Queenstown to be nearer family and are equally sad and excited, Ian says.
"We're sad because it's been a fantastic house for us. It's in such a beautiful position and we've got some terrific friends.
"We're going to miss all that, but we are keen to move on to the next stage of our life."
175 OMAHA DRIVE, OMAHA
• 4 bedrooms, 3 bathroom, 2* parking spaces.
• House 272sq m, land 1197sq m with a 45-metre wide waterfront boundary.
• Price: Above $3.5 million.
• Set date of sale: Offers close 4pm, Sept 21 (unless sold prior).
• Inspect: By appointment only.
• Schools: Matakana Primary, Snells Beach Primary, Warkworth Primary, Mahurangi College.
• Contact: Paul Elsden, 021 936 011, Joneen Smith, 021 464 557, Bayleys, oneroof.co.nz/1185727