When Lex and Karen Mills started modernising this home near Waiuku, they didn't anticipate doing a full renovation.
"When we first purchased it, we loved the house and the way it flowed and the openness of coming up the stairs and seeing down to the lounge," says Karen.
But she had a vision that would open up the living space. And she wanted to modernise the decor away from its English style when the home was built in the early 1990s, to neutral colours more in fitting with the bush surroundings of their 1.788ha country property.
"The home is now a classic style and timeless," she says. "I like things simple but sophisticated. It has beautiful textured wallpaper throughout.
"I have used bush colours, subtle greens and golds. There is a splash of some burgundy here and there."
The couple bought this property about 14 years ago. Lex had the New World supermarket at Waiuku and when their youngest son finished school in Auckland they decided to move south, lessening the commute for Lex.
"We became very involved in the community. It wasn't just a money making business to us," Lex says.
But Karen and Lex also wanted to have a physical distance between work and their home, and this property offered that, being 8km from Waiuku.
"We are secluded here," says Karen. "People don't know we are here, we aren't visible from the road."
Les knew the area well as, when he was growing up in Papatoetoe, he had been a surf lifesaver at Kariotahi for many years.
"And it was nice to be part of a small community," says Karen. "He knew a lot of the locals, so it made sense for us to move here once the boys were at uni."
Having the home and a 1986 American style barn that had been a fruit packing shed with accommodation appealed as it meant when their three sons came to stay, they could have their privacy and bring their friends as the barn has bedrooms, living spaces plus a gym area and room with a billiards table.
The main home, where the couple live, is two storeys and totals 420.6sq m. It has a dramatic roof pitch, strong architectural lines, and a liberal use of windows.
Its grand entrance with Italian stone tiles and feature chandelier ushers you in, leading into the main living areas of formal lounge with magnificent schist fireplace, a music room, the bar, formal and informal dining, a conservatory and the new kitchen and scullery from Carlyle Kitchens with Bosch appliances and under floor heating.
One lounge plus the conservatory open to the large deck.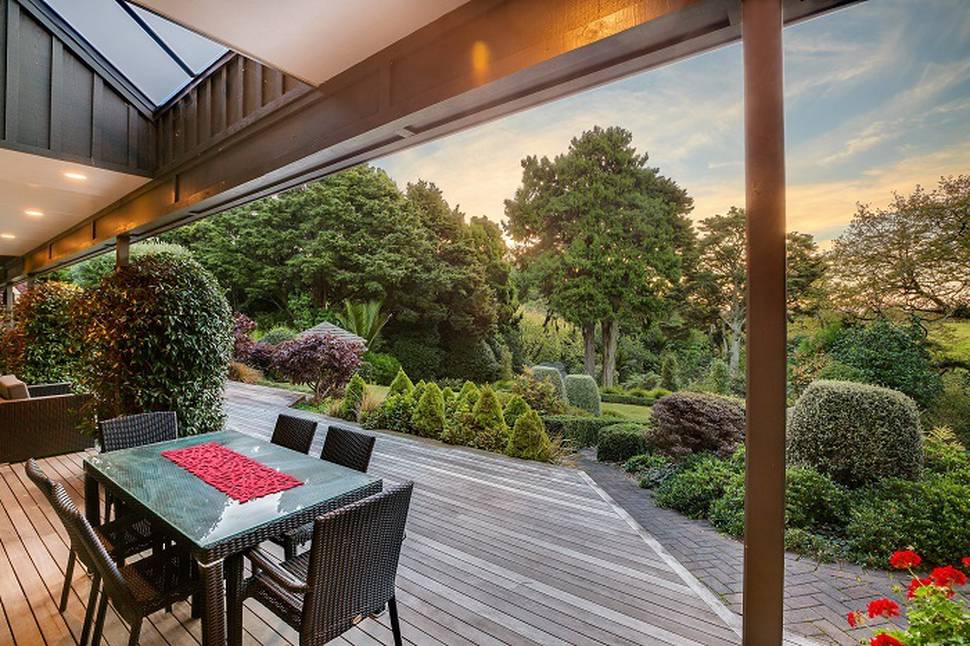 Upstairs is the master bedroom suite with en suite including spa bath and balcony, then the gallery looking down to the lounge, and the two other bedrooms plus a bathroom, toilet and office.
The garden is as stunning as the home with its structured layout, hedge borders, topiary shapes, set off by mature trees. An orchard has around 20 different fruit trees.
Gazebos and pergolas provide shelter and quiet places. There's a goldfish pond, and a board walk dips into the bush.
And don't forget the golf greens. Put in, Lex says, "because I thought it might help my golf. There's two putting greens and two sand bunkers."
But now the couple is selling to downsize, like so many other retirees do, says Karen.
"And I need to be closer to the water and not an hour away. It is time to downsize," says Lex.
They have kept a launch at Pine Harbour, and they own a property at Mt Maunganui that fronts on to the ocean beach.
Also keeping them busy are visits to their sons in Australia, Rotorua and Auckland.
"We don't get a lot of free time to put into the property like we did before. We have other interests now that we want to enjoy," says Karen.