A chance glance at a for sale sign promising sea views lead to Davina and Andreas Suter creating a striking ridge-top home enjoying coastline views.
The Suters were living happily in their Browns Bay home of 20 years on Auckland's North Shore when they spotted the sign during a weekend trip to Whangārei in 2002.
Davina says: "Before we had time to think about it, we were taking a right turn and driving along a winding road, passing by farmland and pasture.
"By this time, we were curious, wondering how on earth could there possibly be any sea views along this route."
They found the 1.3ha native bush-lined section and walked to the top of the ridge, rewarded with views across countryside to the sea in the distance.
The possibilities entranced them and a week later they'd bought the land. They spent the next couple of years clearing bush during weekends on site, some of that time staying in a shed with a bathroom and three-phase power which supplements the main house.
In 2006, builder Robin Littlejohn completed their striking home, designed by architectural designer Grant McIlroy and made of Hebel panels with an abundance of glass.
Davina says: "What we love most about the house are the large windows that allow us to enjoy the outlook from every room. It is stunning, no matter what the season or weather."
Their tranquil bush setting takes in coastal views in the distance from the Poor Knights Islands to the Hen and Chicken Islands plus magical sunrises and sunsets.
Davina says: "The peace and tranquillity broken only by birdsong is just magic.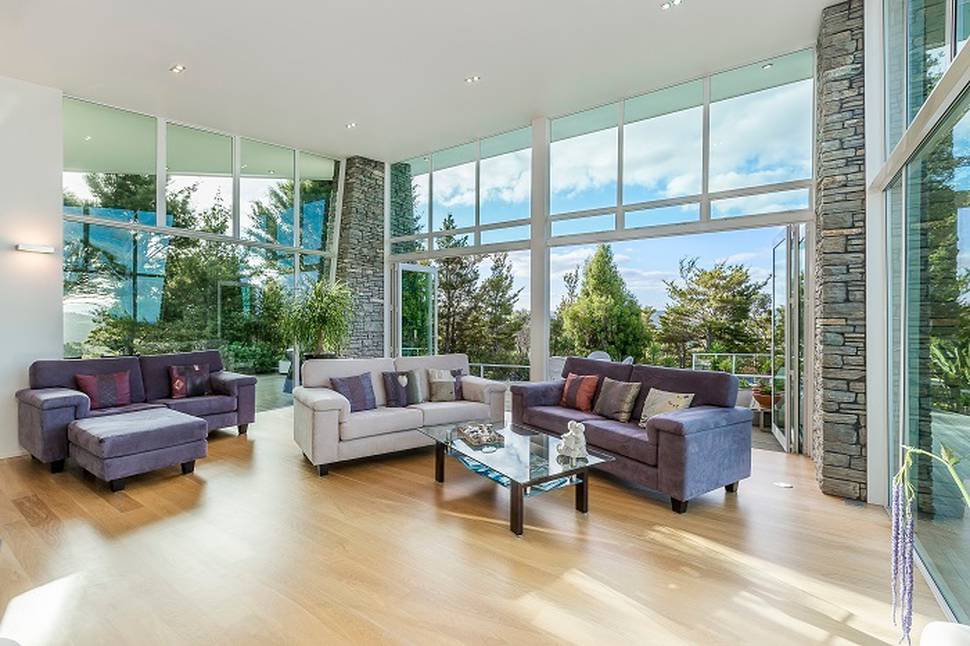 "At one end of the house a large pūriri, which is a great feeding ground for wood pigeons and tui, has pride of place alongside a large paved patio area."
The home has a double garage and abundant off-street parking. They've landscaped, retained and planted, establishing gardens, lawns and a productive little orchard.
"We love cooling down in our swimming pool in summer, which gets all-day sun so we can swim for four or five months of the year despite it not being heated."
A cedar feature wall runs from outside to inside near the glass front door.
This introduces a layout made up of two zones, designed to make B&B accommodation possible. Davina and Andreas had considered offering this but only retired recently from their jobs as an accountant and a mechanical engineer.
The main living area at the northern end of the house is open plan, flowing out to decks.
A large square-shaped lounge with a stud peaking at 4.2m projects out to capture sun from three sides.
Front schist corner pillars anchor its huge picture windows. There's a double-sided fireplace alongside a schist feature wall. The lounge's American oak flooring continues into a dining room with custom-designed hanging light. There's also a carpeted family room alongside the entertainer's kitchen with walk-in pantry and granite benches.
Completing this first "zone" of the layout are a master bedroom with walk-in wardrobe and double-basin en suite, a separate toilet, a laundry-storage room and a study which can alternately be a fourth bedroom.
The second zone of the layout — which could suit paid accommodation if desired — is made up of two bedrooms with their own bathrooms flanking a central gallery and lounge-library. Like almost all rooms in the house this opens to the outdoors, this time to the patio by the pūriri.
The couple adore this property about 30 minutes' drive from Whangārei. But now Davina has reached her 70s they want to move on while it's easy enough to transition to a new location.