Greg and Nicole Miller-Hard stood on the balcony under a full moon, clinked glasses, and vowed to move to New Zealand.
They were at a friend's birthday party at a property which captivated them from the moment they saw it.
The substantial cedar lodge was surrounded by lush paddocks and ahead were the blue waters of the harbour with panoramic views of Omokoroa, Matakana Island and Mount Maunganui.
Greg and Nicole never suspected that within a few years they would be able to buy the very property which had moved them so deeply.
Says Nicole: "We agreed to move to New Zealand that very second standing on the balcony looking at the land that would be ours three years later."
The couple had met through photography. Greg, a Kiwi, was a freelance photographer travelling the globe, and Nicole, from England, was running a photo/press agency in Australia but also travelling a lot.
Greg was in Africa and Nicole in Sydney when he suggested they go to his good mate's birthday party, being held at his friend's father-in-law's house.
When the property was put on the market a few years later they were thrilled to be able to buy it and quickly set about transforming it into a sanctuary not only for their young family but for myriad birds and animals.
Nicole says everything they brought to the land was designed to encourage and preserve native wildlife. "You've no idea until you get here how incredible it is," she says.
She describes a "wonderland" of sunsets and sunrises, storms rolling across the sky, morning and evening choruses of birdsong and jaw-dropping views.
There are also organic gardens and orchards — you could easily be self-sufficient, she says.
Daughters Odette and Francesca, now 16 and 14, learned to paddleboard and windsurf in the safety of the harbour shallows where the family went boating and fishing and sometimes took the horses down to swim.
"We had a lot of rescue horses," says Nicole, who says the property is a nurturing place for animals.
The bird life — from falcons and kaka to moreporks and tuis — saw families of birds returning each year.
Nicole, who is "stupid about animals", ensured every paddock had a shed to give shelter and says the family's pet alpacas used to follow them around and would play in the sprinklers with the girls when they were little.
The lodge itself offers luxury and privacy. It features multi-level decks, picture windows, a new Malazzo kitchen, a roaring log fire in the library and a master suite upstairs with a spa bath and amazing views.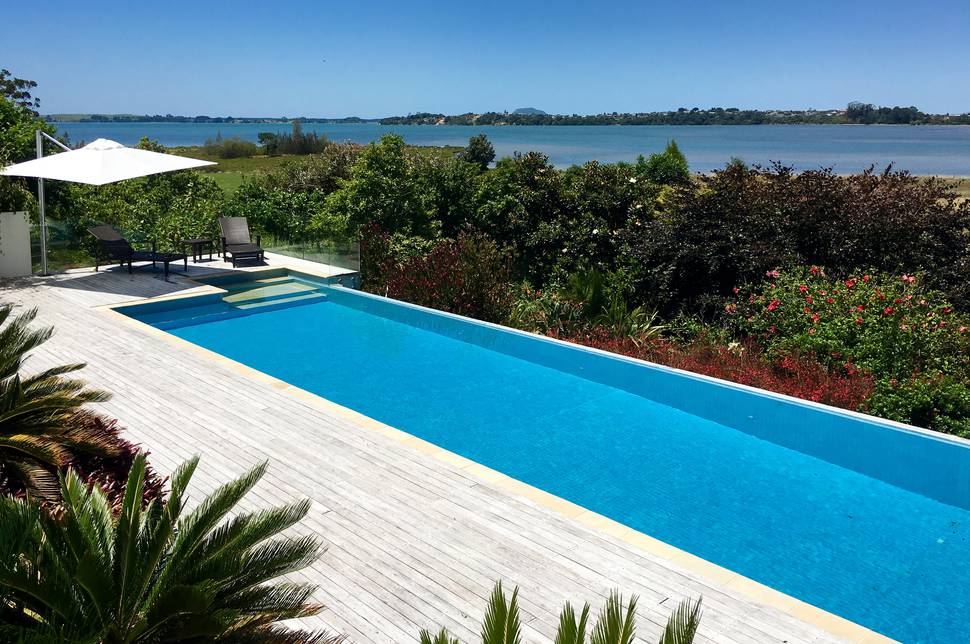 One of the things Nicole will miss the most is the 15-metre infinity swimming pool fed by a pristine thermal bore.
"There is no five-star resort you could go to in the world that could top that pool," she says. "You swim in it and it's like silk and you never have to put a single chemical in it."
The pool was designed by Greg's friend who had the birthday party all those years ago, architect John Melhuish. A weir system distributes the overflow water to irrigate the Trish Waugh-designed garden and pond ecosystem.
There's a spa and steam room as well, and the property even has a separate title offering options for another dwelling. The family has left their "sanctuary of health and wellness" because Greg's work meant he was travelling so often. Nicole says they feel blessed to have lived there.