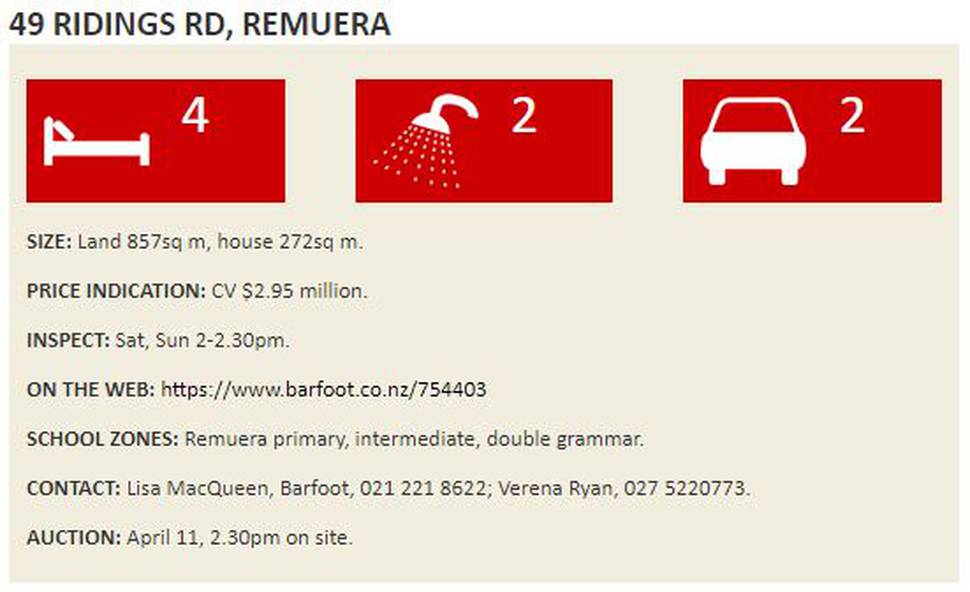 Ex-pats Fabian and Lisa Partigliani couldn't believe their luck when they found their 1920s bungalow on Ridings Rd three years ago.
The family had lived around the world — Buenos Aries, London, Amsterdam — for more than 20 years when Fabian's posting brought them to Auckland almost 11 years ago.
"We rented only three streets away," says Lisa. "We really liked that house and that location, so we didn't want to move far at all.
"When Fabian's posting here ended, we decided we really like New Zealand — and the area — and it was time to stay.
"We'd been ex-pats forever, but the children had grown up here and we just didn't want to go. But I had to be within the same few streets, we loved it so much."
They found the bungalow, pushed right to the front of the spreading property, and relished its north-facing position on the crest of the hill that gives views across a tree-lined valley.
Italian Fabian has terraced the slopes nearest the house into a series of vege beds, adding more beds on a former driveway.
He has commandeered the garage and the underground basement as drying rooms for his home-made charcuterie. Not surprisingly, the 1980s kitchen is the scene of some terrific cooking.
The itinerant family discovered an amazing street community, quickly understanding why the previous owners had stayed 36 years. There are few fences between properties, kids come and go along the no-exit street and, as they inevitably grow, there's a non-stop supply of babysitting teens.
A walkway leads down to the popular Dunholme tennis club, or kids can catch buses to Remuera, Newmarket and the city.
Art collectors Fabian and Lisa decided that this was to be their "forever" home and commissioned a multi-level new house from architects Fearon Hay.
The design process took over a year and the couple got as far as obtaining resource consents to remove the bungalow for the new building .
But they realised that a build of this scale and quality could easily take at least a couple of years and consume all their energy and head space. They didn't want to use up the last few years of their children at home (Lucia is 13, Ruben 11) on such a project.
The kids are busy with their sport and music — trophies and ribbons line their bedrooms and rumpus room — so the family have decided to sell, hoping to find a place already done with the pool they promised the kids.
Other buyers may be happy to live in the bungalow as it is, renovating the 1980s kitchen and sun room.
The front of the house is in true arts and crafts style, with an entrance pergola, glass-panelled double front doors and pretty oriel window, a double garage tucked up to the street.
The main living floor still has all the bungalow details — beamed and coffered ceilings, panelled doors, architraves and holdings, and an easy flow from the square hallway.
There are two bedrooms on this floor, the master leading into a sun room that was added some time in the 50s or 60s, judging by the window configuration. With its breathtaking views it is now consultant Fabian's office, glass doors also opening to the living room.
The living and dining spaces flow into each other and out to a deck that seems to hover above the views. Lisa thinks the kitchen would have been modernised in the 1980s, with a huge skylight/greenhouse window to draw morning sun into the house. There's also a family bathroom and separate loo on this floor.
Downstairs, two generous kids' bedrooms open off the cork-floored rumpus room, each with french doors to the covered terrace. A bathroom/laundry and Fabian's storage/curing room are also down here.
"It's just a joy with this view and our great neighbours," says Lisa. "We know the next people, whether they do up or build, will love it here. And I hope we don't have to move more than a street or two away — this is the best street in Remuera."