Brian Millard and Marilyn Palmer have beautiful watercolours on the walls of their seaview home.
They are artists who lived in Otago for 12 years before heading back north for a much-needed recharge after painting and teaching non-stop, often producing a painting a day.
"We wanted something beautiful," says Brian, who has exhibited and sells his vistas around the world.
"Peaceful, lots of amenities, close to town if need be, no hassle. We found this place.
"We walked through that door and looked out there and our jaws dropped. We thought, 'well, it's not quite a replacement for Lake Hayes (near Arrowtown) but it's not too far off'.
"It's a haven for us. It's a comfortable, functional, modern home with everything that opens and shuts – it's got gas, underfloor heating, all that sort of stuff. Internal vacuum.
You name it, it's got it."
Marilyn loves to sit out on the big deck and watch the sun on the water.
"That's my favourite time because I'm an evening light person. Changing from orange, bright red to pearl. Brian says 'are you going to sit out there until it gets dark?' and I do until I get bitten.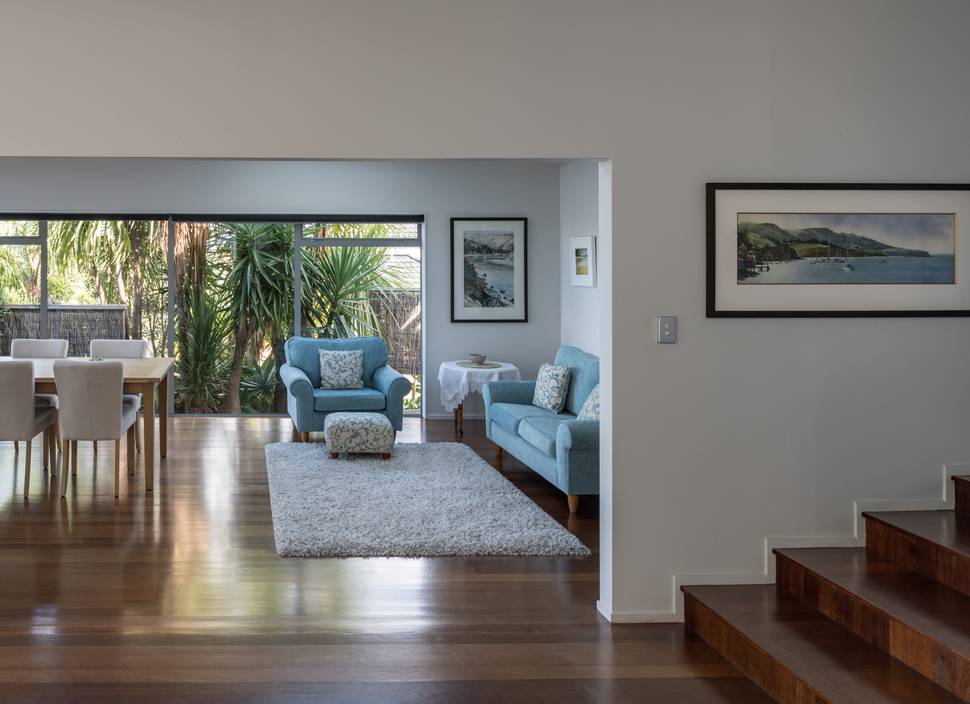 "I will miss that terribly. Even in Otago you couldn't quite sit out – it's quite cold at night there."
The view from the main living area takes in Long Bay across the water and the cliffs at Little Manly.
The home was built around 2004 or 2005 and initially the builder lived in it. One other couple owned it before Brian and Marilyn and that couple added an extension, giving the house a second lounge/dining area.
Because Brian and Marilyn like to spend their time painting, the low-maintenance, well-established garden suits them well.
Their home features big skylights and stacker doors which let the outdoors in, and a big entertainer's galley kitchen.
The upstairs landing is big enough for a TV and couch, and there is an office/bedroom and the master bedroom with an en suite and walk-in wardrobe.
The master bedroom also has sea views including to Orewa, plus greenery from the protected glade nearby.
"The first night we stayed here we felt like we were in a ship," Marilyn says.
"We actually see the storm coming. If it comes from the west you can see the water beginning to rough up ... I think what's lovely is the different moods you get."
Matakatia Beach is below, where they swim at high tide (you can walk down from the property) but if the wind is blowing they pop over to Tindalls Beach.
They love how the big house accommodates their large family and that the Gulf Harbour ferry to town is so close.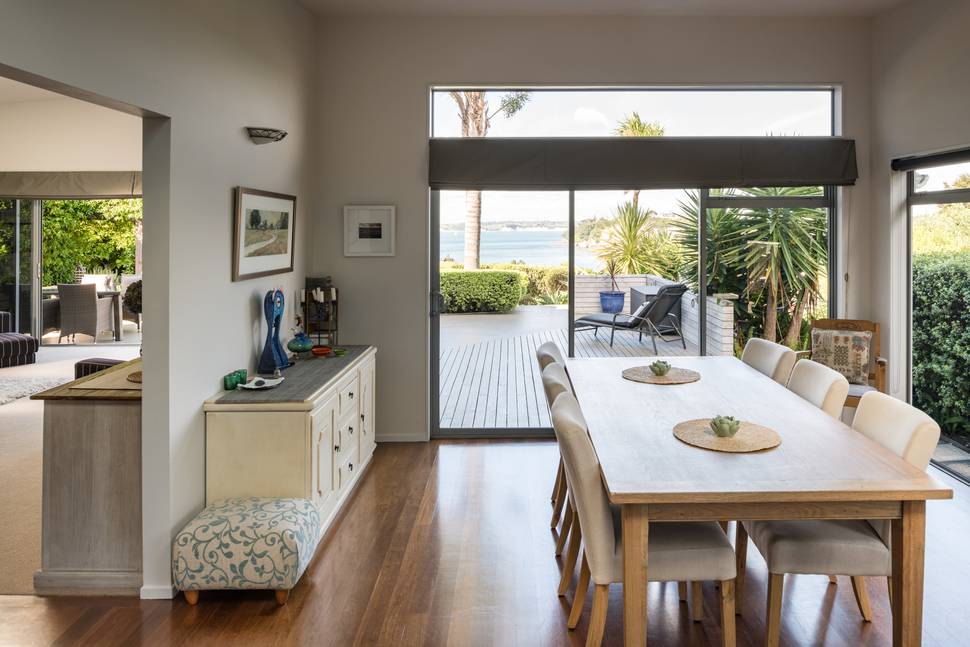 "Oh my goodness, do you ever get wildlife," says Brian of the birds that are frequent visitors, and he says there is a club or society for everything on the friendly peninsula.
The house has allowed them to be comfortable but also to express themselves, he says.
"Marilyn has very cunningly chosen works that had a similar colour balance with whatever the rooms do. It's a nice, aesthetic place to live."
He has sketched the scene out the front often and before they leave plans to paint a big vista as a reminder.
He is 80 now and while the couple have been everywhere — and painted everywhere — they love adventure and want to travel more.