Peter and Nini Knight's attractive weatherboard Epsom villa has had only three owners since it was built in 1910.
The couple have owned it for 40 years, having bought it from a Karitane nurse known as Queenie, who lived there with her father and her fellow-spinster sister and stayed on after their deaths until she moved into a nearby rest home at the grand age of 93.
After buying it in 1978, the Knights kept in touch with Queenie and learned more about the villa's history.
"She was scared of the electricity when it was first installed. Before that, she'd had a fire for heating and gas pipes for lamps and cooking," says Nini, who also is a nurse.
"The walls were sacking (hessian) and there was felt on the floors. When we began our renovation, we found a 1919 newspaper underneath it and one of the stories that day was about the arrival of electricity at Remuera, which was described as being on the outskirts of the city!"
She adds that Queenie had looked after babies from nearby Green Lane and National Women's Hospitals, placing them in their prams in the warm, closed-in veranda at the front of the house.
"She came to see us in hospital when our first daughter was born on Christmas Day in 1979, and the baby and I were on the cover of the Auckland Star newspaper. Funnily enough, December 25th was Queenie's birthday, too."
During their time at Margot St, Peter and Nini have made a number of changes to the house.
"We lifted the roof to add three bedrooms and a bathroom upstairs," says Peter. "Our master bedroom up there has a walk-in wardrobe and a little balcony that we later glassed in to use as a conservatory. We love the views to Mt Eden from there."
Downstairs a typically light, bright, villa hallway has a huge formal lounge to one side and what was originally Peter and Nini's bedroom, later passed to daughter Philippa, at the other. In the middle section is family living and dining, while the kitchen has another less formal dining space adjacent. Also on this level is a second bathroom and spacious laundry.
Outside, lies a newly added deck with a pretty garden beyond it, and a free-standing garage.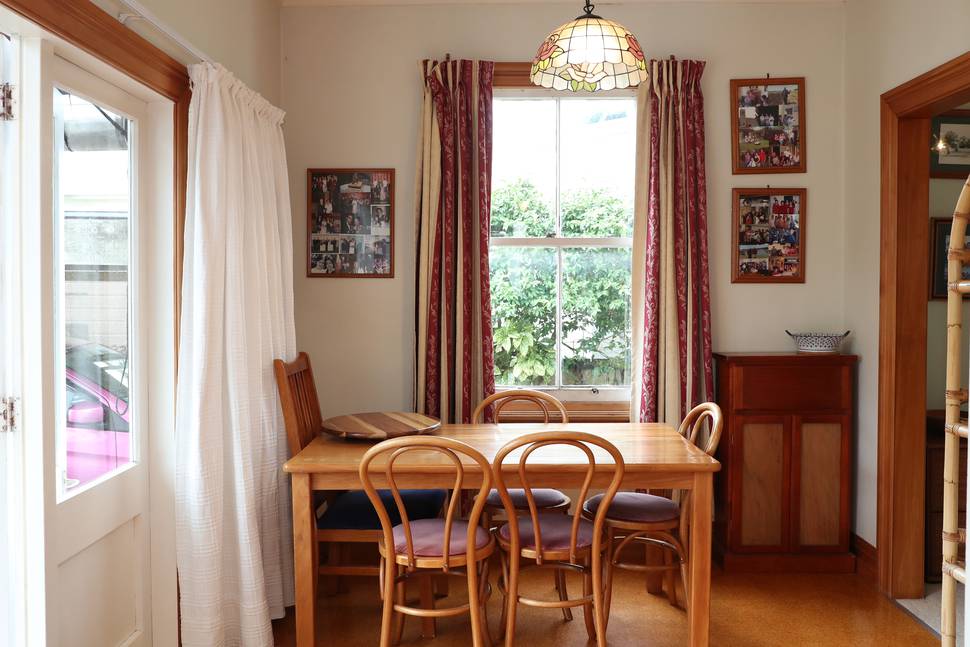 Peter and Nini say the house is "a place that's special to us. Both of our daughters grew up here and it was a very quick walk for them to Diocesan School and Epsom Girls Grammar".
"Our neighbours and we all hope that it will be bought and renovated by a family, but, whatever happens, we're philosophical about it," says Nini.
Many happy family occasions have been marked in the house, which is a perfect size for entertaining.
"Lots of the people on the street have lived here for years, and we all enjoy regular dinner parties together," says Peter.
He adds that the location couldn't be more perfect in terms of amenities.
"We're close to The Lido cinema, the shops and cafes at Newmarket, and our favourite dining spot is Da Sette Soldi pizzeria, which is just around the corner."
It's clear this is far too large a property for two people. With daughter Louisa, living in London, and Philippa and her family elsewhere in Auckland, the pair want more flexibility and less responsibility.
"Its potential is enormous but for us, it's simply time to move on," says Peter.