For most people, re-doing a kitchen, updating all the decorating and re-landscaping the gardens constitutes a major renovation. For Amanda and Mark Robinson, who bought their Brett Ave house only two and a bit years ago, it is just a bit of tidying up.
"We'd moved from Greenhithe to Mark's dad's house in Herne Bay which felt very urban to us. After he died we wanted to be closer to Zorro's school [in Albany]," says Amanda.
"This is just by the beach. It took us about 30 minutes to decide to buy this, it was such a quiet street, the house was so light and airy — but we wanted to make it ours."
Designed by architects Cook Sargisson Pirie and Willams in 2000, the building has the practice's signature use of solid plaster, cedar and copper roofing, with attractive gable pitch and boxed bay windows.
Surrounded by landscaped gardens, in a neighbourhood of palms and mature trees, the area has the feeling of a resort that the family loved after busy inner suburb.
After living in Mark's dad's house for many years while he was ill, the couple were keen to make their mark on their own property.
Amanda called on her friend interior designer Dinah Maylon to help her work in David's high-end furniture, their own furniture and art as well as make it suitable for Zorro (now 6) and his friends.
The exterior was refreshed with new paint in a modern greyed beige on the plaster, deeper charcoal paint on the cedar.
The garden was simplified so out went formal hedges and a stark white pool fence, in came more easy-care landscaping and a dark pool fence that 'disappears'. Boundary hedges were grown to provide more privacy but allow a glimpse of neighbours' tropical palms.
A long slim shed was tucked down the side of the house to keep extra entertaining fridges and garden clutter out of the triple-car garage.
Inside, Amanda and Dinah worked through the house. In the entry, kitchen and family room they retained the existing pale floors (they keep toasty all year round with under-floor heating), but updated with fresh pale grout.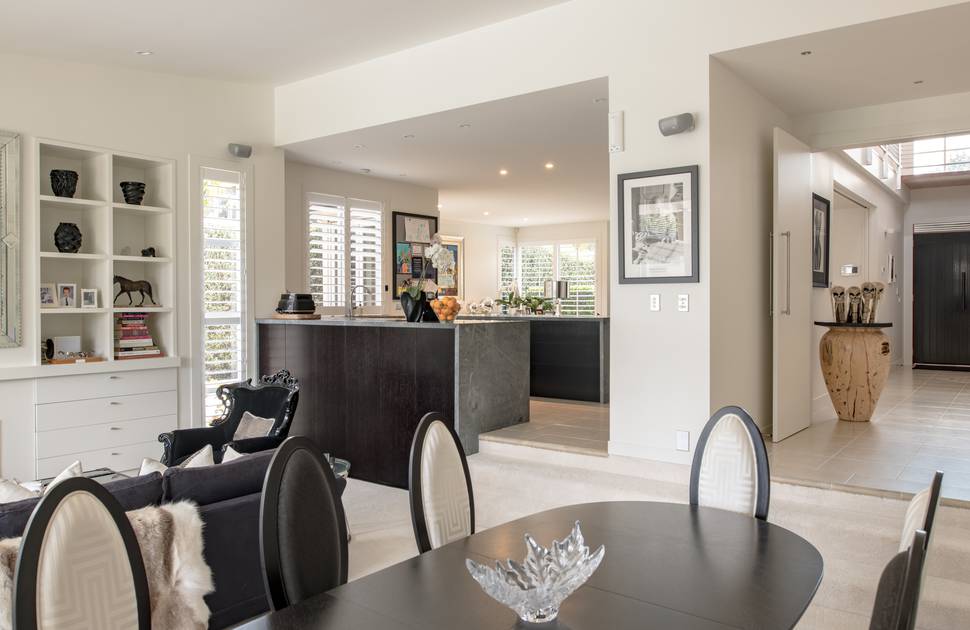 White walls and new white carpets (hardy and surprisingly easy to keep clean, Amanda says) reinforced the airy and bright mood that had first attracted the Robinsons to the house. Stylish large-format white shutters on all the windows control light and breezes (along with drifts of sheer white linen in some bedrooms).
The pair wisely left the existing counters and top quality tile in the three bathrooms, but updated with more fresh grout and dark oak cabinets to replace the pale maple.
The rooms are spacious and well-lit, so just needed smart new shower heads, light fixtures and trims to give them a new lease of life.
Had they been staying in the house, Amanda and Dinah were eyeing up the laundry, but it is well equipped with storage and benches. It was the kitchen that finished up getting the most attention.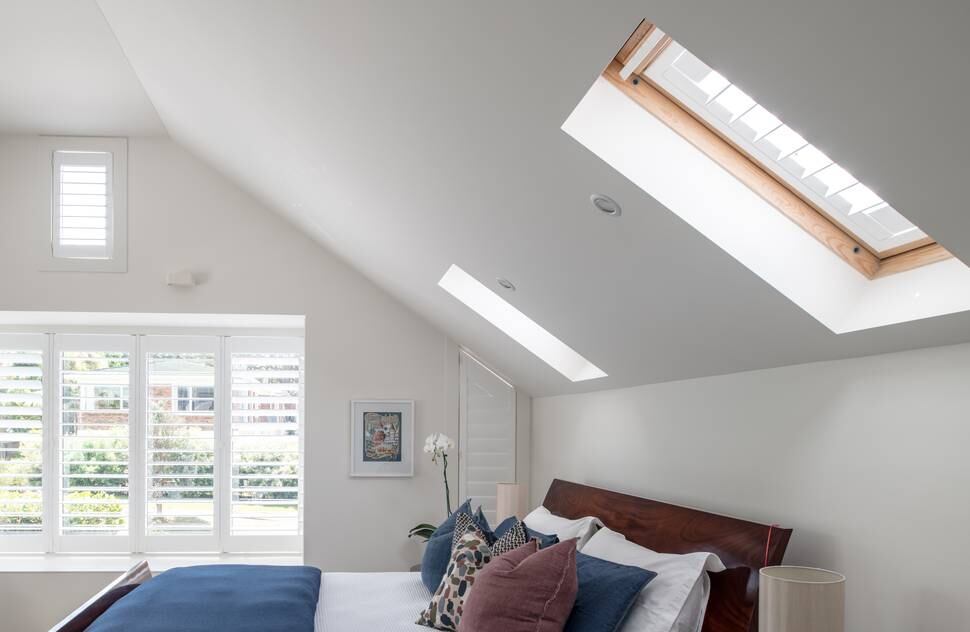 The original was designed for a more style formal entertaining where the cook was semi-hidden from the family room by an upstand, and there was nowhere for guests to sit.
Designer Garry Leslie of Objex Kitchen Design replaced dated maple joinery with a dark stained oak and upgraded the benches with a beautiful grey-veined honed stone that still has touchable fossils embedded in it.
Amanda shows off the enviable collection of dark grey Blum fittings that organise the cupboards and drawers. She specified 90cm wide Fisher and Paykel oven and dish-drawer, an induction hob with pull-up vent and a clever KWC tap that comes with built-in LED light.
The U-shaped counters now mean folks — groups of 20 are common — can gather around the bar, Zorro and his friends line up for feeding.
Amanda loves to read the Sunday papers on the front terrace looking into the green courtyard, while the back terrace looks into the pool and lawn where the kids play.
A side courtyard between the two is a favourite for outdoor dining. The ground floor includes a double bedroom that opens to the back yard.
With its own ensuite it has been used as the master, but Amanda and Mark have taken the upstairs bedroom (which also has an en-suite and walk-in closet) for themselves. There's also a laundry and guest powder room on the ground floor.
The next owners will have nothing more to do than shift in the furniture, throw open the doors and live the seaside life.