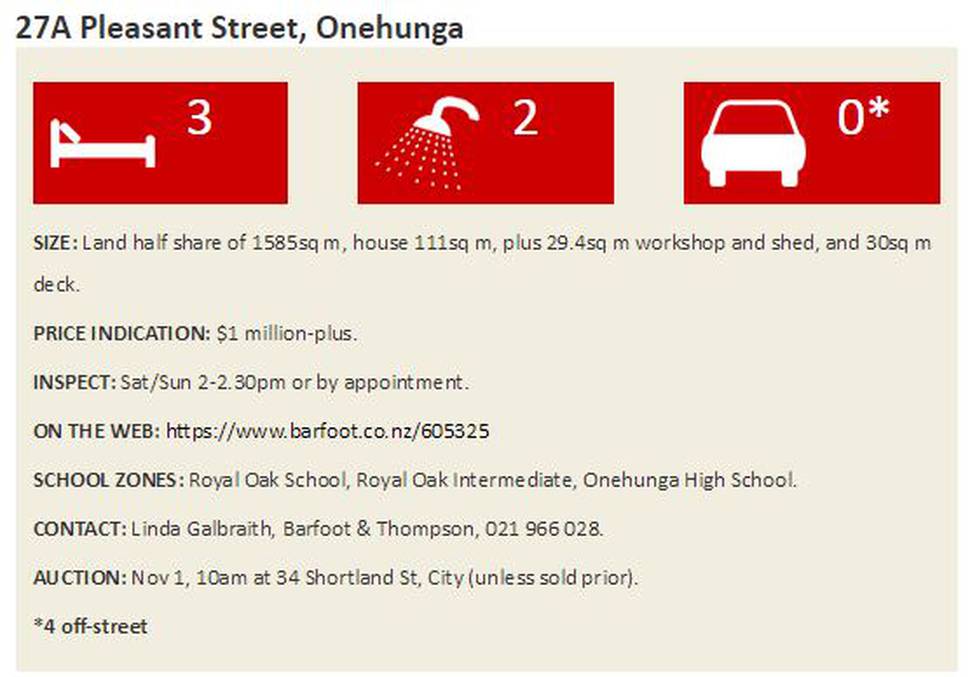 Pleasantly unexpected; that's a good way to describe what you'll find down an unassuming shared driveway at 27A Pleasant St. across the road from Onehunga High School.
Down the right-of-way a smart ex-state house still quietly holds most of its cards close to its chest, revealing little more than four-car off-street parking until you pass through an intercom-controlled gate.
And then you'll see a carefully cosseted, architecturally extended and renovated home opening to sizeable grounds.
Construction manager and former builder Tim Stewart and his wife Jesse Taylor, who works in the health sector, have poured their energy and aspirations into this place for three years.
Tim says: "Yes, 'unexpected' is the way most people describe it when they come over and see the size of the garden and land and everything we've done here."
Jesse says: "It has been a labour of love for us."
Previously they were living in a two-bedroom, two-level Parnell apartment, wanting more space and grounds.
When they first saw this home, then about two-thirds of its current size with a heavily planted garden, they didn't think it was right for them.
But construction-savvy Tim convinced Jesse of the inherent potential, judging the single-level weatherboard 1940s home to be privately set, soundly built, dry and borer free.
Jesse says: "We both felt Onehunga was a suburb with a great vibe."
The suburb's regenerated foreshore is just down the road, and Royal Oak's bars and eateries and Monte Cecilia Park are nearby.
They believe the Waterview extension has improved Onehunga's accessibility. They can get to the airport in 10 minutes or to their jobs in the CBD and at Middlemore in 20 minutes.
They stripped back the interior of the home, re-wiring, insulating, re-plumbing, re-gibbing and installing gas central heating.
An architect who's a family friend helped them re-configure and extend the layout, creating open plan living and an additional master suite bedroom wing.
They concreted off-street parking, providing space for their cars, fishing boat and truck.
The house is on the southern boundary of its land leaving plentiful north-facing outdoor space.
The grounds and simple gardens have an open nature now Tim and Jesse have cleared and levelled them by bringing in 11 cubic metres of soil.
Tim built a quaint garden shed. If they'd stayed longer they'd have converted the former garage, currently used for storage, to a studio set-up.
His favourite spot is on the deck the home flows out to. The deck has a retractable awning, and it's a good spot to admire the well-established kowhai tree they've under-lit, and a couple of kauri.
Entering the home you appreciate the couple has an eye for decor, not afraid to subtly use colour such as a gentle Karen Walker paint tone, Quarter Powder Blue.
Keen cook Jesse says the new kitchen works brilliantly, being well-connected to the living and outdoor entertaining through wide-opening bifold doors. The kitchen is highly-specced with its Falcon double oven and granite benches.
The new master bedroom suite with pitched ceiling has doors to the deck, a wall of wardrobing and an en suite with a massive shower rain-head.
At the other end of the home, two more bedrooms are served by a renovated bathroom.
Tim and Jesse have poured their hearts into this property. However, a trip to Queenstown opened their eyes to other possibilities so they're moving there to build their next home.