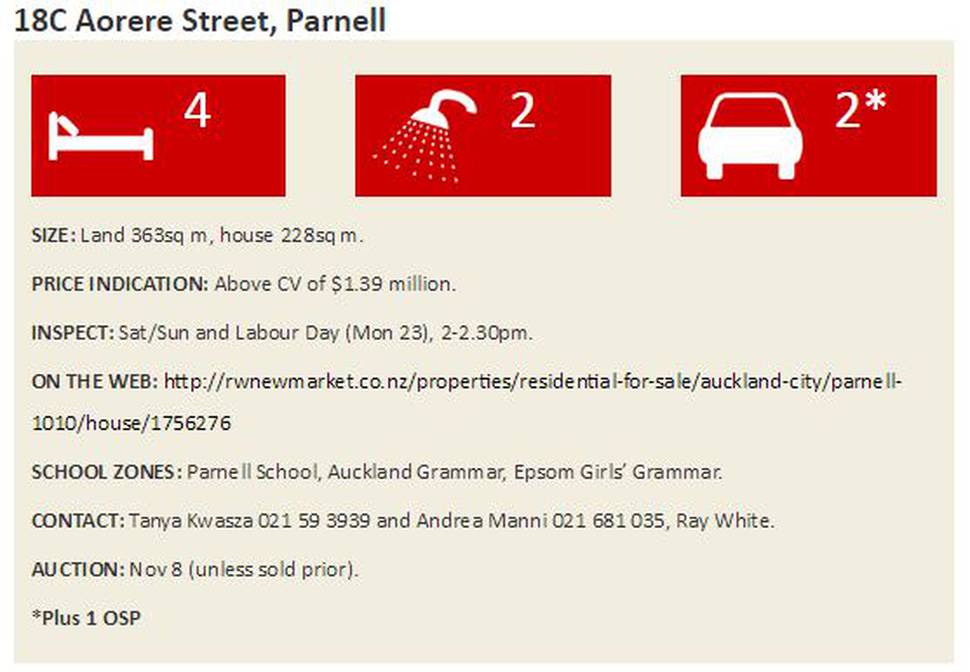 With three teenagers under her roof, Kim Blaxall was desperate for more space - little suspecting her answer would be a home a stone's throw from the vibrancy of Parnell village.
That was three years ago, when medical receptionist Kim and her children were living in a three-storey Orakei townhouse.
Kim says: "So I already knew a multi-level townhouse would work well but in the previous house I found I was one living room short as the children grew up.
"I was so excited when I found this place. Not only did it have a second living area for the kids in a self-contained downstairs set-up but it was quietly tucked away in Parnell - a suburb I love.
"I thought this townhouse would always have a lot of appeal as the lower level has its own entrance, offering potential to work from home. The previous owner ran his accountancy business there."
The freestanding contemporary townhouse was built in 2005 of materials including Linea Weatherboard and Titan board with the bonus of hush glass and sound-resistant insulation.
It's tucked at the end of no-exit Aorere St, which runs down behind the picturesque olde-worlde part of Parnell village towards Auckland Domain.
Kim says: "I thought it would be a dream living so close to the village - and it has been; it's so incredibly handy."
The double-grammar zoned address is ideal for the children to attend Auckland Grammar and Epsom Grammar, and to walk to Auckland University.
It's been easy for Kim to stroll with children Guy (now 21), Beau (20) and Bella (18) for meals in Parnell. She also met her now fiance on a night out with friends in the suburb.
Kim's townhouse is the first down a driveway off the end of Aorere St, in a north-facing position with views across to the eastern side of Auckland Domain's greenery and into town.
"It is private and such a warm sun-trap with balconies and an easy-care garden.
"It's lovely looking out at the views, towards the domain's trees or watching a storm roll in.
"At night the sunsets, the skyline, the silhouette of the trees and the night lights are glorious."
She timed her purchase well as the adjacent railway line had gone electric, delivering the convenience of train transport on her doorstep.
"It's a restful home; it's all double glazed and the electric trains just whisper past."
There are great dog walks nearby to take cavoodle Pepsi on and Kim enjoys strolling to La Cigale's weekly French-style markets.
There's an internal-access double garage on the entry level alongside an entry foyer and en suited bedroom.
The garage is supplemented by an off-street parking spot from where a gate and stairs provide separate access to the lower level, handy if clients are visiting a work-from-home set-up.
Visitors are often surprised by this lower level's capaciousness with its bedroom (or home office), full bathroom, cupboard laundry and lounge-second living area with heat pump and granite-benched kitchenette. It opens to level, fenced grounds where Kim has installed a pizza oven.
Kim adores sitting out on the balcony off the first floor's open-plan living-dining-kitchen with granite-benched double oven kitchen and gas fireplace.
Her second-floor master bedroom where cat Kasper sunbathes has an en suite with bath, walk-in wardrobe and balcony and is accompanied by another en suited bedroom.
Kim is selling as Guy is going flatting, and she, Beau and Bella will join forces with her fiance's household.