By Donna Fleming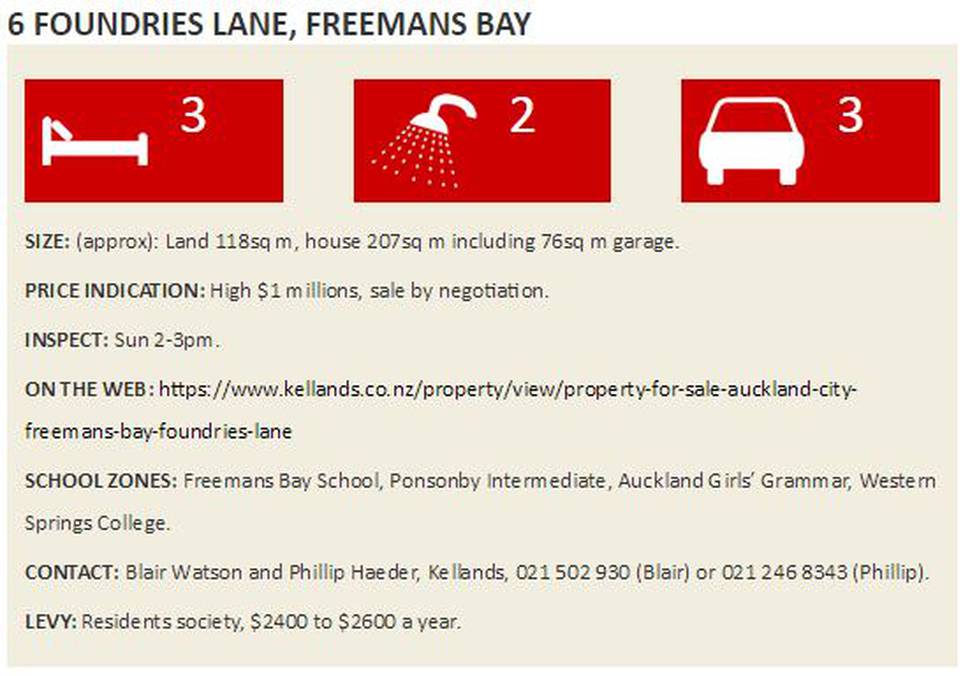 The demand for housing in Auckland means that when it comes to new developments in the city fringe, the only way is up.
That is unless you're Finstar, a leading commercial property firm now moving into residential development.
While most companies building in or near the CBD are focusing on high-rise apartment blocks, this developer has bucked the trend to build boutique terraced houses on a site in Foundries Lane, off Wellington Street in Freemans Bay.
Development manager Alison Hunter from Finstar's residential development partner Hunter Hindmarsh and her business partner, architect Linley Hindmarsh, came up with the concept for Foundries Lane.
Jasmax did the architecture and Aspec Construction have brought the 19 distinctive three-level townhouses to life.
Like its neighbours, number 6 is a classic example of modern urban design.
The townhouse features polished concrete floors, concrete ribs, or beams, in some ceilings and some of the pre-cast concrete is exposed in the walls.
Add to that steel balustrades, stainless steel benchtops in the kitchen and timber detailing, and you've got a striking contemporary home.
Air conditioning is ducted so there are no obvious heating units hanging on the walls.
There's a generous garage that can fit three cars, or two cars and extra space that could be used for storage or as a man cave, gym or wine cellar.
"We wanted to be really flexible with the space and give people options, says Alison.
"Some people will be happy to have all that storage for their toys while others may want to use it as a workshop."
Stairs from the garage lead up to the deck on the next level. This is a spacious area with plenty of room for a barbecue and outdoor furniture. West-facing, it will get plenty of afternoon sun.
Bifold doors in the dining area lead out to the deck, and there's also a large picture window in the adjoining kitchen, so there's plenty of light.
When it came to designing the kitchen, Alison and Linley used their own kitchens as inspiration.
"We pulled all of our stuff out and worked out how much room people needed for all the things you have to have in your kitchen," says Alison.
They ended up putting in a large walk-in pantry that has lots of space. They also opted for a combination of a timber finish on upper kitchen cabinets and metallic finish on the lower ones to add to the industrial feel of the home. Miele appliances were also on their "must-have" list.
While this floor is open plan, the staircase helps to provide some separation between the kitchen and the light-filled living room.
Also on this level is a cloakroom and laundry.
The top floor has two bedrooms and a study, which could be a third bedroom if needed. The master bedroom has an en suite and a roomy walk-in wardrobe with a skylight to provide natural light.
"We think it is really nice to have that extra space and also to be able to have good light in a dressing room," says Alison.
The townhouses have distinctive saw-tooth roofs, which means the rooms upstairs have high pitched ceilings, adding to the feeling of spaciousness.
Alison is hoping that whoever buys the townhouse appreciates all the little touches, and that they'll also enjoy the feeling of community she hopes will develop among residents.
The fact it is within walking distance of Ponsonby Rd, the city, Karangahape Rd and Victoria Park also adds to the appeal.
"It really is a pretty special and different development and we think people will love living somewhere like this," says Alison.