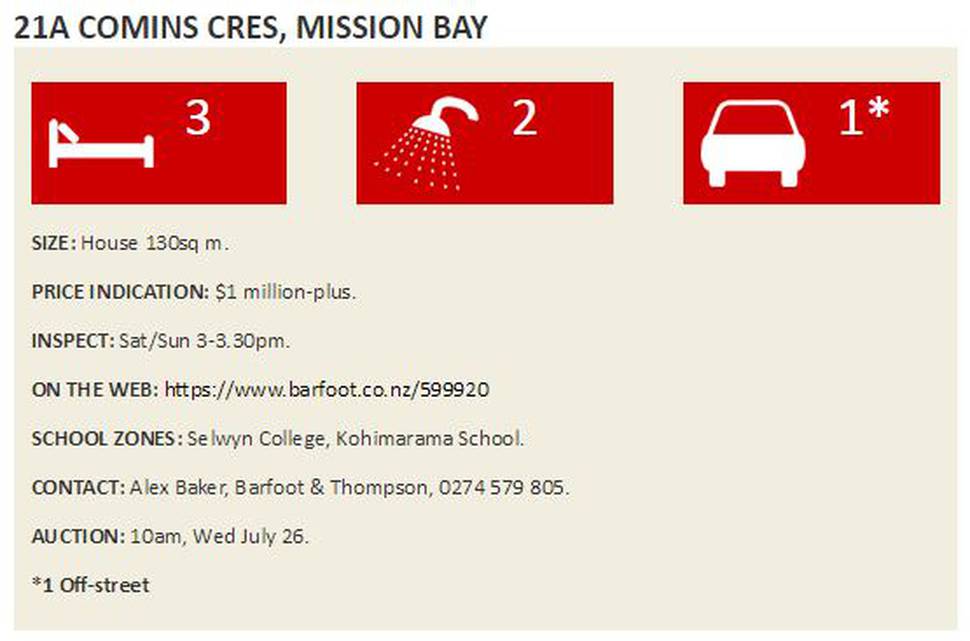 Lyn Vaughan should probably star in her own home renovation television show. In just three years, the single mum of three has taken a dated late 1980s townhouse in Mission Bay to apartment-with-trees cool.
"I wanted close proximity to schools in Parnell, in a nice neighbourhood, but it needed to be affordable for a single mum," she says.
"I hunted for quite a while; it was tough. Plus I come from Perth, so I'm used to big spaces. I've always been a beach person, so I wanted water, too."
At that stage Lyn's two youngest children, twins Jesse and Jamaica, were still at home, while her older son Josh had already moved back to Australia.
Son Jesse was a keen sailor so when they finally found the townhouse on the slopes of Comins Cres, a few hundred metres from Mission Bay beach, it fit the family's needs perfectly.
Lyn had done up a number of houses over the years, so she could look beyond the jumble of dated flooring - tiles, splintering wood, worn carpets - and weirdly laid out kitchen and bathrooms to see the potential.
The house's concrete block construction, and the fact it was on the sunny front of a block of three, with four separate outdoor areas sealed the deal.
"It was a labour of love; with budget constraints I did as much as I could myself," Lyn says.
"But I quite enjoy it, I find it cathartic, therapeutic even. I like colour, I enjoy the problem solving, mulling over until I make it work. Each home I've had I've given it a fresh and creative look."
Lyn is modestly understating her skills, as she rearranged both upstairs and downstairs bathrooms to fit more in, created a proper laundry off a drafty back hallway and completely gutted and re-laid a tired, storage-lacking kitchen.
Her first job was ripping up layers of flooring (a back-breaking job digging through splintery wood and tile) to discover, to her delight, concrete floors on both the entry bedroom level and upstairs living.
A grind and polish and the floors became the chic basis of her scheme, with the three bedrooms updated with smart new grey carpet.
By tweaking the downstairs bathroom that is shared by her and Jesse's rooms, she managed to squeeze in a bathtub below the shower.
The double vanity is fashioned from an old dresser (she did the same in the upstairs bathroom with a cool little steel and wood trolley), and there is a separate loo, too.
Rearranging doors under the staircase created a proper linen closet, and Lyn refitted the now-separate laundry with stylish composite stone.
Upstairs, Lyn was not in a position to replace the original dark blue aluminium joinery, so built her colour scheme around it - repeating the shade in a fashionable navy stairwell that separates living from dining room, complementing it with shades of grey and crisp white trim.
Wall tiles in a slate-look finish are echoed in mosaic tiles on the stair risers, smartened with wide wood planks.
Now that she's moved to Sydney, daughter Jamaica's room has been converted to Lyn's study, a sunny space that looks into the terrace under the shady old pohutukawa tree.
Beside it, Lyn cribbed wardrobe space to squeeze a better layout for the guest loo/shower room, repeating the signature tile.
The kitchen was the last piece of her renovation. Lyn finally has the smart kitchen she'd first envisioned: grey cupboards, bright re-constituted stone benches and masses of clever storage pantries and drawers.
Stylish bronzed-look handles, grey mosaic splashback and feature shelves of vintage wood work with the lines of the rest of the open plan room.
She finally has her gas cook top (along with new dishwasher, oven and fridge) and, at last, an eat-at kitchen bar with waterfall boxed edges for a clean look.