1/36 RANUI RD, REMUERA
SIZE: Land share 1219sq m, house 210sq m (approx).
PRICE INDICATION: CV $2.1 million.
INSPECT: Sat/Sun 1.30pm-2pm.
SCHOOL ZONES: Remuera Primary, Remuera Intermediate, double
CONTACT: Verena Ryan, 027 522 0773, or Lisa MacQueen, 021 221 8622, Barfoot & Thompson.
AUCTION: March 29 (unless sold prior).
*OSP for 2 cars
When Liane Donovan hands over the keys to the new owners of 36 Ranui Rd, she will also pass on a mystery in the form of a wooden clock.
"The clock is staying with the house because it came with the house and the previous owner said she also had the clock passed on to her," says Liane. "I've even left the dust on for authenticity."
The mantlepiece clock has a tag on it with the inscription "Mum's wedding clock".
Liane says it is possible it belonged to a one-time Miss Lavender, who lived into her 80s and had moved to the house as a one-year-old from No. 1 Ranui Rd.
The clock sits comfortably in a bungalow-style home with wooden shingle and weatherboard exterior, beamed ceilings and leadlight windows.
Liane says the home had been through a couple of renovations before she bought it four years ago and she has done little more than add "cosmetic touches" since then.
"I just loved it for what it was," she says. "It's got a really nice energy about it; everyone who comes here says that."
However, she did repair the fences at the back of the property to make it secure for guide dogs that boarded here and for an assortment of rescued animals she has looked after.
This west-facing side of the two-storey house is private, with decks transitioning to a flat lawn surrounded by garden beds and mature trees.
"The garden's got a lovely stone wall that gives you a sense of the history here," Liane says.
French doors from the kitchen/dining area and the adjoining TV room/guest room open out to the decks.
"Many a meeting has been had over a bottle of wine out here on the deck or beside the fire inside," says Liane, who runs public relations firm Donovan PR from home.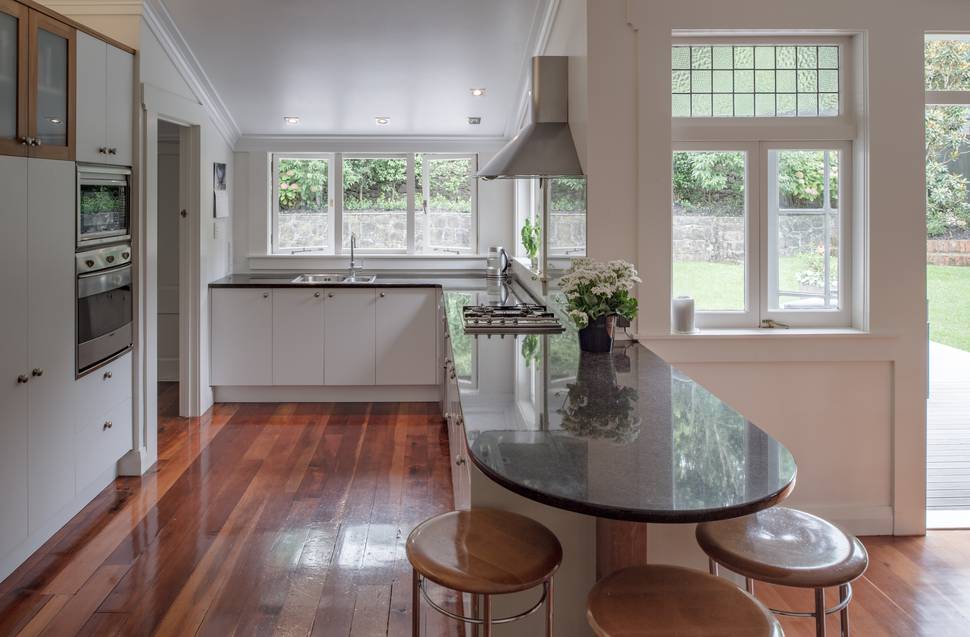 Wooden floors continue through the renovated kitchen, the dining area and into the TV room/guest room, which can be closed off with french doors.
Windows in the kitchen open out to the deck and sit above an L-shaped stone benchtop that culminates in a breakfast bar. A heat pump serves the kitchen/dining room space.
Beyond the dining area is a carpeted lounge with open fire that Liane says gets plenty of use. She has her favourite chair sitting in a semi-circular bay window, one of the home's many character features.
Her office is set up in a sunroom with a large picture window that overlooks the driveway and is at eye level with the surrounding greenery.
"This is the hub of Donovan PR," she laughs. "It's a very inspirational and creative space."
Also on this top level are two bedrooms, both with en suites.
The master has a corner window seat while the second bedroom, on the opposite side of the house, has an en suite with a door through to the laundry, which then connects to the back of the kitchen.
Downstairs there is another bathroom to one side of the front door and a large bedroom on the opposite side of the hallway.
On this level there is access to the garage, which has a wine cellar off it.
Liane, whose previous home was in Lucerne Rd, says having easy access to nearby Waiata Reserve has been great for exercising her canine guests, and her two sons have enjoyed eeling in the stream.
She plans to continue living in Remuera.
"The boys go to Auckland Grammar so I want to stay in the area but I just need more space for them and for my business."