What the A to Z of winter wellness is all about
When the chill factor drops our focus on good health often drifts. Not only are we more susceptible to nasty winter lurgies, but the temptation to hibernate can mean less moving and not as much focus on the right food for optimal health. In a bid to stay focused (or re-focus) this winter, we've called on the smarts of holistic health expert, Dr Libby Weaver to help compile our interactive A to Z of Winter Wellness. Each weekday we will reveal the next letter and what it stands for in our health file, plus informative graphics and recipe suggestions to help boost your health. Check in to Life & Style every afternoon for your winter wellness inspiration.
- Nicky Park, Life & Style Editor
D | Vitamin D by Dr Libby Weaver
"Over the winter months we often find ourselves wrapped up warm with little exposure to the sun, except for our hands and faces. As the sun's action on the cholesterol in our skin is our major source of vitamin D, it's important to spend a little time each day exposed to the sun and to up our intake from food sources.
"Vitamin D is an important nutrient for bone health, immunity, cancer prevention and mood regulation. It supports the uptake of calcium and phosphate which are bone strengthening minerals, especially in growing children and the elderly. Teens accrue about 50 per cent of their adult bone mass between the ages of 12 and 18, so adequate vitamin D is of particular importance during these years too.
"While we normally synthesize the majority of our vitamin D from the sun through our skin, we can get some during the winter from oily fish, organic butter, and eggs."
Dr Libby Weaver (Ph.D) is one of Australasia's leading nutrition specialists and weight loss experts based in Auckland, New Zealand. For more information visit www.drlibby.com.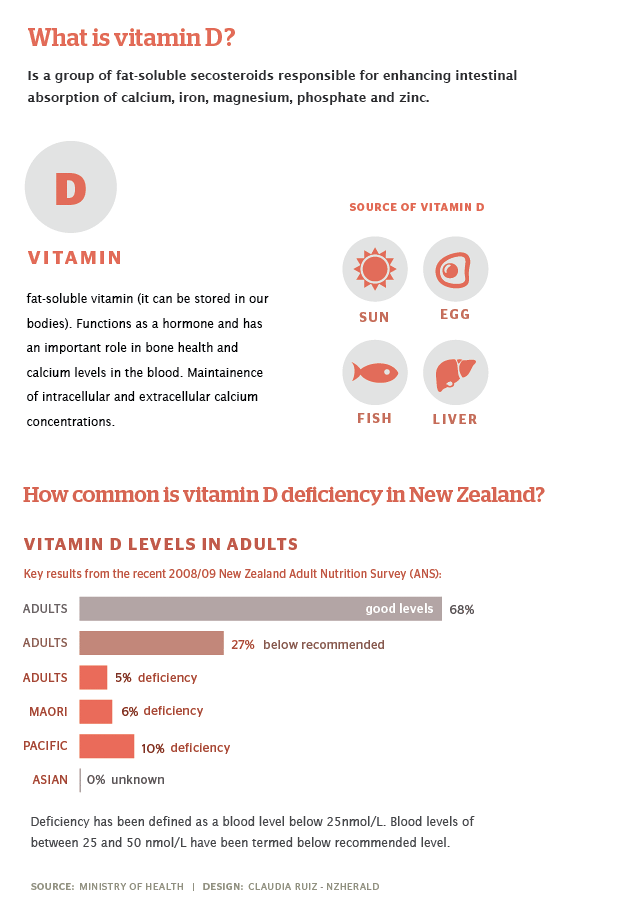 Recipes