Wellington-based start-up Wipster has launched its video sharing software platform globally, just over a year after being founded by filmmaker Rollo Wenlock.
Wenlock travelled to Texas recently to unveil his cloud-based video review and approval platform at the SXSW festival.
The SXSW festival pulls in some 50,000 visitors - made up of the music, film and interactive industry's most influential names.
Wenlock says the experience was incredible.
"SXSW is amazing, it's the place to discover and test the latest ideas from the interactive industries... it's the place where tech meets art," he said.
Wenlock believes more New Zealand start-ups should take the plunge and venture to the annual 10-day SXSW conference in Austin, Texas.
"You really need to be in the area to take advantage of the opportunities, it's a huge group of creative people," he said.
Around 50 per cent of Wipster's customers are based in America.
Following the SXSW festival, Wenlock went to San Francisco presenting Wipster to new audiences and filming a series about the future of video, when he found out popular note taking and archiving app maker Evernote had bought a subscription to Wipster.
"I was only 15 minutes away from their office, so I called and said I could show them how it works in person," Wenlock said.
Evernote has more than 11 million users and after an impromptu hour-and-half meeting, Wenlock says they were so impressed with Wipster, Evernote are now looking at ways to roll out Wipster features to their paying users.
"If I hadn't been here, none of this would have happened, there's a lot of serendipity about this," Wenlock said.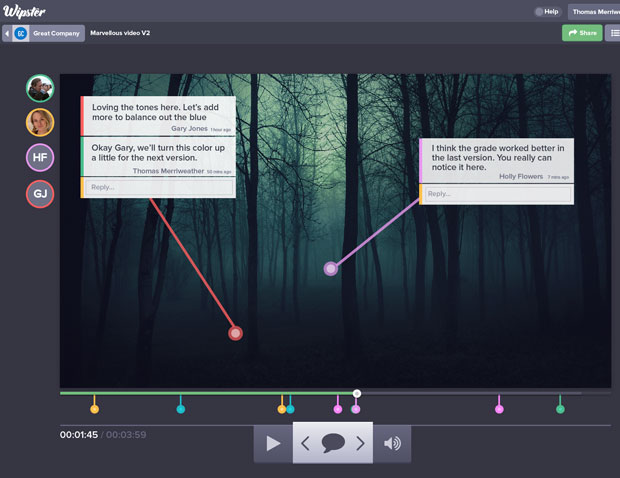 Wipster allows editors to share their work privately with clients, who can then watch the video and give feedback by clicking on the screen and writing in comments.
In just over a year, Wipster has a product that's being used in more than 65 countries around the world and being subscribed to by big international companies.
Last year Wipster raised over $600,000 from investors including the ICE Angels, AngelsHQ, Forbes contributor Ben Kepes, and Xero chairman Sam Knowles.
Xero's chief executive Rod Drury has been an advocate of Wipster since its inception.
"Their platform is unique. It provides a clean, creative space perfect for teams working remotely or telecommuting, and gives the right amount of structure to our video creation projects" Drury said.
Wenlock says the next step is to begin ramping up sales to production companies and advertising agencies, and tweaking the 'product-market fit,' - aligning Wipster better with the requirements of its users.
After just a few days back in Wellington, Wenlock will be returning Stateside to attend the National Association of Broadcasters in Las Vegas next week.