New Zealand's increasingly diverse society is well reflected in books for our children, says the school librarian who's read 164 of the last year's best to help draw up a shortlist for the country's annual Book Awards for Children and Young Adults.
That short list is out now, featuring 29 locally published books in six categories: picture book, junior fiction, young adult fiction, non-fiction, illustration and te reo Māori. The winners, announced early in August, take home $7500 and are then in the running to be named the Margaret Mahy Book of the Year.
Crissi Blair, a school librarian at Rangeview Intermediate in Te Atatu, book reviewer and convenor of this year's judging panel, says there were a "healthy number" of submissions from mainstream, indie and self-publishers.
"This year a lot of stories have the characters going on physical journeys and there don't seem to be as many 'issues based' books," says Blair, who has been a judge in past years and also holds a degree in design and visual arts. "Our writers and illustrators seem to be thinking about where we live and how we live and how we relate to others.
"The books that came out on top have genuine characters that think deeply about things and speak and act in way that children and adults actually do. They're asking the types of questions that people want answers to."
Blair says while New Zealand authors and illustrators often feature diverse protagonists, they're also ensuring other characters reflect a range of ages, genders, ethnic backgrounds and family make-ups.
"It looks like everyday life which is how it should be," she says. "They're not 'token characters' but genuinely reflective of New Zealand today."
While pleased with what she and the judges have seen, Blair says there's still room for improvement.
"It's disappointing to read a book that someone has obviously put so much time into and find there's a spelling mistake or something that simply doesn't look right in the layout."
The finalists for the 2019 New Zealand Book Awards for Children and Young Adults are:
Picture Book Award
Mini Whinny: Happy Birthday to Me, Stacy Gregg, illustrated by Ruth Paul
Puffin the Architect, Kimberly Andrews
The Bomb, Sacha Cotter, illustrated by Josh Morgan
Things in the Sea are Touching Me, Linda Jane Keegan, illustrated by Minky Stapleton
Who Stole the Rainbow? Vasanti Unka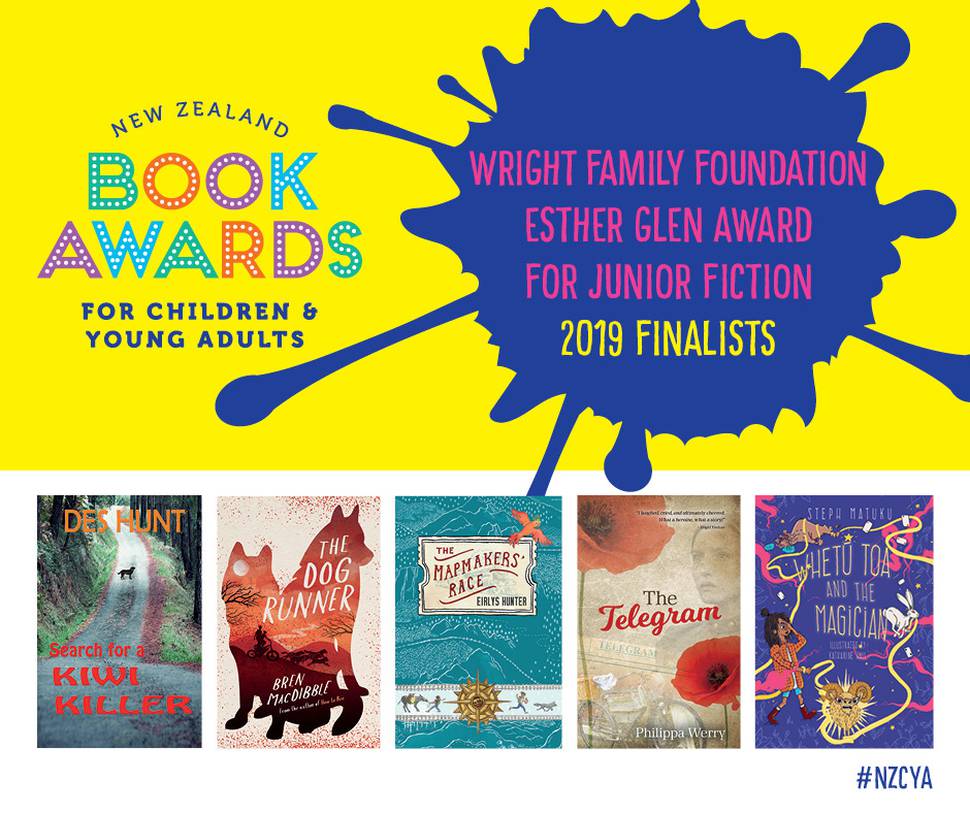 Wright Family Foundation Esther Glen Award for Junior Fiction
Search for a Kiwi Killer, Des Hunt
The Dog Runner, Bren MacDibble
The Mapmakers' Race, Eirlys Hunter, illustrated by Kirsten Slade
The Telegram, Philippa Werry
Whetū Toa and the Magician, Steph Matuku, illustrated by Katharine Hall
Young Adult Fiction Award
Ash Arising, Mandy Hager
Children of the Furnace, Brin Murray
Invisibly Breathing, Eileen Merriman
Legacy, Whiti Hereaka
The Rift, Rachael Craw
Elsie Locke Award for Non-Fiction
Art-tastic, Sarah Pepperle
Go Girl: A Storybook of Epic NZ Women, Barbara Else
Ko Mauao te Maunga: Legend of Mauao, Debbie McCauley, illustrated by Debbie Tipuna and translated by Tamati Waaka
New Zealand's Backyard Beasts, Ned Barraud
Whose Home is This? Gillian Candler, illustrated by Fraser Williamson
Russell Clark Award for Illustration
Cook's Cook: The Cook who Cooked for Captain Cook, written and illustrated by Gavin Bishop
Helen and the Go-Go Ninjas, illustrated by Ant Sang, written by Michael Bennett
Oink, written and illustrated by David Elliot
Puffin the Architect, written and illustrated by Kimberly Andrews
The Bomb, illustrated by Josh Morgan, written by Sacha Cotter
Wright Family Foundation Te Kura Pounamu Award for books written completely in te reo Māori
Ngā Whetū Matariki i Whānakotia, Miriama Kamo, illustrated by Zak Waipara, translated by Ngaere Roberts
Te Haka a Tānerore, Reina Kahukiwa, illustrated by Robyn Kahukiwa, translated by Kiwa Hammond
Te Hīnga Ake a Māui i Te Ika Whenua, written and illustrated by Donovan Bixley, translated by Darryn Joseph (cultural adviser) and Keri Opai
Best First Book Award
Art-tastic, Sarah Pepperle
Bullseye Bella, James T Guthrie
Children of the Furnace, Brin Murray
Slice of Heaven, Des O'Leary
The Stolen Stars of Matariki, Miriama Kamo, illustrated by Zak Waipara