Country/pop singer Kacey Musgraves has won album of the year at the 2019 Grammy Awards, finishing a ceremony that featured a star appearance from Michelle Obama - and a Kiwi cameo via the disembodied voice of Zane Lowe, who took care of introductions.
Musgraves had already taken home Best Country Song and Best Country Album for her critically-acclaimed 2018 release Golden Hour.
Host Alicia Keys kicked off the event with a moment celebrating female empowerment, during which she invited the former first lady onto the stage along with Lady Gaga, Jennifer Lopez and Jada Pinkett-Smith.
Each artist shared what music meant to them, but when it was Obama's turn to speak, she was drowned out by the crowd's cheers for so long, she had to ask people to stop, saying: "alright, we've got a show to do".
She said: "From the Motown records I wore out on the south side, to the Who Run the World songs that fuelled me through this last decade, music has always helped me tell my story... music helps us share ourselves, our dignity and sorrows, our hopes and joys, it allows us to hear one another, to invite each other in, it shows us that all of it matters."
Childish Gambino's ground-breaking hit This Is America was a major winner on the night, taking home four awards: the coveted Record of the Year award, Best Music Video, Best Rap/Sung Performance and Song of the Year. Gambino (aka Donald Glover) was absent from the ceremony.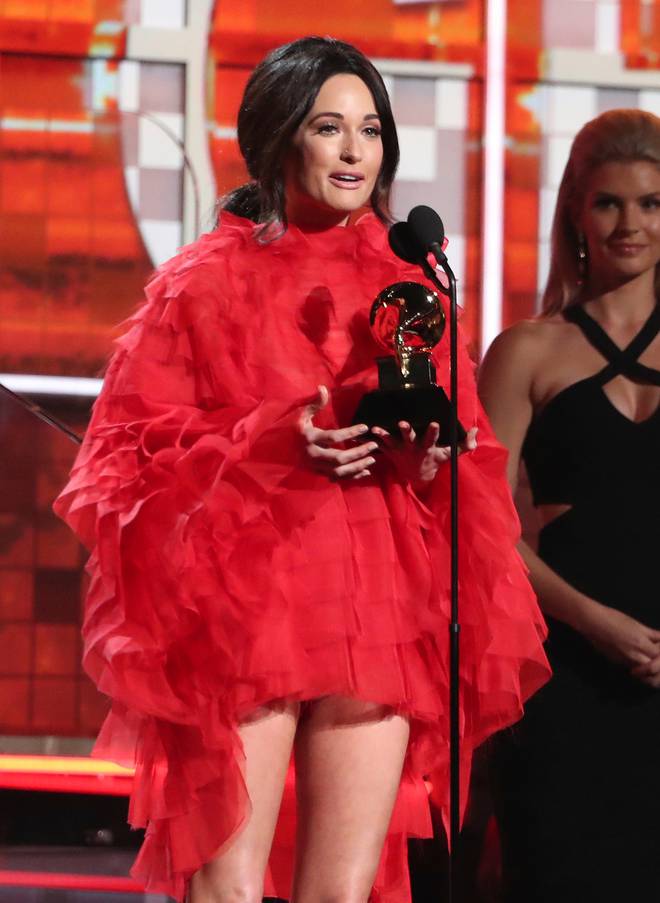 Lady Gaga was also a star of the ceremony, winning Grammys for Best Song Written For Visual Media and Best Pop Duo/Group Performance for Shallow from A Star is Born. She also took home Best Solo Pop Performance for her solo song Joanne (Where Do You Think You're Goin'?).
The pop star also performed a fiery rendition of Shallow, which had the crowd singing along to the show-stopping tune.
In her acceptance speech for the Best Pop Duo/Group award, Gaga shared a poignant message about mental health.
"If I don't get another chance to say this, I just want to say I'm so proud to be part of a movie that addresses mental health issues, they're so important," she said.
"And a lot of artists, a lot of artists deal with that. And we got to take care of each other. So, if you see somebody that is hurting, don't look away.
"And if you are hurting, even though it might be hard, try to find that bravery within yourself to dive deep and go tell somebody and take them up in your head with you."
Pop star Ariana Grande won her first Grammy award at the ceremony, picking up Best Pop Vocal Album for Sweetener, beating out Taylor Swift, Kelly Clarkson, Pink, Shawn Mendes and Camila Cabello.
But the singer was absent from the ceremony following a dispute with the Grammys producer, Ken Ehrlich. Grande accused him of lying about discussions about performing at the ceremony after Ehrlich told The Associated Press on Thursday that Grande had said she didn't have adequate time to prepare.
Rising RnB singer H.E.R. took home two Grammys; Best R&B Performance for Best Part (feat. Daniel Caesar) and Best R&B Album for her self-titled release. The singer accepted the latter award reminding the crowd that the record is actually two re-released EPs: "It's not an album!"
UK pop singer Dua Lipa won the coveted Best New Artist award and Best Dance Recording for Electricity, and included a jab at Grammys president Neil Portnow in her speech: "I guess this year (female artists) really stepped up." (Portnow was criticised last year for saying women needed to "step up" if they wanted more recognition).
Late Soundgarden rocker Chris Cornell received a posthumous award for Best Rock Performance for his song When Bad Does Good. Cornell's daughter Toni, and son, Christopher called the win a "bittersweet" moment for the family.
On the performance front, Jennifer Lopez took the stage with Alicia Keys and Smokey Robinson for a tribute medley celebrating the sounds of Motown.
Diana Ross performed a special birthday performance of two of her songs, The Best Years of My Life and Reach Out and Touch (Somebody's Hand) - finishing her set by telling the crowd: "Happy birthday to me!"
Dolly Parton joined her own tribute performance, which was opened by Katy Perry and Kacey Musgraves. Parton joined to sing her hit Here You Come Again, and was later joined by her goddaughter Miley Cyrus for her song Jolene.
New Grammy winners St Vincent (Annie Clark) and Dua Lipa performed a seductive mash-up of Clark's Masseduction (which won Best Rock Song) and Dua Lipa's One Kiss.