Kim Kardashian and her three children were given just one hour to evacuate her home as wildfires swept through California.
The reality TV star flew back from San Quentin jail, where a death row inmate she is campaigning to have released is being held, when she was told to quickly flee the devastating blazes.
As the 38-year-old came into land in her private plane she took aerial videos and pictures of the flames spreading around the around Los Angeles and Ventura County, reports Daily Mail.
The star has asked her fans to "pray for Calabasas" after the reality TV star was "evacuated" from her home due to wildfires.
She took to Instagram to share aerial photos of the Woosley fire in California and praise the efforts of firefighters.
However once she landed, Kim revealed her and kids North, Chicago and Saint only "had 1 hour to pack up & evacuate our home".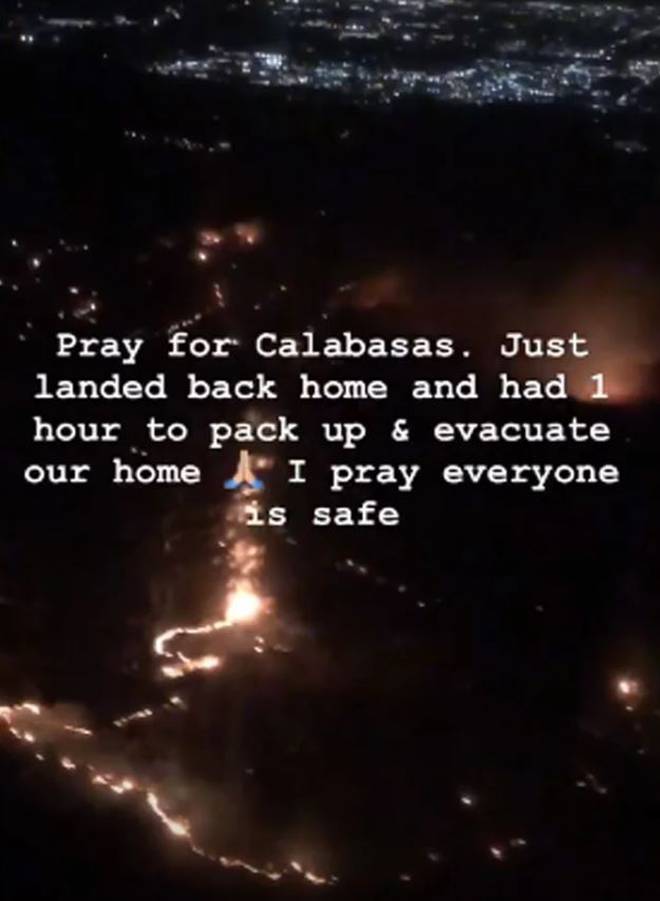 The Woolsey Fire reached the Kardashian-West pad in the Hidden Hills neighborhood on Friday afternoon, according to TMZ.
Around the same time reports emerged that Caitlyn Jenner's 3,500 square foot, 4-bedroom pad overlooking the Malibu beach was destroyed by fierce flames from the same blaze.
Kim was returning from a business trip when she spotted the fires from the air.
And once on the ground, Kim made sure to document the action, sharing pictures and videos of first responders to the tragedy.
She captioned as video with: "Fire fighters are arriving. Thank you for all that you do for us!!!' wrote the mother-of-three."
Kim and rapper Kanye West's 15,000 sqft estate in Hidden Hills is thought to be worth around $20 million.
The fire first erupted on Thursday afternoon east of neighboring city Chatsworth and has since grown to 4,000 acres in Ventura County.
It rapidly burned down several houses as mandatory evacuations were ordered in areas like the Kardashian neighborhood of Hidden Hills.
Kim and her sister Kourtney, 39, both live in exclusive Calabasas, near their mother Kris Jenner and brother Rob.
Kourtney left her Calabasas home and posted an Instagram picture of suitcases in her car as she went to stay with sister Kendall Jenner's house in Beverly Hills and joked she was raiding her pantry for food.
She wrote alongside the picture: "I pray that everyone is kept safe and protected from these fires. No Calabasas tonight."
Kris Jenner's upmarket Hidden Hills neighborhood was evacuated, but she was also not at her $9.9m home as the drama unfolded as she was watching daughter, Kendall, take to the catwalk and star in the Victoria Secrets fashion show in New York.
Kylie was not in California at the time as she was supporting boyfriend, Travis Scott, at his Astroworld tour in Baltimore, Maryland.
Khloe Kardashian revealed that she and daughter True were staying with Rob Kardashian and his daughter, Dream, who live near Kris, but were not forced out of their home.
She tweeted last night: "I am with Rob, Dream and True and I am up keeping watch! Saying prayers and thanking all of the brave firefighters who risk their lives for us."
The Kardashian/West family live just around 13 miles from Thousand Oaks, where the night after a mass shooting left 12 dead, fires have threatened to rip through the community.
Smoke could be seen over the area where a vigil was held last night for the victims of the shooting at the Borderline Bar and Grill on Wednesday night.
Dubbed the "Hill Fire" the blaze quickly spread to cover between 8,000 and 10,000 acres on this morning, according to Ventura County Fire Department officials.
The Hill fire, which began at around 2pm, was being spread by powerful winds that pushed it through canyons and to the edge of Camarillo Springs and Cal State Channel Islands, both of which were evacuated.
Two large brush fires caused 75,000 homes to be placed under evacuation orders along the border of Ventura and Los Angeles counties.
Los Angeles Fire Department Public Information Officer Erik Scott said the blaze destroyed or damaged many buildings.
A second fire has been burning in the Santa Rosa Valley east of Camarillo, west of Simi Valley near Newbury Park and Thousand Oaks.
Nearly 500 miles away in northern California, the town of Paradise was left "pretty much destroyed" by a raging wildfires.
Kim had been returning from a visit to one of the most notorious prisons - San Quentin State Prison in northern California - according to a Thursday report from TMZ.
According to the publication's sources, she was on prison grounds for several hours as she met with inmates and staff.
Death row inmate Kevin Cooper is currently in San Quentin though it remains unclear if they met during the visit according to the publication.
Cooper been on death row for 33 years and will face the lethal injection for the murders of four people, including two ten-year-old children.
The KUWTK star today urged California Governor Jerry Brown to allow the retesting of the prisoner's DNA on Twitter.
In a tweet, the mother-of-two said: "Governor Brown, please add Kevin Cooper to your legacy of smart, fair and thoughtful criminal justice reforms."
She retweeted an opinion article from the New York Times titled "Justice Delayed, With a Life on the Line".
The piece argues that Cooper might have been framed for the heinous crime.