Oprah Winfrey has delivered an impassioned speech in her push to elect America's first black female governor, as US Vice President Mike Pence took aim at the star for using her fame to influence politics.
Speaking before the Republican-leaning suburbs of Atlanta, Ms Winfrey urged voters to make history by backing Democratic candidate Stacey Abrams in next week's midterm elections.
Ms Winfrey called Ms Abrams a "changemaker" who represented the values of all Georgians, where Atlanta is the capital city.
"I am here today because Stacey Abrams cares about the things that matter," she said to a mostly female audience.
Ms Abrams, a Yale-educated lawyer who served a decade in the Georgia Legislature, would be the first black female governor in American history.
She's sought the post as an unapologetic liberal trying to draw new voters to the polls and prove that Georgia's growth and diversity make it a legitimate two-party battleground.
She touts her experience working with Republicans as a state legislative leader, but she doesn't back down on her promises to expand Medicaid insurance, prioritise public education and push for tighter gun restrictions.
Ms Winfrey, who rarely makes political endorsements, drew cheers when she said she's a registered independent who was not in Georgia at anyone's request.
"I paid to come here myself, and I approved this message," she said, explaining that she tracked down Ms Abrams' phone number and called her to say she wanted to offer assistance in the final days of the campaign.
She also urged against any reboot of recent speculation that she might run for president in 2020. "I'm not here because I'm making some grandstand for myself. I don't want to run. I'm not testing the waters," she said.
Ms Winfrey blasted attacks on Ms Abrams that she says she saw in her hotel room — Republican ads casts Ms Abrams as "too extreme" and "radical" for Georgia — as "noise" that is "designed to confound you with fear."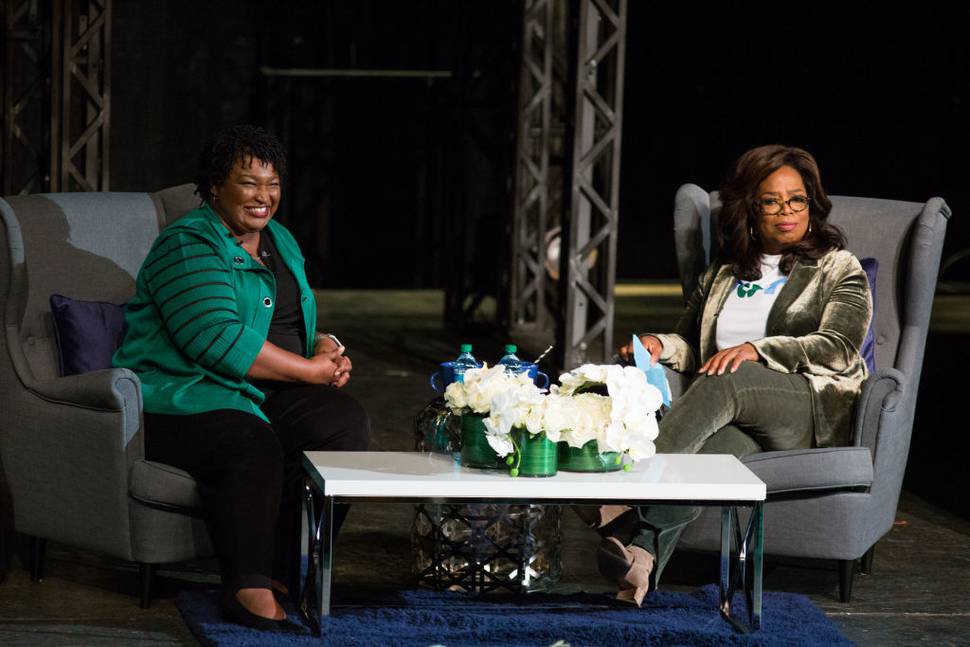 "Democracy is not just about our individual rights and concerns and our individual protections," Ms Winfrey said, "but rather it lives and thrives in making sure that everybody is lifted by the community."
After her speech she noted both women were "just two women from Mississippi."
As a black woman, Ms Winfrey noted her kinship to two groups historically denied ballot access in the United States. She recalled generations of black Americans who faced "lynching … oppression … suppression," and declared that "their blood has seeped into my DNA" and forced her to the polls.
She encouraged women of all races — "sisters … not just 'sistahs,"' she joked — to remember that they would have been "just a piece of property" with no ballot barely a century ago.
'THIS AIN'T HOLLYWOOD'
Ms Winfrey's speech came as Vice President Pence stood alongside Ms Abrams' opponent, Brian Kemp, in nearby Dalton, and mocked the billionaire media icon as just another liberal outsider trying to impose on Republican-run Georgia.
"Stacey Abrams is being bankrolled by Hollywood liberals," Mr Pence said.
Pence drew boos from the crowd when he mentioned that "Oprah is in town" and noted that actor Will Ferrell was recently in Georgia for Democrats. "I'd like to remind Stacey and Oprah and Will Ferrell, I'm kind of a big deal, too," Mr Pence said, adding "a message for all Stacey Abrams' liberal friends: This ain't Hollywood. This is Georgia."
Donald Trump, who plans to appear with Mr Kemp later this week told reporters at the White House: "I've always liked Oprah."
"Oprah's good, but the woman that she's supporting is not qualified to be the governor of Georgia by any stretch of the imagination."
More than 1.5 million of the state's almost 7 million registered voters have cast ballots already.