It was 1994 and Disney had an unexpected hit on its hands but it wasn't a movie or new theme park. Instead, it was the big-budget Broadway musical Beauty and the Beast which was to change theatre forever.
Undeterred by critics who said Beauty and the Beast was a "great spectacle" but not great theatre, the public — especially families — flocked to it. From then on, family theatre became the biggest thing in live entertainment spurring on an unprecedented number of all-ages musicals that would bust records on Broadway and the West End and tour to countries where Disney really was more myth than reality.
As well as the Broadway success, Disney's animated films Aladdin and The Lion King — the latter with Elton John and Tim Rice's music — had done brisk business. After a period in the doldrums, it was a good time to be at the 71-year-old entertainment behemoth.
Naturally, the then Disney CEO Michael Eisner wanted to know, what next? So, he called a meeting with John, Rice, Peter Schneider, head of Walt Disney Feature Animation and Thomas Schumacher, a West Coast native raised in a modest middle-class home, who was Schneider's deputy.
Schumacher remembers the meeting like it was yesterday.
"Michael Eisner says to Elton John, 'what do you think you'd like to do next?' and Elton says, "I don't want to do another movie, but I'd like to do a stage show' so Peter and I were told to start 'a little thing' looking at what we could adapt for the stage. Michael Eisner called it a 'weekend project' and for years, I flew between Los Angeles and New York."
Schumacher chuckles, warmly and wryly, as he reflects on how that "weekend project" turned into the creation of an entire new Disney division and some of the most successful stage musicals ever made: The Lion King, Aida, High School Musical, Mary Poppins, The Little Mermaid, Aladdin and, this year, Frozen.
Now Schumacher is president and producer of that division (Disney Theatrical Group) and responsible for the development, creation and staging of its theatre shows around the globe as well as Disney on Ice and Disney Live! with Feld Entertainment.
For a kid who produced and directed his first play at primary school — "it was on the day news of Bobby Kennedy's assassination broke and I was worried we wouldn't be able to go ahead" — and cleaned a local dance studio to pay for lessons there, it's the proverbial dream come true.
Having just visited New Zealand to launch Disney's Aladdin the Musical, Schumacher remains a dedicated champion of live theatre and the joy it brings to young lives, the community ties it creates and the way it fosters family and intergenerational connections.
He doesn't want to provide more opportunities for kids who, like he was, are already converts; instead he focuses on those who need some joy, maybe a measure of distraction and a confidence boost.
"I want to reach the kids whose lives are made better by the arts, not necessarily those who are looking for a career in the arts," says Schumacher, speaking from his New York office. "You get so much out of being involved in theatre: confidence, creativity, the realisation that the whole is more important than the individual, problem-solving, goal setting and you really do learn what it's like to walk a mile in someone else's shoes.
"The best companies are ones where there are young and older people involved; the young from the older generation who get the chance to pass on skills which are then kept alive. That's just so important."
When kids go to the theatre, Schumacher wants them to enjoy the experience — "to have fun watching how magical it is" — but also to realise the human endeavour involved.
"You know, they see that the characters are wearing costumes which weren't bought from a store but made by a person; that prop that got thrown off-stage had to caught by someone and the songs they're singing when written by a person who had to sit down and write the words maybe by sitting at a piano and working out the music. It's a handcrafted art form that goes back centuries."
Well aware the tickets can be beyond the budgets of some families, Schumacher developed a licensing programme with Music Theatre International to make select Disney titles available for schools and amateur performances throughout the world. It means with more than 20 productions currently produced or licensed, a Disney musical is performed professionally somewhere on the planet virtually every hour of the day.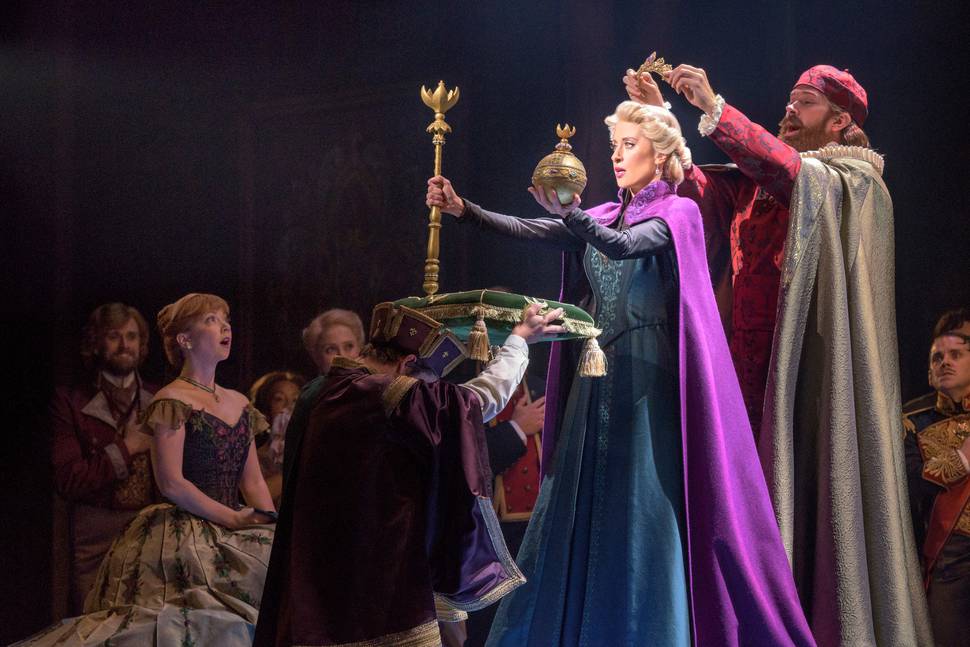 When I interviewed Schumacher, stars Kristen Bell, who voiced Princess Anna in the film Frozen, and Keira Knightley shared their concerns about the portrayal of certain Disney princesses notably Snow White and the prince who kisses her without consent.
Schumacher says characters and scenarios have changed since he joined Disney in 1988. Aerial, the Little Mermaid, for example, become more defiant and single-minded but, he concedes, was still willing to give up her voice to snare a prince.
"So we were back in that era… but if you look at Jasmine in the stage show Aladdin, there's been a huge leap from the movie in that she's a strong character, far more in charge of her destiny. Pocahontas doesn't leave with the leading man but stays to help her people and then we have Frozen where two women drive the story which is all about them coming to find power in themselves. It's a story driven by them and completely from their point of view.
"I'm always looking at what we've made, thinking about certain scenes and lines and whether it's relevant, in keeping with the times and that's okay because these things aren't antiques. They can be re-formatted. But, in the cold light of day, have we done enough, no, probably not, but let's keep working and I'm pleased to be working in an era where we keep trying."
Not everything Schumacher oversees has been successful and, for a while there, he wondered if Aladdin would be. His formula for what will transition from screen to stage?
"I feel it in my gut and I didn't with Aladdin for a long time because I couldn't see it and if I can't see how, how can I lead it?"
Adapting Aladdin for an am-dram production, Schumacher says during the song High Adventure, a collaborator turned to him and said, 'why isn't his on Broadway?' — the magic words that got him thinking more about that.
"Then I began to dissect the story, put the genie at the centre of the story and think of it as this [jazz singer/band leader] Cab Calloway meets Harlem meets jazz era musical where a disadvantaged boy betrays everything he knows, goes down the wrong path but then has to put on his 'big boy' pants and keep his word in order to make everything right and, by doing so, he gets everything he wants."
What: Disney's Aladdin the Musical
Where & when: The Civic, January 3 — February 10