He was in attendance at 2 Chainz's extravagant wedding to his long-term girlfriend Kesha Ward on Saturday, which saw the pair tie the knot at the Gianni Versace Mansion in Miami.
But in true Kanye West fashion, the Yikes hitmaker, 41, couldn't help but draw in attention from his fans as he sported Yeezy slides with his mint suit to the star-studded nuptials.
Taking to Twitter in their droves, fans poked fun at his choice of footwear as they branded the shoes "too small" and inappropriate for the lavish occasion.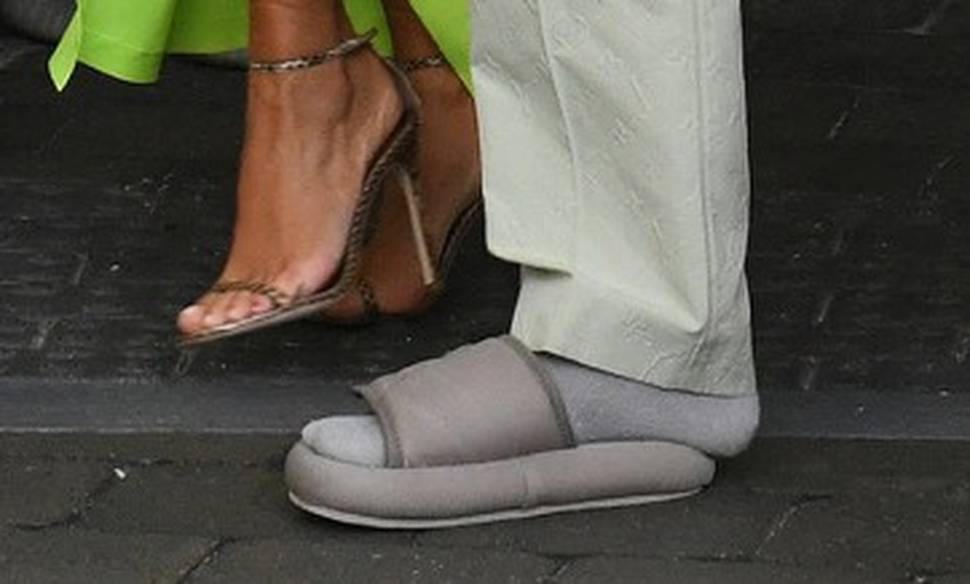 The All Falls Down rapper certainly made an entrance with his wife and reality star Kim Kardashian, 37, as they rocked up to the event in shades of green.
The Keeping with The Kardashian star slipped her famously curvaceous figure into a neon bodycon gown, teamed with gold strappy shoes, the Daily Mail reports.
Accentuating her bronzed complexion, the TV personality wore neutral-toned make-up and wore her tresses in loose waves.
Meanwhile, the Bound 2 hitmaker also turned heads as he went shirtless under his green two-piece by Louis Vuitton.
While the pair caught the eye of onlookers with her daring ensemble, social media users focused their attention on Kanye's designer footwear, which retails at $150.
One fan was clearly unimpressed with the musician's attire, stating: "I'm mad that @kanyewest decided to wear slides with that suit...
"And then slides that aren't even his size?? Like damn he looked f****** good until I saw the full photos and realized his shoes don't even fit his feet. Mad."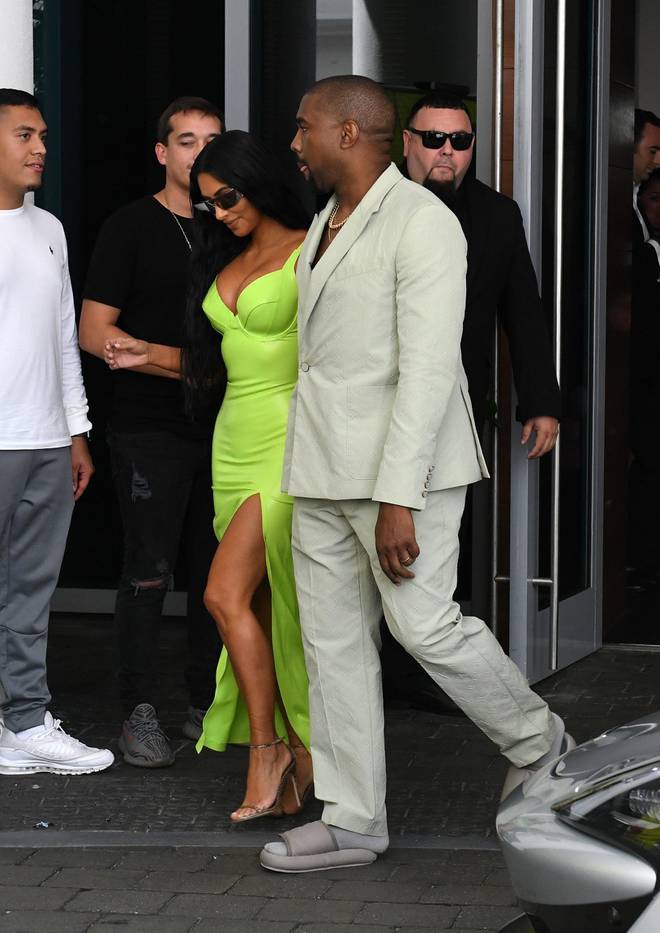 Branding the shoes as inappropriate, another chimmed in: "WHY is @kanyewest wearing shower shoes with socks to a wedding? No #Respect."
Others hinted his shoes were too small: "First of all kanye YEEZYS ARE YOUR SHOES IT SHOULD BE NO REASON WHY YOU AINT GET THE SIZE THAT FITS YOU @kanyewest".
"You'd think with all that #yeezy money @kanyewest would have chosen shoes that fit for such an occasion, but nah he had to take North's on the way out."
"Maybe Kanye spilled something on the shoes he was gonna wear to 2 Chainz's wedding. And maybe these beige puffy sandals were the only other footwear lying around. Because we all know this man makes many bold fashion risks, but he knows his shoe size. #KanyeWest."
Insisting the shoes were worn as an ingrown toenail aid, one joked: "kanye has an ingrown toe nail and the doctor advised him not to wear closed toed shoes @kanyewest i got you dawg dnt let mf hate on health (sic)."
Injecting touches of sarcasm, another wrote: "I had a friend who said you can tell a lot about a man by the shoes he's wearing. Tassels or leather slide on shoes means he's wealthy and takes care of himself. Never really bought into it until now #nope #KanyeWest #sockswithsandalstoawedding."
While the star ensured all eyes were on him with his daring fashion sense, newlywed 2 Chainz, 40, - pulled out all the stops for his special day, as the extravagant wedding saw an appearance from a white tiger.
The couple were two of 75 VIPs gracing the lavish ceremony at Villa Casa Casuarina, where Gianni Versace once lived.
Kanye and Chainz have worked together together multiple times throughout their careers.
Together collaborated, along with Big Sean and Pusha T, on 2012's Mercy, and the Yeezus rapper contributed a verse to 2 Chainz's Birthday Song.