Legendary singer Aretha Franklin has died at home in Detroit, aged 76.
The music icon, who influenced generations of singers with unforgettable hits such as Respect (1967), Natural Woman (1968) and I Say a Little Prayer (1968), was surrounded by family and friends when she died at 9.50am on Thursday local time.
"It is with deep and profound sadness that we announce the passing of Aretha Louise Franklin, the Queen of Soul," her family said in a statement issued by her publicist.
"In one of the darkest moments of our lives, we are not able to find the appropriate words to express the pain in our heart.
"We have lost the matriarch and rock of our family. The love she had for her children, grandchildren, nieces, nephews, and cousins knew no bounds."
Her death from advanced pancreatic cancer was followed by an outpouring of grief, with celebrities flocking to pay their respects to the unbeatable singer.
John Legend tweeted: "Salute to the Queen. The greatest vocalist I've ever known."
Diana Ross said she was "sitting in prayer for the wonderful golden spirit Aretha Franklin."
Barbra Streisand shared a photo of herself performing with Franklin in 2012, adding: "It's difficult to conceive of a world without her. Not only was she a uniquely brilliant singer, but her commitment to civil rights made an indelible impact on the world."
Tributes flowed for the remarkable woman, with everyone from Apple CEO Tim Cook to Hillary Clinton expressing their admiration for Franklin and sadness at her death. "She was a great woman, with a wonderful gift from God, her voice," tweeted Donald Trump. "She will be missed!"
Clive Davis, the music mogul who brought her to Arista Records and helped revive her career in the 1980s, said he was "devastated" by her death.
"She was truly one of a kind," he said in a statement. "She was more than the Queen of Soul. She was a national treasure to be cherished by every generation throughout the world.
"Apart from our long professional relationship, Aretha was my friend. Her loss is deeply profound and my heart is full of sadness."
Her family thanked friends and supporters from all over the world for their compassion and prayers. "We have been deeply touched by the incredible outpouring of love and support we have received," their statement read.
"We have felt your love for Aretha and it brings us comfort to know that her legacy will live on. As we grieve, we ask that you respect our privacy during this difficult time."
Funeral arrangements will be announced in the coming days.
Stars offered tributes and prayers for their idol earlier this week after news about her worsening condition emerged.
Beyoncé and Jay-Z paused their Detroit concert on Monday after the show's opening song "Holy Grail" to dedicate the show to Franklin. "We love and thank you," said Beyoncé.
"My prayers are with Aretha Franklin and her family during this difficult time," tweeted rapper Missy Elliott. "We MUST CELEBRATE the Living Legends while they are here to see it. So many have given us decades of Timeless music."
Boy George said: "This is sad news. Aretha Franklin, what a voice."
Pop diva Mariah Carey, who was heavily influenced by Franklin, tweeted: "Praying for the Queen of Soul."
Franklin cemented her place in American music history with her powerful, bell-clear voice that stretched over four octaves. In her decades-long career, her hits spanned the genres, from soul to R&B, to gospel and pop.
She was the first woman to be inducted into the Rock & Roll Hall of Fame in 1987. In 2010, Rolling Stone magazine put her at the top of its list of the 100 greatest singers of all time, male or female.
The Hall of Fame issued a statement titled "Lady Soul", which read: "The first woman inducted into the Rock & Roll Hall of Fame, Aretha Franklin was an artist of passion, sophistication and command, whose recordings remain anthems that defined soul music. Long live the Queen."
Franklin's declining health was first disclosed on the Showbiz 411 website late Monday by Roger Friedman, a reporter and family friend. He wrote that she was "gravely ill in Detroit. The family is asking for prayers and privacy."
Local media later confirmed Franklin's illness.
Evrod Cassimy, a local television journalist for WDIV who also described himself as a friend of the singer, said he spoke with Franklin on Tuesday morning and she was "with close friends and family, resting."

"I've been speaking with her family members," Cassimy said during a newscast. "They have not only asked for prayers during this time, but they have also asked for their privacy."
Franklin, who is widely known by only her first name in true diva style, rose from singing gospel in her father's church to regularly topping rhythm and blues and pop charts in the 1960s and 1970s.
Beyond Respect, her powerful cover of the Otis Redding tune that became her calling card, Franklin had dozens of Top 40 singles. Other hits included Day Dreaming (1972), Jump to It (1982), Freeway of Love (1985) and A Rose Is Still A Rose (1998).
A 1986 duet with George Michael, I Knew You Were Waiting (For Me), hit number one in several countries.
Her style influenced singers from Mariah Carey and the late Whitney Houston, whose mother was a backup singer for Franklin, to Alicia Keys, Beyonce, Mary J. Blige and Amy Winehouse.
"You know a force from heaven. You know something that God made. And Aretha is a gift from God," Rolling Stone said of Franklin in its list of greatest singers of all time.
She won 18 Grammy Awards, including one for lifetime achievement, and sang at the inaugurations of presidents Jimmy Carter, Bill Clinton and Barack Obama.
Martin Luther King Jr. was a longtime friend, and she sang at the dedication of his memorial in 2011, as well as at the funeral for civil rights pioneer Rosa Parks.
In 2005, Franklin was awarded the Presidential Medal of Freedom, the highest award for an American civilian, by then-president George W. Bush.
In 2010, she suffered serious health problems, but she continued to perform until late last year, singing last in November 2017 for the Elton John AIDS Foundation in New York. That same year, Detroit named a street after her.
Standing outside the city's Motown Museum on Tuesday, musician Linda Laura-Culbreath told AFP that Franklin had influenced a generation of women who were empowered by her songs.
"We all were blessed with pure talent," said the 53-year-old, who was visiting from Milwaukee. "She made sure that women in general knew that they were not under a man, that they were supposed to walk next to them."
A LIFE IN MUSIC
Franklin was born March 25, 1942, in Memphis, Tennessee.
Her father, the Reverend C.L. Franklin, moved his family to Buffalo, New York, then to Detroit, where they settled after the marriage of Aretha's parents collapsed and her mother — and reputed sound-alike — Barbara returned to Buffalo.
Music was the family business and well-known performers from Sam Cooke to Lou Rawls were guests at the house. Rev. Franklin was among the most prominent Baptist ministers of his time and recorded dozens of albums of sermons and music. His daughter toured with him when she was a teenager and he introduced her to gospel stars he knew including Marion Williams and Clara Ward, who mentored Franklin and her sisters Carolyn and Erma.
Both sisters sang on her records, and Carolyn wrote Ain't No Way and other songs for Franklin. In the living room, the shy young Aretha awed friends with her playing on the grand piano, which she began learning aged eight.
Franklin battled personal troubles dating back to childhood as well as the pressures of immense lifelong fame. She was married from 1961 to 1969 to her manager, Ted White, and their battles are widely believed to have inspired her performances on several songs, including (Sweet Sweet Baby) Since You've Been Gone, Think and the heartbreaking ballad Ain't No Way.
The mother of two sons by age 16 (she later had two more), she was often in turmoil as she struggled with her weight, family problems and financial predicaments. Her best known producer, Jerry Wexler, nicknamed her "Our Lady of Mysterious Sorrows."
She married actor Glynn Turman in 1978 in Los Angeles but returned to her hometown of Detroit the following year after her father was shot by burglars and left semi-comatose until his death in 1984. She and Turman divorced that year.
Of Franklin's dozens of hits, none was linked more firmly to her than the empowering anthem Respect with its inspiring "R-E-S-P-E-C-T" refrain.
The artist had decided she wanted to "embellish" the R&B song written by Otis Redding, whose version had been a modest hit in 1965.
In 1968, Franklin was pictured on the cover of Time magazine and she had more than 10 Top 20 hits in 1967 and 1968. At a time of rebellion and division, Franklin's records were a musical union of the church and the secular, man and woman, black and white, North and South, East and West. Her career was revived in 1980 with a cameo appearance in the smash movie The Blues Brothers and her switch to Arista Records. Franklin collaborated with pop and soul artists including Luther Vandross, Elton John, Whitney Houston and George Michael, with whom she recorded No 1 single I Knew You Were Waiting (for Me).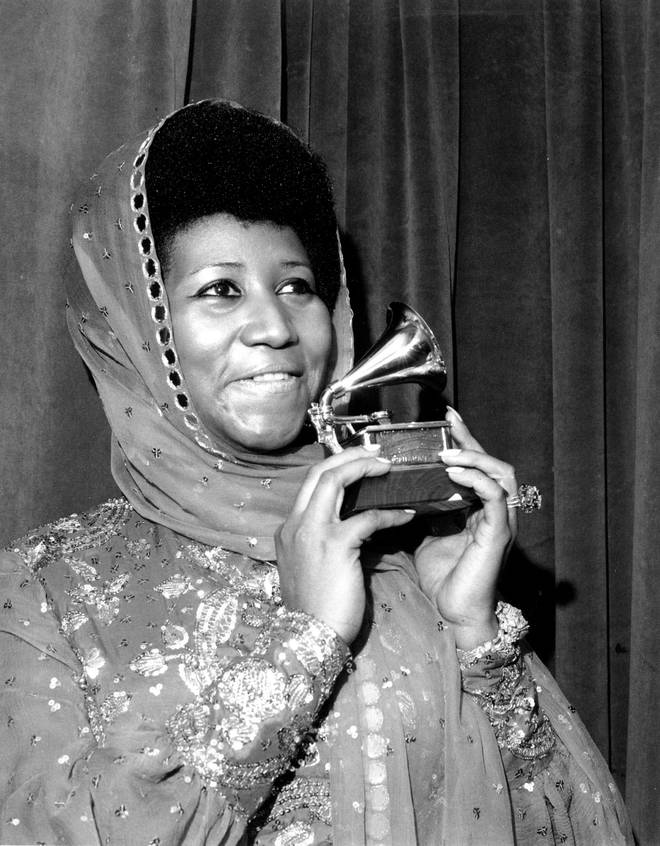 She mastered every genre and covered all types of songs, including tracks by Stephen Sondheim, Bread and the Doobie Brothers. For Aretha, anything she performed was "soul".
From her earliest recording sessions at Columbia, when she asked to sing Over the Rainbow, she defied category. The 1998 Grammys gave her a chance to demonstrate her range. Franklin performed Respect, before filling in for an ailing Luciano Pavarotti at a few minutes' notice and drawing rave reviews for her rendition of Nessun Dorma, a stirring aria for tenors from Puccini's Turandot.
"I'm sure many people were surprised, but I'm not there to prove anything," Franklin told The Associated Press. "Not necessary."
Fame never eclipsed her charitable works, or loyalty to Detroit. Franklin sang the national anthem at Super Bowl in her hometown in 2006, after complaining that Detroit's rich musical legacy was being snubbed when the Rolling Stones were chosen as halftime performers.
"I didn't think there was enough (Detroit representation) by any means," she said. "And it was my feeling, 'How dare you come to Detroit, a city of legends — musical legends, plural — and not ask one or two of them to participate?' That's not the way it should be."
She only released a few albums over the past two decades, including A Rose is Still a Rose, which featured songs by Sean "Diddy" Combs, Lauryn Hill and other contemporary artists, and So Damn Happy, for which Franklin wrote the title ballad. Franklin's autobiography, Aretha: From These Roots, came out in 1999, when she was in her 50s. But she always made it clear that her story would continue.
"Music is my thing, it's who I am. I'm in it for the long run," she told The Associated Press in 2008. "I'll be around, singing, 'What you want, baby I got it.' Having fun all the way."
In a 2004 interview with Florida newspaper the St Petersburg Times, Franklin was asked whether she sensed in the sixties that she was helping change popular music.
"Somewhat, certainly with Respect, that was a battle cry for freedom and many people of many ethnicities took pride in that word," she said. "It was meaningful to all of us."