Over the years, a number of embarrassing Who Wants To Be A Millionaire fails have made global headlines.
But this latest flop by a contestant on the Turkish version of the show might just take the cake.
That's because 26-year-old Su Ayhan struggled to answer a question so simple the answer was even sitting right there on the screen.
The young woman got into trouble when she was asked the fourth question, worth 3000 Turkish lira (NZ$810).
The question? "Where is the Great Wall of China?"
Ms Ayhan was offered four possible answers: China, India, South Korea or Japan.
But somehow, she was baffled by the question, eventually choosing to use one of the three "lifelines" available to her.
She chose to ask the audience — who proved to be spectacularly unhelpful, with just 51 per cent getting the answer right and naming China as the home of the World Wonder.
Given that dismal result, Ms Ayhan then decided to use another lifeline, by calling a friend.
Luckily, that unnamed friend was able to give her the right answer.
But unsurprisingly, Ms Ayhan struck out on the next question about the composer of a famous Turkish song, and was eliminated from the show.
Ms Ayhan and the audience have since become the butt of jokes in the country, although some haven't seen the funny side, blaming the government and the Turkish government for failing its people when it comes to education standards.
Writing about the incident, journalist Ahmet Hakan, who contributes to the English language Turkish publication The Hürriyet Daily New s, said: "I hope many people in the audience failed to answer the question thinking it was too easy to be asked, setting a trap.
"Otherwise, this huge ignorance problem cannot be solved, even with our new Education Minister Ziya Selçuk."
Ayhan has gone on the record to defend her performance on the show, arguing: "I could use my lifelines whenever I wanted."
The woman now joins the ranks of other Who Wants To Be A Millionaire fail Hall of Famers, including famously cocky US medical student Brenton Andreasik, who flunked his very first question back in 2015 after telling the host how brainy he was.
Andreasik was asked: "Snapping selfies in kitchens you can't afford and taking a 'meatball break' are two things BuzzFeed says every twenty-something does on their first trip … where?"
Andreasik selected Rome — while the correct answer was, of course, IKEA.
Aussies aren't immune to quiz show blunders either — in 2014, Ballarat contestant Whitney Beseler also failed the first $100 question when she was asked: "Which of these is not a piece of jewellery commonly worn to symbolise a relationship between two people?"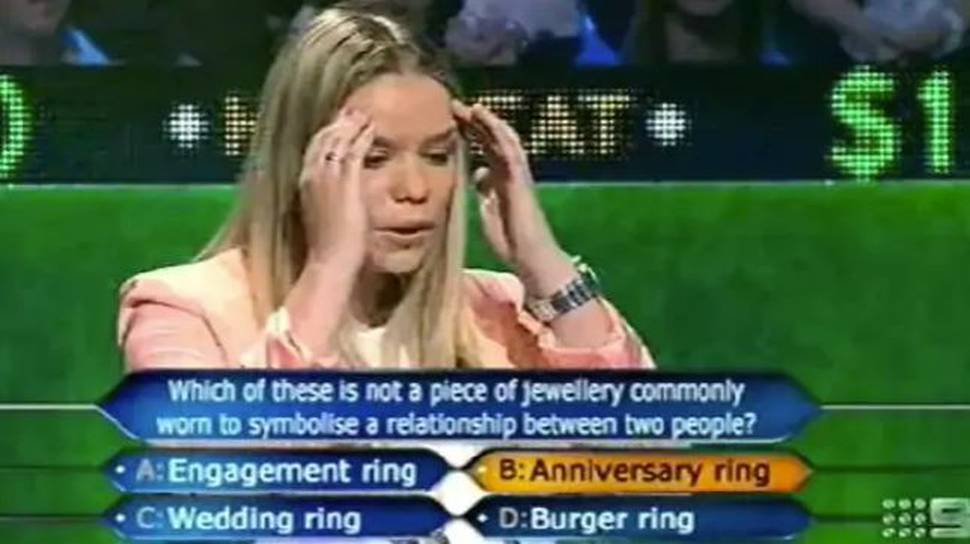 Beseler chose "anniversary ring", while the right answer was "Burger ring".
And in 2017, a Spanish contestant famously got a question wrong — even though the answer was printed on his shirt.