Academy Award winning actor Robert Redford has announced his retirement after a career spanning almost six decades with more than 41 appearances in films and 10 directing credits.
The Hollywood megastar, 81, will end his iconic 56-year film career with final movie, The Old Man & The Gun, and said he is glad to go out on an "upbeat and positive" note.
Speaking to Entertainment Weekly on Monday about his future, the twice married father-of-four said: "Never say never, but I pretty well concluded that this would be it for me in terms of acting, and (I'll) move towards retirement after this because I've been doing it since I was 21."
"I thought, 'Well, that's enough'. And why not go out with something that's very upbeat and positive?"
The veteran actor, who has seven grandchildren, announced two years ago he was planning to stop working after finishing his remaining projects, the Daily Mail reports.
Redford, who is of English, Scottish, Cornish, and Irish ancestry, previously said he would focus on directing when he finished acting.
Discussing the possibility of turning his talents behind the camera, he told the publication: "We'll see about that."
Born in Santa Monica, California in 1936, Redford first began his acting career on stage in New York City in the 1950s where he took on small roles in plays The Highest Tree and Sunday in New York.
In 1958, Redford married his first wife, Lola Van Wagenen, who at the time dropped out of college to marry the actor. The pair had four children together - Scott Anthony who died as a baby from sudden infant death syndrome, Shauna Jean, David James and Amy Hart Redford. The couple eventually divorced in a mutual split in 1985, but it wasn't made public until 10 years later since Redford guards his private life.
Following his time on stage, he appeared as a guest star in several TV shows, including Maverick, The Americans, Perry Mason, Tate, The Twilight Zone, Alfred Hitchcock Presents and Route 66.
Redford earned his first Emmy nomination as Best Supporting Actor for his 1962 performance in The Voice of Charlie Point which aired on ABC.
He made his screen debut with the leading role as Private Roy Loomis in the 1962 film War Hunt and won a Golden Globe for Best New Star for his 1965 role playing a bisexual movie star who marries Natalie Wood in Daisy Clover.
Redford, who will turn 82 on August 18, starred alongside Jane Fonda and Marlon Brando in Arthur Penn's 1966 film The Chase.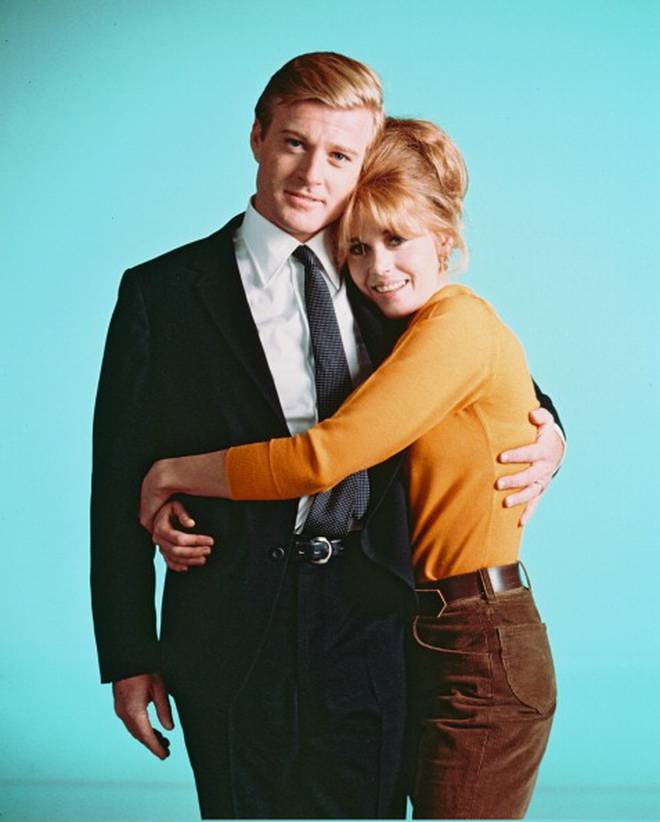 But in 1967, he got his big screen breakthrough with a role in Barefoot in the Park opposite of Fonda. It was thanks to this film that he earned an image as Hollywood's golden boy, which he was determined to shake off for much of his career.
Redford reached major stardom following the success of 1969 Western classic Butch Cassidy And The Sundance Kid, where he played a Wild West outlaw alongside Paul Newman.
Playing the eponymous Harry "Sundance Kid" Longabaugh, the film follows the two anti-heroes as they try to outrun a US posse after a string of train robberies.
"When I first met [director] George Roy Hill, I told him that I much more related to the outlaw character, the Sundance Kid, which was not the role he wanted me for," Redford said to Entertainment Weekly while recalling some of his most famous roles.
"But George got excited and thought, 'Hmm, I'm going to make this work.' … The studio wanted a name as big as Paul Newman's, and I was quite a ways down on the stardom ladder.
"I'd never met Paul, but he insisted that the studio support George, and because it was Paul Newman, they agreed. The only thing they did was change the title. It was called — but they wanted Butch's name first because that's the part Paul was playing."
By the 1970s, he was the biggest box office draw in America.
His 1973 film The Sting, which won seven Academy Awards including Best Picture, also won Redford his sole acting nomination.
Also in 1973, Redford starred alongside Barbra Streisand in The Way We Were after initially declining the role which saw a college student try to romance a liberal activist played by Streisand.
Of the role, Redford told Entertainment Weekly: "He was a bit of a Ken doll with no dimension. I said, 'I'll be interested if we can find some flaws in him.'"
Of working with Streisand on the film, he told Entertainment Weekly: "I'd heard all kinds of crazy things about Barbra, but none of them applied to our relationship. I loved working with her. We had a ton of fun."
But Redford's 1976 hit movie All the President's Men helped cement his stardom becoming a landmark in his career.
Acting alongside Dustin Hoffman, the political thriller featured a realistic portrayal of journalists seeking out the truth about the Watergate Scandal, which led to President Richard Nixon's resignation from office in 1974.
In 1981 he went on to win an Academy Award for best director for his 1980 film Ordinary People, which is a family drama that starred Mary Tyler Moore.
"This story was about feelings that can't be reached, like with the mother character," Redford told Entertainment Weekly of his directorial debut film.
"The first studio I took it to said, 'You can't have Mary Tyler Moore in that role, she's America's sweetheart.' But I remember sitting at my house in Malibu one day in the late fall and I saw this woman bundled up in her overcoat, and she seemed very sad.
"When I realised it was Mary Tyler Moore, it hit me like a ton of bricks: 'Wow, she could do this.' When I asked her to be in the film, she wanted it even more than I did. She wanted to explore that side of herself and gave 100 percent."
He has a string of other directing credits, including the critically acclaimed A River Runs Through It in 1992 starring Brad Pitt and Quiz Show in 1994.
Redford, who married his longtime partner Sibylle Szaggars in July 2009, also founded the Sundance Institute in Utah for aspiring filmmakers and its annual film festival is one of the most influential in the world.
In his final film, the screen legend plays Forrest Tucker, a real-life criminal who robbed banks and broke out of prison multiple times, and Redford was fascinated by the "wonderful character".
He said: "To me, that was a wonderful character to play at this point in my life. The thing that really got me about him -- which I hope the film shows -- is he robbed 17 banks and he got caught 17 times and went to prison 17 times.
"But he also escaped 17 times. So it made me wonder: I wonder if he was not averse to getting caught so he that could enjoy the real thrill of his life, which is to escape?"
The actor first suggested that retirement was on the cards in 2016, when he told the Walker Art Centre that his two films in production would be his last.
He said: "I'm getting tired of acting. I'm an impatient person, so it's hard for me to sit around and do take after take after take."
"At this point in my life, age 80, it'd give me more satisfaction because I'm not dependent on anybody.
"It's just me, just the way it used to be, and so going back to sketching--that's sort of where my head is right now.
"[After my last projects have wrapped] I'm going to say, 'OK, that's goodbye to all that,' and then just focus on directing."