Despite having little to call his own, one man who lived on the streets for years, has always made sure to share his food with others.
Jack, 61, had a regular spot opposite the town hall in Queen Street, where he arrived each day as early as 5:30 in the morning.
From the food he was given, the softly-smiling man kept enough for himself and brought the rest to the City Mission where he was a part-time volunteer helper.
"If I have got it, I give it. If there's trouble on the streets with any of the rough sleepers I help sort it out. I treat all streeties as family."
Jack has a diploma in social work, has farmed oysters and said he has also done six years in the army.
The street was his home for a number of years and he often slept by the library in the summer.
This winter his oldest brother said, "you've gotta pull your a*** off the streets bro, you're too old for this".
So now he's staying with a niece.
Jack's story, and the others below, have been told as part of an exhibition of 25 portraits, all taken against the same concrete backdrop of a laneway wall in central Auckland.
Each black and white photo, taken by the same photographer, John Crawford, on his iPhone camera tells a different story of the lived street experience.

Tales of abuse, of gang troubles, of loss - but also of redemption, of hope and the resilience of the human spirit.

These stories feature as part of the "On the Street" exhibition which opens at the Gow Langsford Gallery in Auckland next month.
Stan also known as Dokta, 57
For Stan, who goes by the name Dokta, home is an old van in West Auckland with his pug bulldog, also called Dokta by his side.
His mother died when he was just 9, and Dokta said his one sister and four brothers were all passed onto the whanau.
"My whole world collapsed...but no-one could handle us."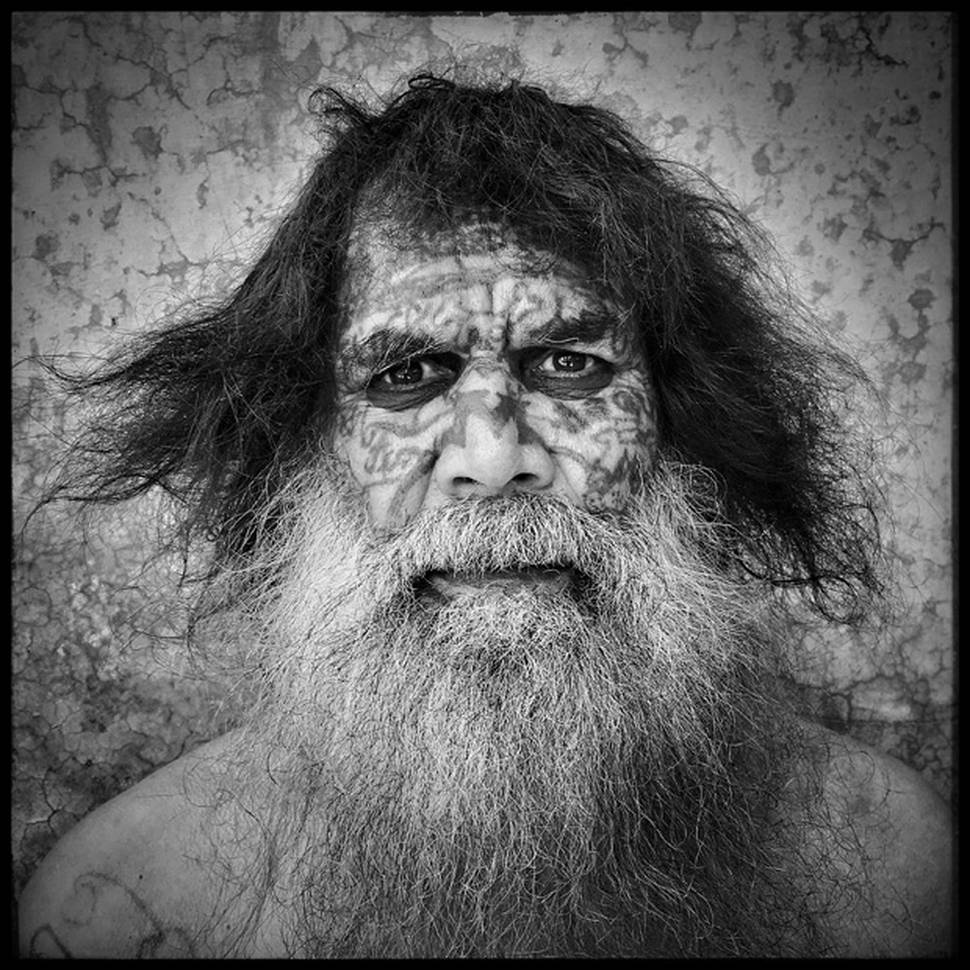 Dokta followed in his uncles and cousins footsteps and became a patched gang member.
He spent 26 years in prison - where all his tattoos were done - but said he is now a man of peace.
"I woke up one day and thought, I'm finished here."
Today he helps counsels troubled, or rebellious youth.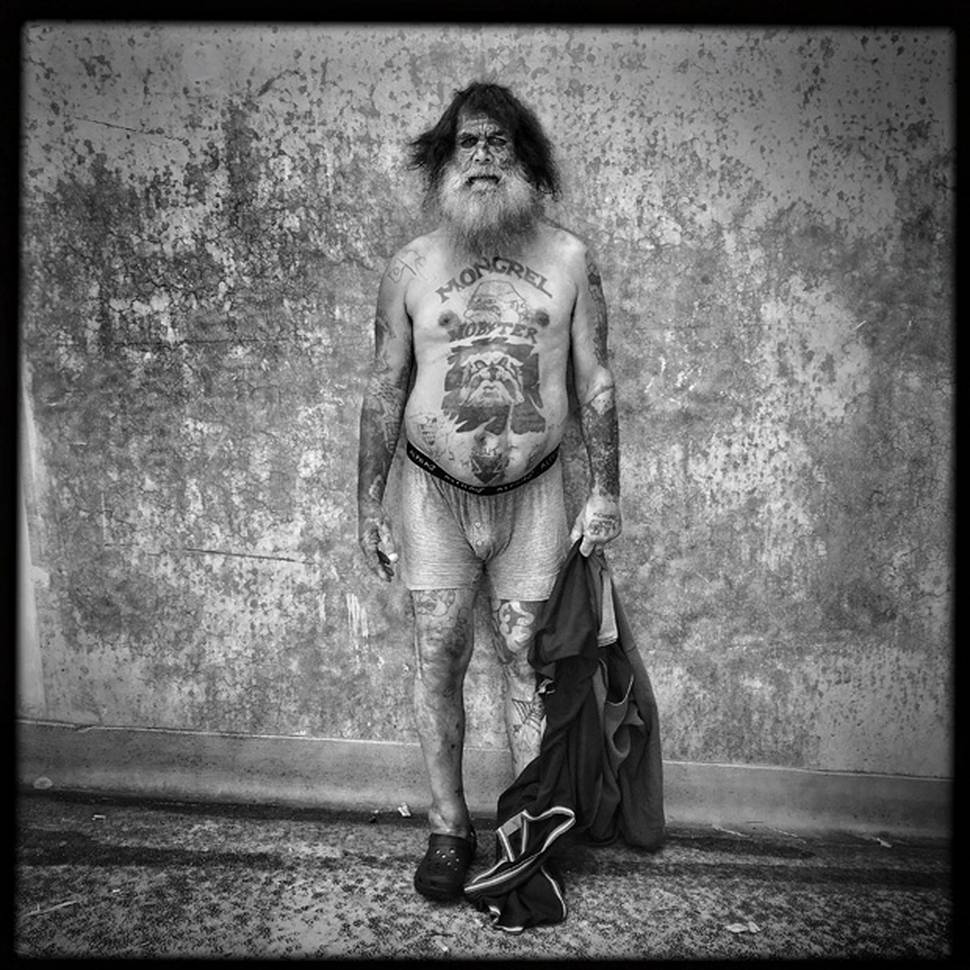 Hori, 57
Home for Hori is a small shack with no power and an outdoor long drop north of Auckland. He gets most of what he needs from the land - catching eels, rabbits and venison.
"My best friends are the Kereru, which are always around me."

Originally from the Hokianga, Hori, whose friends call him George has a long list of ancestral names that trace back to his great, great, great grandfather.
Adopted and brought up by his grandfather and various uncles and aunties he spent time in a gang, before he was married and had six children.
His tattoos were done by a Rastafarian tattooist in Ruatoria 11 years ago.
"Everyday is a highlight bro, appreciating that I wake up to see another day...good or bad,"
Sticks, 58
For nearly three years the doorway of the same empty shop in Auckland central was where Sticks lay his head at night.
But this changed one day when the building was pulled down.
Sticks has been homeless in Auckland for almost a decade, wandering in bare feet with his waist-length, matted dreadlocks and dressed in the same multi-layer of clothes both summer and winter - his weekly highlight is watching movies at a small internet cafe.
He has a small suitcase of belongings, padlocked to a pole next to his umbrella and rolled up blankets.
He told Crawford he never begged but got enough money to survive and buys his food from the supermarket.
Amanda, 34
For the last eight years Amanda has sat on a pavement on a rug in the same street every day.
She described her life as "hell" abused by people who should have cared for her.
Life on the streets has not always been easy either - she was once stabbed - all over a packet of cigarettes.
She's had two kids from street relationships - both of whom have been adopted out.
Amanda said she once worked as a nurse.
Today, she lives in a small room in a lodge up the road and receives money from a benefit which covers rent and takeaway food, but still spends her days on the streets.
"I'm trying to forgive...I miss my kids there's nothing you can do better in life than give love."
Victor, 58
Victor is described as a bit of a lone wolf who generally keeps to himself and was a man of few words.
He can often be seen in downtown Auckland, smartly dressed in a tired suit-jacket and a bag over his arm.
He shared little of himself, but said the street had been his home for some years.
Peter, 50
Family is important for Peter who has four generations of family back in the Hawke's Bay town of Pukehou.
"It's all about my Whanau, I'm going to spend Christmas with my mum, sister and my daughter, she's 32 and looks just like me except she's with black hair. I'm a grandad too now."
A friend carved his full-face Moko back in the Hawke's Bay.
When Peter met with Crawford right on the dot of 11am as planned, he came clean shaven and with a freshly-washed head of hair.
"I hope I look ok?"
His full face Moko was carved by a friend in the Hawke's Bay - where he's from.
With 20 years in a gang behind him, Peter admitted he had gotten into a bit of trouble and could have gotten into more.
He has done 10 years behind bars but vows never to go back.
To help keep his promise he stays away from drugs, pubs and alcohol.
Peter does take medication for schizophrenia.
"The medication makes me sleepy all the time. I used to be into sport - tennis, basketball, and rugby league - I trialled for the Junior Kiwis in 1985."
On the Street
October 13 - October 15
Free admission with all donations gifted to the Auckland City Mission.
Gow Langsford Gallery
Artist: John Crawford
Each person in this exhibition has given the photographer permission for their photo to be used and for any associated media coverage
To help John Crawford fundraise for the City Mission go here