A plastic bag of air from Adele's Adelaide concert is being auctioned on Ebay with bids going as high as AU $2000.
The "legit" zip-lock bag first made headlines this week when it was posted with a starting price of AU $14.95, by user @shaun_mcdonough, the Daily Mail reports.
READ MORE:
• Adele's Kiwi celeb fan club
• Famous Agony Aunts: Taking advice from the stars
The listing includes a picture of the "legit" air, sealed in a clear Coles ziplock bag and labelled: "Air straight from Adele live".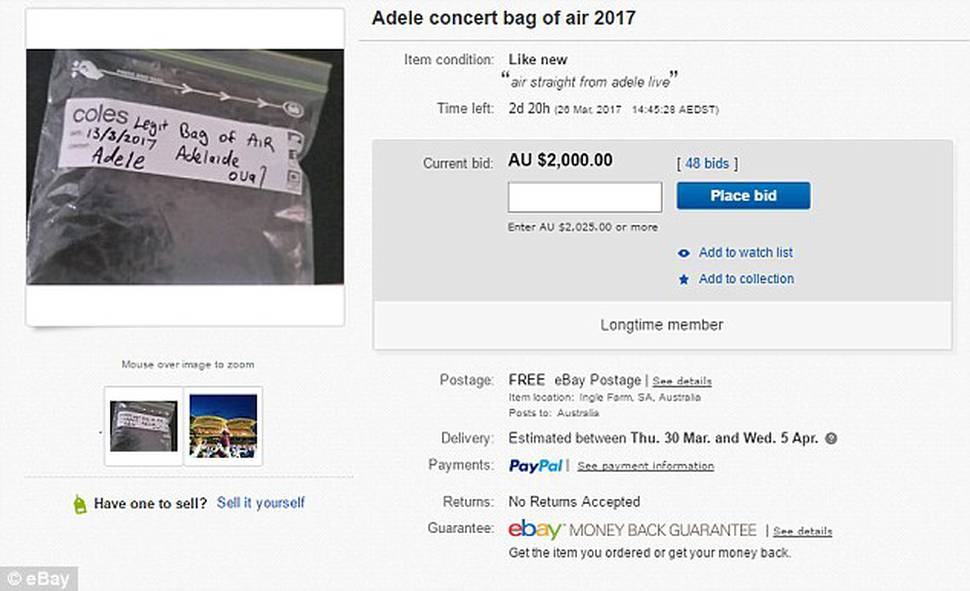 The plastic label was dated "13/3/2017" with "Adele" and "Adelaide Oval" also written in black ink to add to its authenticity.
The seller also added in his post: "Grab a piece of history for your Adele collection. A true fan must have this air. Bid now for a bargain (sic) please note I'm selling a Coles sandwich bag which contains the air."
The starting price on the bizarre memento from Adele's 25 tour was set at an affordable $14.95.
Its condition has been described as 'like new', with the seller offering free postage to whoever purchases the item.
However, eBay removed the original listing saying: "We've determined that some of your listings haven't followed our No Item policy...To protect both buyers and sellers, buyers should be able to verify an item after receiving it. Listings that don't offer an item for sale, or where the existence of the item for sale can't be verified, aren't allowed."
But the seller wasn't deterred - he re-listed the bag of air and included a screenshot of eBay's response.