A retailer has pulled thousands of Walking Dead T-shirts from shelves after a Methodist minister complained the phrase "Eeny, Meeny, Miny, Moe" was racist.
The T-shirts show the American TV programme's latest villain Negan holding a bloodied baseball bat wrapped in barbed wire, which he uses to smash his victim's heads.
The rhyme 'Eeny, Meeny Miny, Moe' is written on them, The Daily Mail reported.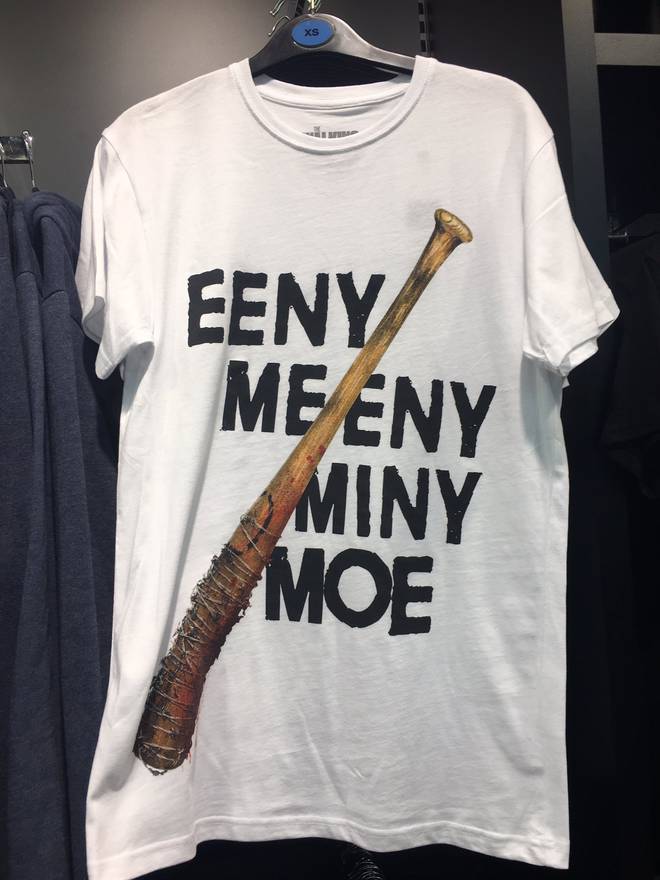 The character, played by Jeffrey Dean Morgan in the hit show about survivors of the zombie apocalypse, calls his bat Lucille and used it to kill long-standing favourites Glen and Abraham at the start of the most recent 7th season.
Before killing the pair, Negan - who leads a gang called The Saviours - decided on who to kill by pointing to his victims one-by-one with the baseball bat, while saying "eeny, meeny, miny, moe, catch a tiger by his toe".
But after Sheffield couple Ian and Gwen Lucraft spotted the T-shirt in a Primark store last week, they complained to bosses that it was "offensive".
Methodist minister Lucraft said the "Eeny, Meeny, Miny, Moe" rhyme was racist as it was well known that the rhyme went on to say "catch a n***** by his toe".
He also said the bloodied bat was offensive, adding: 'We were shocked when we came face to face with a new T-shirt with a racially explicit graphic and text.
"It was fantastically offensive and I can only assume that no one in the process of ordering it knew what they were doing or were aware of its subliminal messages."
He said that "everyone knows" the "Eeny, Meeny, Miny, Moe" phrase continues with "catch a n***** by his toe," adding: "The graphic has a large American baseball bat, wrapped round with barbed wire, and covered with blood.
"This image relates directly to the practice of assaulting black people in America.
"It is directly threatening of a racist assault, and if I were black and were faced by a wearer I would know just where I stood."
Lucraft fired off a letter to Primark chief executive Paul Marchant asking him to remove the T-shirt from sale - and bosses decided to do so following the complaint.
A spokesman for Primark confirmed the T-shirts were being removed from all of its 300-odd stores, adding: "The T-shirt in question is licensed merchandise for the US television series, The Walking Dead, and the quote and image are taken directly from the show.
"Any offence caused by its design was wholly unintentional and Primark sincerely apologises for this."
He added: "Primark is currently removing the product from sale."
The "Eeny, Meeny, Miny, Moe" counting rhyme has been around since the 18th century, with tiger replacing the word 'n*****' in more recent versions.
Former Top Gear presenter Jeremy Clarkson apologised after an outtake from the programme in 2014 showed him reciting the rhyme and mumbling what some claimed was "catch a n***** by his toe".