New Zealand film fans have the opportunity to buy a piece of Kiwi cinema history from one of Peter Jackson's first movies.
Local comedian and actor Mark Wright is selling his prized collection of collectible toys and figurines that he has assembled over 30 years.
It includes a puppet from Jackson's 1989 movie, Meet the Feebles, an R-rated parody of The Muppets.
Wright voiced, among several others, the character of Mr Guppy, who infamously gets swallowed whole in the first scene.
"At the end of the shoot, Peter Jackson gave me, as a gift, the Guppy fish, so that's obviously a one-off original. It's a once in a lifetime thing."
The piece will be for sale alongside the rest of the 500-piece collection. It features memorabilia covering shows as varied as Thunderbirds, Hercules, The Golden Girls and The Man From U.N.C.L.E.
Wright, who has starred in Shortland Street and Power Rangers, admits it is emotional selling off the collection.
"It's tough. Looking at each one, they all have a story of how they were bought and I can remember them all.
"I didn't buy these as an investment, I bought them because they mattered to me. I never thought I would sell them one day."
The collection began while he was a student at the New Zealand Drama School in Wellington in the mid 1980s, and an assignment on heroes saw him uncover a Thunderbirds soundtrack, sparking the hobby.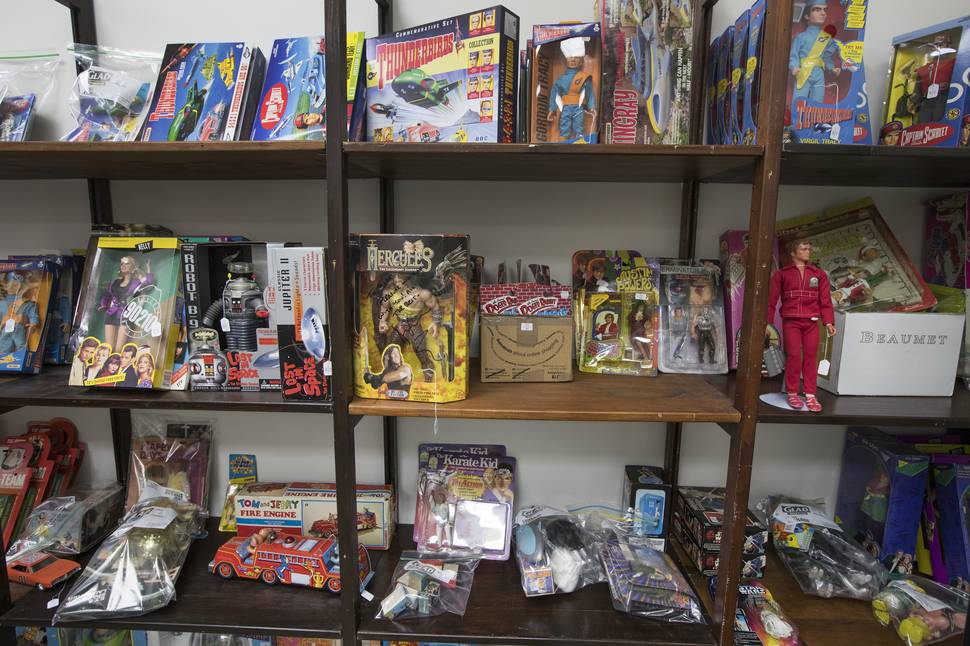 Hamish Coney, who is curating the collection for Art+Object, says it is one of the most comprehensive collections he has seen.
"A number of these pieces are very rare, and it's even rarer to find them in such a high quality.
"I expect there will be a lot of attention. Every time we sell one of these collections we get a lot of international interest."
Wright remains cagey about the reasons for selling, citing events in his personal life, but despite the emotions of letting go, he hopes the items find a good home.
"The collection has brought me a lot of joy over the years, but I think it is time to share the love."
The collection will be offered at auction on February 23. It is now available to be viewed by the public, or online at artandobject.co.nz