Even though Adele flubbed during her live performance at the Grammys, she walked away the belle of the ball: She took home five awards yesterday, including album, record and song of the year.
She beat Beyonce in the top three categories with her comeback album 25, but used her speech to honour Beyonce and her groundbreaking album Lemonade, which was also nominated.
"The way you make my friends feel, the way you make my black friends feel is empowering," Adele said at the Staples Center in Los Angeles when accepting album of the year.
The night for Adele wasn't all good though: The singer, who had trouble with her live performance at last year's Grammys, asked to restart her tribute to George Michael of Fastlove, telling the audience: "I can't mess this up for him."
A number of other icons were honoured, including Prince: Bruno Mars - rocking a glittery, Prince-like purple blazer, worked the guitar like a pro while singing the icon's Let's Go Crazy. The Time - who worked closely with Prince - brought the audience to its feet with funky renditions of Jungle Love and The Bird.
Until Adele's abrupt restart, Beyonce was the talk of the show. In glittery gown and gilded crown and gold choker, a pregnant Beyonce took the Grammy stage for two songs from the critically acclaimed Lemonade.
Beyonce, who walked into the show with nine nominations, won two: best music video (Formation) and urban contemporary album (Lemonade).
"My intention for the film and album is to create a body of work that would give voice to our pain, our struggles, our doubts, and our history, to confront issues that make us uncomfortable," she told the crowd.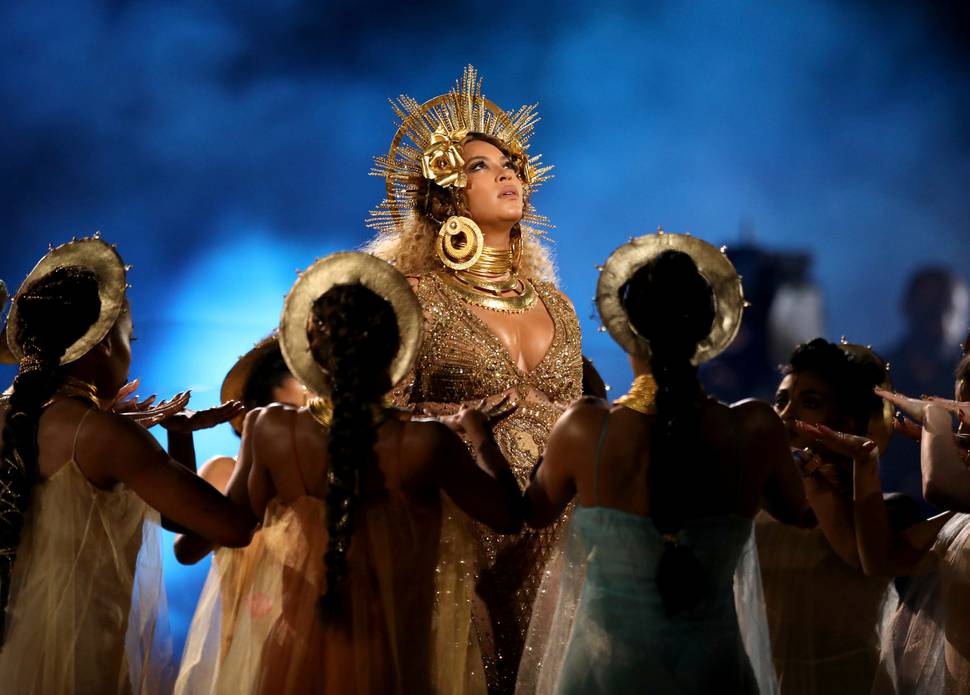 "It's important to me to show images to my children that reflect their beauty, so they can grow in a world where they look in the mirror, first with their own families as well as in the Super Bowl, the Olympics, the White House and the Grammys and see themselves," said Beyonce, reading from a card.
David Bowie, who died last year from cancer, won all four awards he was nominated for.
Blackstar, his final album released days after he died, won best alternative music album and engineered album, non-classical (Bowie is listed as one of the engineers on Blackstar). In the latter category, he beat out Prince, who also died last year.
The title track won best rock song and rock performance.
Chance the Rapper won the night's first award, for best new artist. He also won best rap album - the first streaming-only album to do so - and bested Drake and Kanye West.
"I didn't think we were gonna get this one," said Chance, who also won best rap performance.
Twenty one pilots won best pop duo/group performance for the hit Stressed Out.
- AP