S Club 3 singer Jo O'Meara has been rushed to hospital with a serious stomach condition ahead of the group's Auckland performance tonight.
The groups managers said in a statement that the 37-year-old singer from the popular '90s pop group had been forced to pull out of the tour.
"It was first thought that Jo had a terrible bout of food poisoning however early this morning (Feb 3) Jo had to be rushed to hospital where it was confirmed she has a condition known as 'strangulated bowel' and needs immediate medical attention which could result in a fairly major operation," the statement said.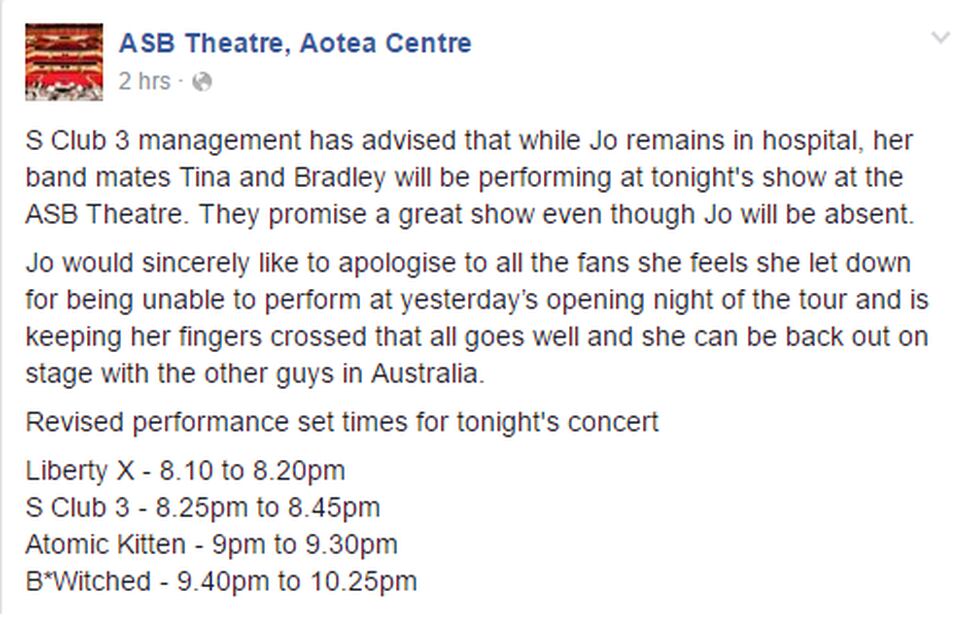 In a follow up statement, ASB Theatre said S Club's management had advised that while O'Meara remained in hospital, her band mates, Tina Barrett and Bradley McIntosh, would still be performing tonight's show.
"Jo would sincerely like to apologise to all the fans she feels she let down for being unable to perform at yesterday's opening night of the tour and is keeping her fingers crossed that all goes well and she can be back out on stage with the other guys in Australia."
S Club 3, formerly S Club 7, are in the country as part of a 90's throwback tour.
The group sat out of Friday night's performance entirely, leaving Liberty X, Atomic Kitten and B*Witched to perform alone.
Barrett and McIntosh, who briefly turned up on Friday night to apologise to fans for their absence, are set to perform tonight without their band mate.
O'Meara will reportedly still perform on the Australian leg of the tour if she does not require surgery.
Some fans were disappointed by the group's absence on Friday night, with some complaining after the company confirmed there would be no refunds offered.
"We have been advised there will be no refunds. B*Witched and Atomic Kitten are the headliners for the event, and are still performing along with Liberty X," AucklandLive wrote on the event page.
"Super upset, s club 2 would have been better than s club 0. The only reason I wanted to go. So so annoying...," one disheartened fan wrote, while another fan said: "S Club 3 is why I bought tickets... There should so be goodie bags or free drinks etc because of this. Who else thinks this sucks??!"
S Club 7 formed in 1998, and were brought together by ex-Spice Girls producer Simon Fuller. The British group released four albums and starred in a BBC children's show, Miami 7, as well as a spin-off movie. They disbanded in 2003 but reunited in 2015 for a charity telethon appearance, followed by a reunion tour around the UK.