American hip hop artist Chance the Rapper wooed a capacity crowd on the first day of the 14th annual Rhythm and Vines music festival at the Waiohika Estate last night, as he spoke of his desire to move to New Zealand.
"There's something so special about New Zealand. I need to get myself a nice New Zealand girl and a German Shepherd . . ." he told the crowd.
It was a debut appearance in this country for the rapper, headlining the festival alongside Australian electro-pop outfit RUFUS, who also played last night, and Kiwi songstress Kimbra tonight.
Brisk winds and a spell of rain did not deter festival-goers.
"I enjoyed the torrential rain years ago," said Gisborne-based graphic designer Richard Fox, who has attended the festival eight years in a row.
"I'm here for the vibes - everyone just enjoying life."
More than 30 acts performed across the four stages yesterday, including Californian DJ Getter, Canadian DJ Heidi, and up-and-coming Kiwi producer BAYNK.
Festival founder Hamish Pinkham said: "Our site team have really delivered a world-class festival experience tonight. The crowd was in such good spirits, they partied hard but partied responsibly which is great to see."
More than 17,000 people will attend Rhythm and Vines in the lead-up to the New Year, with just under half of those people staying on-site.
Today will see performances from festival newcomer Kimbra, and drum and bass superstars Netsky and Wilkinson.
If you are looking for a success story, Hawke's Bay's 24-year-old bedroom producer BAYNK (AKA Jock Nowell-Usticke) would be the guy to look to.
In 2015, the then-22-year-old Canterbury University student uploaded his first bedroom-mastered electronic music offering to Soundcloud.
"I didn't really know Soundcloud at all . . . I just assumed if I uploaded a song it would go viral," he says.
"But it didn't really go viral. I put it up five months before and it sat there for so long - I just imagined if I put something up, magic things would happen."
It wasn't until midway through the year that the new musical project began to flourish.
"A blogger found it randomly out of the blue and wrote about it," he says.
"I was over in Europe and I got invited to play at (Saint Jerome's) Laneway Festival half way through my trip. That's when I thought 'oh ok, people must actually like the music'."
The international festival has hosted the likes of Florence and the Machine, Mumford and Sons, and Flume.
Before returning home he filmed the bound-to-make-you-smile quirky music video for catchy electro-pop number Could You.
The video typifies the young producer's original sound and can-do attitude. BAYNK filmed the video with a friend and features in the quirky number with his mum, her friend and his own friend.
This year has seen the artist release three more original tracks and two remixes, and tour Australia, New Zealand and the US.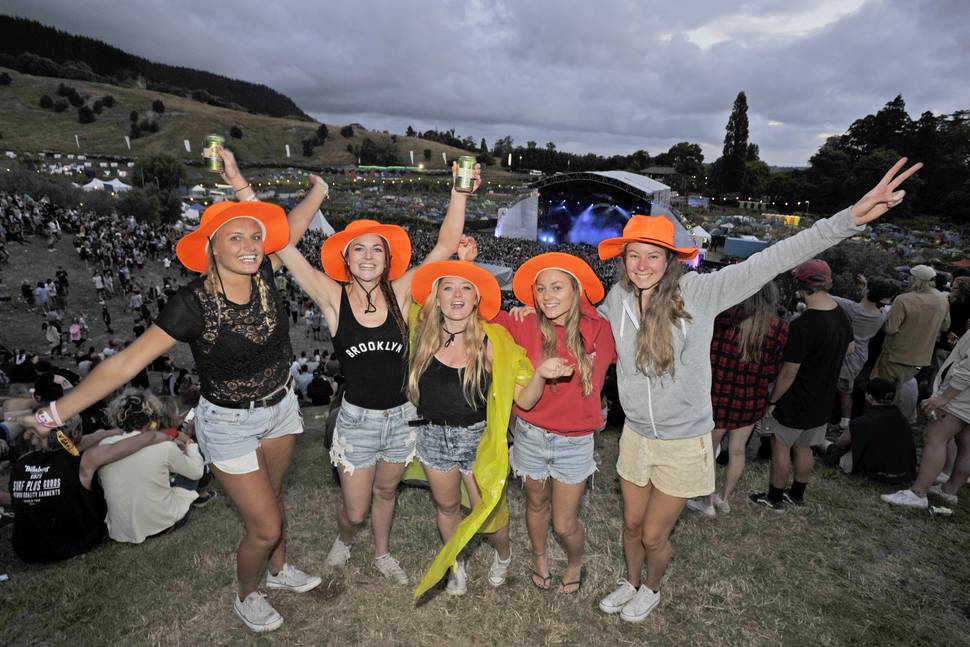 He has also been collaborating with some well-known names but he doesn't want to give away any details yet.
"I was writing some songs in Los Angeles with a lot of people. I got back about a month ago," he says.
It has been a successful year for the young producer but he says the best part is only just taking place.
"I've always wanted to play Rhythm. It's the best and biggest show I've ever played," he says of his festival debut yesterday.
"I have been to Rhythm for six years. It's so cool (to be on the other side). But I also enjoy Rhythm so much as a punter. I would quite happily have come this year even if I didn't get asked to play."
BAYNK will leave tomorrow as he flies out to play Rhythm and Alps, before joining the Womad (World of Music, Arts and Dance) tour.
But today he will just be a regular guy enjoying the music among the rhythm and the vines.
"I'll be here tonight, I'll just treat the rest of it as if I'm a normal teenage kid," he says.