Gigi Hadid has been savaged on social media over her "racist" impression of Melania Trump during her American Music Awards opening yesterday.
The model, 21, put on a fake Eastern European accent and a pulled Melania-style pout to mock the soon-to-be First Lady in the wake of her recent plagiarism row.
"I love my husband, President Barack Obama. And our children Sasha and Malia," Gigi said, in a joke referring to accusations that Donald Trump's wife had ripped off a speech by Michelle Obama at the RNC.
The impression was easily the most memorable moment of Gigi's debut hosting gig, which also saw her try her hand at rapping as well as going through a series of outfit changes.
But the skit, did not sit well with many viewers who criticized it as being "racist" and told Hadid to "stick to modelling".
One Twitter user wrote: "I really wish Gigi Hadid wasn't hosting because second-hand embarrassment is my least favorite thing to feel and I'm drowning in it". Another chimed in that: "Gigi is so uncomfortable to watch."
"Melania Trump is going to the First Lady of the USA. This was the highest form of disrespect possible," someone tweeted, while others even demanded that Hadid "leave the country" if she felt that way about the next presidential family.
"The funny thing is, if Melania was black, she wouldn't DARE attempt an impersonation," tweeted one user, as others branded it an "embarrassment."
One Twitter user even tried to get Donald's attention by tagging him in a tweet that said, "Tomorrow morning @realDonaldTrump will tweet demanding Gigi Hadid to apologise for the Melania Trump impression."
It would be no great surprise, given The Donald used the platform to hit out at the cast of Hamilton for directly addressing Vice President-elect Mike Pence when he attended a recent performance, which led to him being booed by the audience.
Only yesterday, Trump had tweeted his displeasure after he was taken down on SNL.
The Donald was ruthlessly lampooned in the Saturday Night Live skit, where Alec Baldwin portrayed a clueless President Trump who bullies Pence, asks SIRI about ISIS and holds an awkward meeting with Romney.
Despite having appeared on the show last year, it's apparent that Trump's humour is wearing thin with Baldwin's impression. He tweeted after the show:
Trump has not yet responded to Hadid's impression of his wife but it is surely only a matter of time.
Meanwhile, all the abuse being levelled at Hadid on Twitter, on Melania's behalf, is rather ironic, as cyberbullying is the one topic she has pledged to tackle as first lady.
First ladies often choose to highlight issues about which they're passionate. Most recently, Michelle Obama made nutrition and school lunches her special causes.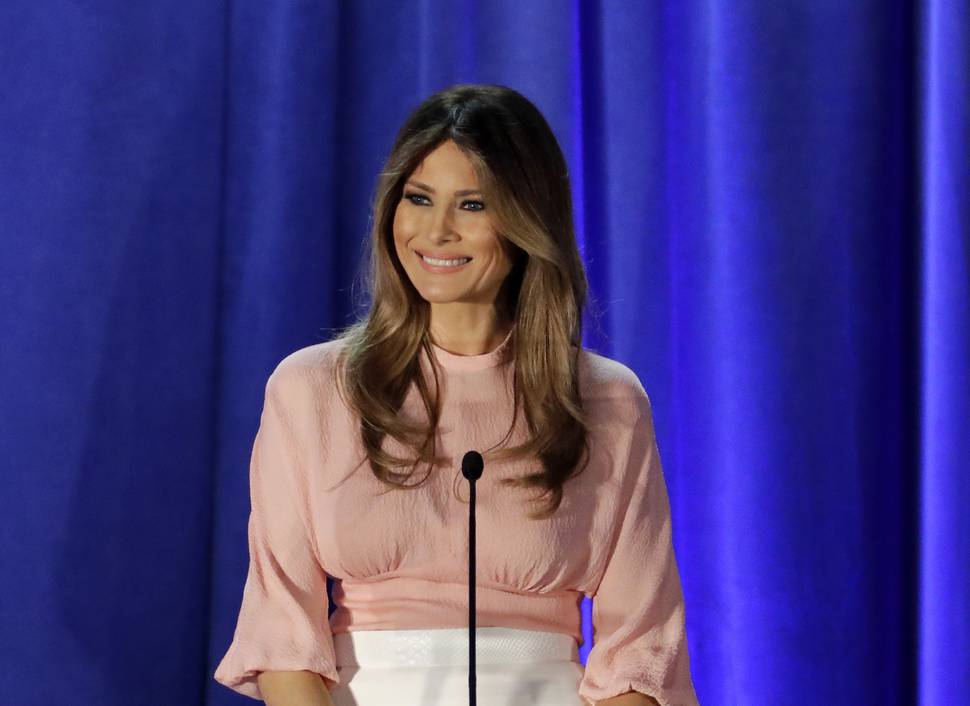 Melania said earlier this month, that: "Our culture has gotten too mean and too violent. It is never OK when a 12-year-old girl or boy is mocked, bullied or attacked. It is terrible when that happens on the playground and it is unacceptable when it's done by someone with no name hiding on the internet."
However, some critics - including singer Lady Gaga - were quick to note the irony that while Melania stood against bullies, her husband is notorious for his brutal attacks on Twitter.
Melania also came under fire in July when she was widely mocked for her speech at the RNC where she appeared to borrow heavily from an address by Michelle Obama at the DNC in 2008.
Trump's campaign speech writers later confessed to copying and even the 46-year-old's husband teased Melania about the "plagiarised" speech during a recent charity dinner.
But it appears that the scandal has not yet been put to bed as Hadid's impression shows.
Back at the American Music Awards, Hadid was also coming under fire for her hosting style.
Others used the power of Twitter to mock the beauty's husky voice.
Hadid is the daughter of Mohamed Hadid, 67, a multi-millionaire who lives with wife Shiva Safai in an incredible, 48,000-square-foot Bel Air mansion, luxuriously named Le Belvédère.
Mohamed knows a thing or two about luxury. He designed Ritz-Carlton hotels and has developed other high-end properties including resorts and mansions ever since.
More from Spy:
• Brother: Leo's fame tore us apart
• Keith and Nicole's $14k plan to save marriage
However, his daughter is now making money as a successful model in her own right.
While the clotheshorse was criticized by viewers, she was celebrating after her beau Zayn Malik won the coveted New Artist Of The Year award.
Viewers were treated to a host of performances during the evening, with Lady Gaga, John Legend, Bruno Mars, Ariana Grande & Nicki Minaj among the performers.