One of the Royal New Zealand Ballet's highest-profile dancers is returning to her native Australia.
It's been more than A Midsummer Night's Dream for Lucy Green who arrived here in 2010, fresh from the Victorian College of the Arts Secondary School, to rise through the ranks at lightning speed. Green danced the title roles in Cinderella and Giselle within two years and in Swan Lake and Coppelia in just two more.
She has danced principal roles with the company in China, the United States, the United Kingdom and Italy and in 2015, after an RNZB tour, stayed to perform as Guest Principal Artist for the Scottish Ballet in Cinderella.
But now Green is leaving the national company - "where I grew up" - to become soloist at the Queensland Ballet. Her last appearances here - until she hopefully returns as a guest dancer in the future - will be in the Wellington only performances of A Midsummer Night's Dream scheduled for November 25 - 27.
"I never dreamt I would have the career I have had, at this age," the 26 year old says.
She was lucky to appear as a fresh-faced "auditionee" in the TV series The Secret Lives of Dancers but it was her bright personality that soon rated her a fan favourite. Then in 2012, with two years' experience tucked into her tutu and beginning to find her professional feet, international star Ethan Stieffel arrived to become the RNZB's artistic director.
Green was totally inspired by his arrival; he was impressed by her and pushed her into the A cast and title roles. Internationally renowned choreographer Christopher Hampson, now artistic director at the Scottish Ballet, made the RNZB's production of Cinderella and also became a hugely positive influence. He gave Green her first principal role as well as the invitation to guest in Scotland.
But she does take some of the credit for her success.
"There is a lot of stigma around your physical characteristics in the ballet world," she says. "And to a certain extent certain characteristics are required."
Green says she lacks natural "turnout" and the long limbs prized by classical dancers.
"I knew those things I didn't have so every day I tried to find other ways to stand out from the group. And I believe that people who have to push themselves through those sorts of challenges can develop other captivating dynamics and be the most exciting dancers to watch."
She also rates as vital attitude to the work a dancer has to put in.
"I set goals for every class, every rehearsal," she says, "little goals that take me towards my greater ones."
It was never Green's aim to confine her career to just one company. Stepping outside her comfort zone to perform with the Scottish Ballet highlighted how much new experiences contribute to your learning, she says, and made her realise now was time for a change.
Leaving Wellington, a company she has loved and friends, including a special boyfriend, is difficult and a sacrifice.
"But I have sacrificed a lot for ballet already, like a social life, a chance at university, a typical student life with summer jobs and holidays..."
Then again, nothing could give her more joy, she says, than ballet.
Right now Queensland Ballet offers her new challenges and opportunities in spades. Next year, there will be performances of Swan Lake, Nutcracker and La Fille Mal Gardee, big classical story ballets in which Green revels.
She is also excited to discover choreographer Liam Scarlett, who choreographed the RNZB's A Midsummer Night's Dream, and inspired her perhaps more than anyone else, has been appointed Artistic Associate at Queensland Ballet.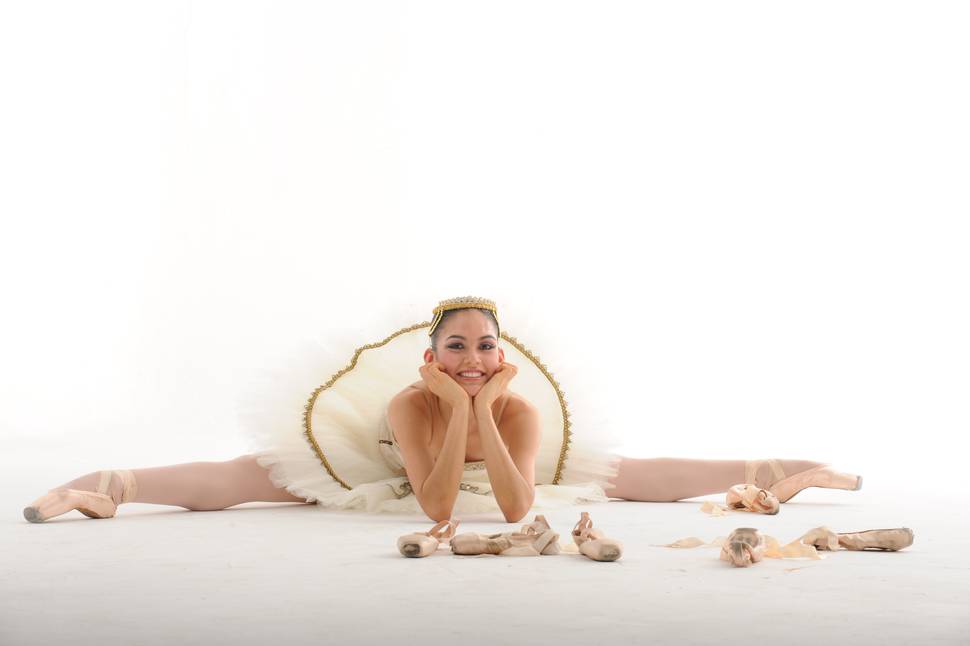 While Green prepares to leave New Zealand, one ballet company is getting a longer look at the country than many touring artists. The Imperial Russian Ballet Company is performing Christmas favourite The Nutcracker with shows from Auckland to Invercargill.
The company regularly visits NZ but it is dancer Mayela Marcos' first trip here. Marcos started dancing in her Mexican homeland when she was just 4 years old and quickly set her sights on becoming a ballerina.
"My mother didn't want us at home watching television after school so she took me to various classes and it was ballet that I liked the most," she recalls.
While her father wanted her to remain in Mexico and join the family business, Marcos successfully applied to train at the Bolshoi Ballet School in Moscow believing that the best dancers came from Russia.
Her early days in the Russian capital were tough, she says. Marcos didn't speak Russian and the weather was bone-chillingly cold.
"Everything was different - the food, the culture, the weather - and even Christmas is celebrated on a different day," she says. "When you have a dream that you want to follow, sometimes you have to make sacrifices which is what I did. Now my dream has come true."
Marcos particularly likes The Nutcracker because it involves children from local ballet schools. In each town and city, up to 40 children from a local ballet school take part.
"They're just adorable - it reminds me of when I was starting out and wanting so much to dance with a major company."
The lowdown: The RNZB performs A Midsummer Night's Dream at Wellington's St James Theatre from November 25 - 27.
The Russian Imperial Ballet Company is now in the South Island but returns to Auckland to perform The Nutcracker at the Bruce Mason Centre on Thursday, December 1 and at the Aotea Centre's ASB Theatre on Friday, 2 and Saturday, 3 December.