Maria Tutaia has slammed Woman's Day magazine for "making up" a story about her engagement to Israel Folau.
The star netballer hit out at the magazine on social media, saying it had "specifically been told in writing" that the pair wanted to keep things private.
She says it "chose to make up a story" using old photos and "guesses".
Woman's Day has yet respond to requests for comment.
The netball and rugby stars announced their engagement on social media last week, posting pictures with the ring to their separate accounts.
A story appeared in this week's edition of Woman's Day with details about the proposal and background information on the pair pulled from previous interviews, complete with paparazzi photos from previous months.
The story details that the proposal took place after church, "beside a duck pond in the Auckland Domain".
It also said Folau used a $20,000 Stefano Canturi ring - though, "so in love is Maria...she would probably have said yes to a ring pulled from a coca cola can," the magazine writes.
READ MORE:
• Former What Now host gets hitched
• Lizzie Marvelly boycotts Paul Henry
Following the story's publication at the weekend, Tutaia wrote on Instagram:
"I can't believe after working with Woman's Day magazine for years and after specifically being told in writing that we wanted to keep things private, they chose to make up a story stuck together with old photos and full of inaccuracies and guesses, and use our happiness to sell their magazine for one week."
She used the hashtags "disappointed" and "gutter journalism", posting the statement with a host of angry emojis.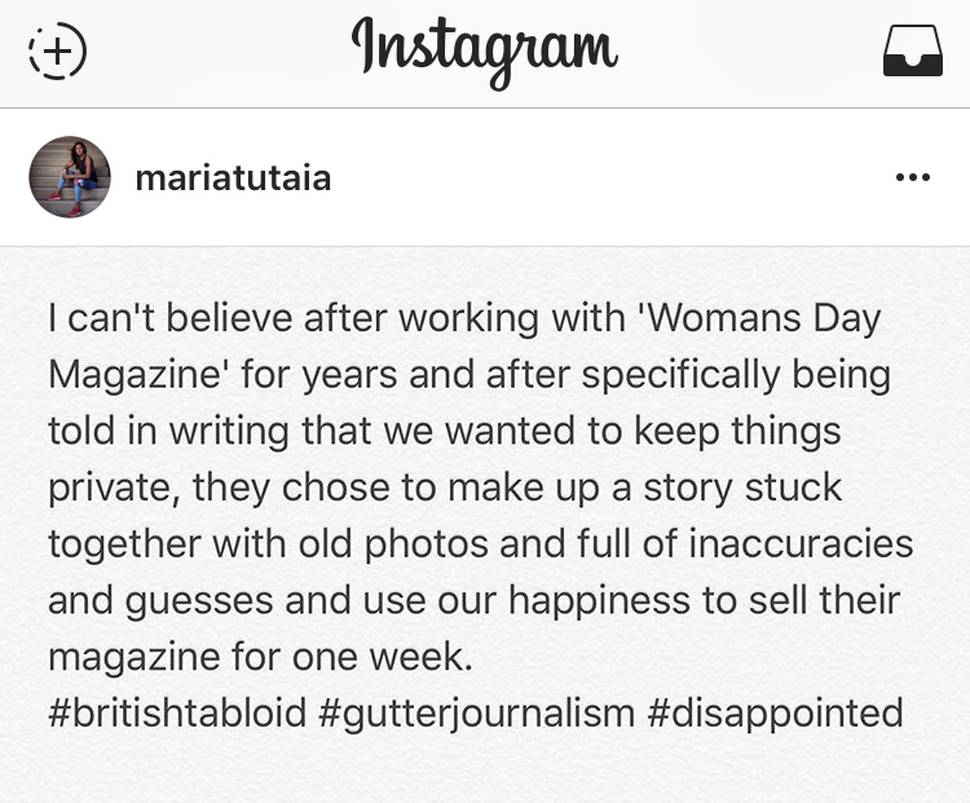 The glamorous sporting couple have made a point of keeping their relationship private and releasing details on their own terms.
They only just made their romance public in February this year, after posting matching photos on Instagram as they spent time in Queenstown.