She's the queen who wants to be seen - so what is Heidi going to wear this Halloween?
It takes imagination, lots of money and great confidence to be able to wear whatever you like. However, this has always seemed to come easy for supermodel Heidi Klum.
The Project Runway star always hosts a lavish annual Halloween party so she needs to look the very best.
Klum has almost done it all when it comes to acing her look each year ... so what has she got in store for 2016?
Let's take a moment to reflect on just how good Heidi is at nailing her Halloween get-up.
2000
This is the first year Heidi held her own Halloween bash, and she took S&M to the next level in this interesting leather ensemble. She topped off the look with a sexy black wig and a kinky spiky collar.
2001
She changed up her look from sexy S&M goddess to an equestrian with a twist. This year she was Lady Godiva and rocked a floor-length Rapunzel wig and rode on horseback to her own party - just like a diva should.
2002
Heidi may have gotten a bit of help in the padding area with her Betty Boop get-up in the year 2002. She looks cute as a button tackling the curvy cartoon character.
2003
We are still a little bit undecided about what she is exactly dressed at this year. But she is looking rather chromed from head to toe and her golden cleavage is a tad bit revealing - but again, of course she can pull it off.
2004
She is certainly painting the town red with this little number. Not only is she sporting a fiery red rocker wig, but she seems to be suspended above the crowd - she is the only true rock star at her own party.
2005
She's going for the scary witchy vampire with sex appeal with this look. Her eyes look to be bleeding a wee bit, but that doesn't stop her from stealing the show with those spider web wings.
2006
Heidi is playing the devil's advocate in this serious, yet somewhat hysterical, get-up. She's channeling the Garden of Eden, half apple and half snake, look, and underneath that all she is hiding a very pregnant 8-month full belly. Very symbolic Heidi.
2007
Bouncing back from that baby body the year before - Klum is showing off her immaculate figure with a velvet catsuit. She looks picture purr-fect and even sports the whiskers and collar to match.
2008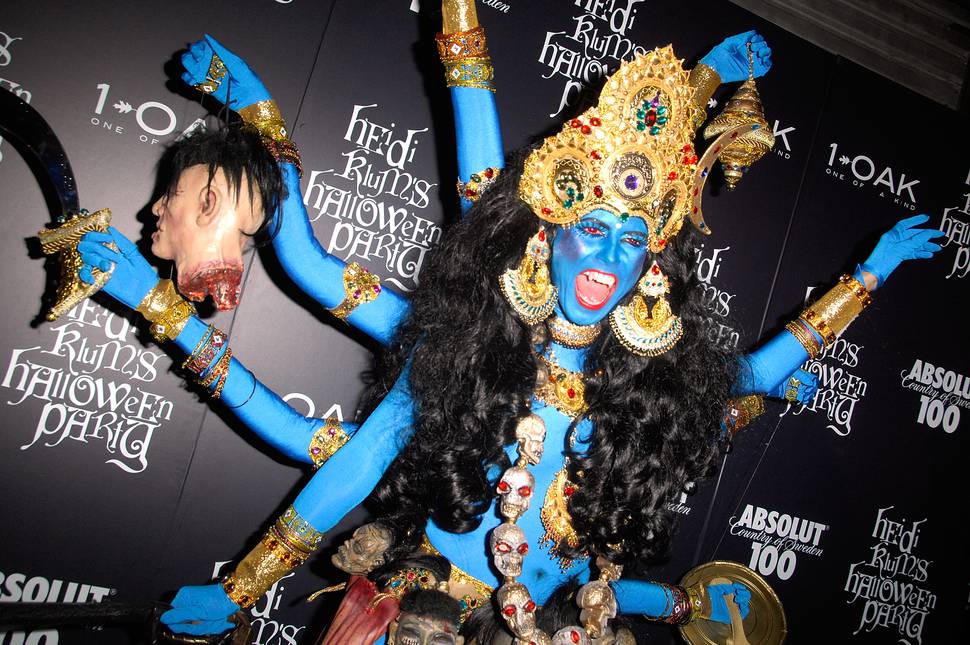 Heidi rocked her Hindu goddess costume like a boss in 2008. She had a blue face and many dangling human skulls that were creepy, yet cool. Kali is the goddess that destroys evil forces. She's certainly killing it in this costume.
2009
She definitely found her flock in 2009. Klum dressed as a crow, blackbird or raven for her Halloween bash that year. Look at all those feathers!
2010
Who knows what in the world she was this year ... seems to be some sort of alien, transformer hybrid with red hair and bright purple skin. But you have to hand it to her - she still looks great.
2011
Now this one doesn't leave too much to the imagination. Heidi literally strips back and bares all. It's very scientific looking and quite creepy. We like it.
2012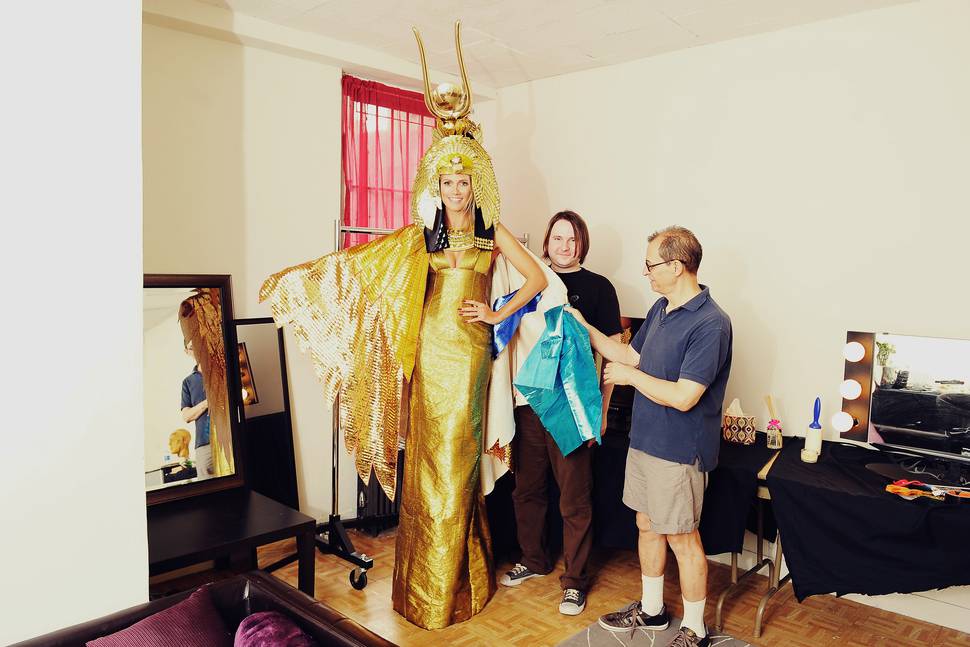 As we have picked up by now, Heidi is a huge fan of gold and sparkles and she really went to town with this Cleopatra look. She rocked the floor-length gown and fancy headdress like a true queen - and again, she made sure everyone saw she had cleavage.


2013
Wow. That's pretty much all we can say. She dressed up as an old lady and that takes guts. She went to town on all the prosthetics and she looks like a dreamy nana. We love it.
2014
She dressed up as a majestic magical butterfly in 2014. You could almost mistake her for a giant alien with wings too. She looks great but she probably needed to watch out for giant fly swats all night and those wings would have been hard work to fit through doors and in limos.
2015
Va-va-voom! Another "wow" moment for Klum in this huge costume. She dressed up as Jessica Rabbit and really showed Halloween partygoers who the boss it. We love this look.
2016
Who knows?! But we are excited!