Another season of The Block NZ came to a close last night, with Sam and Emmett making a record profit at the live auction.
Some 450,000 Kiwis tuned into the finale which saw the winning team take home $480,000 - the biggest profit in Block NZ history, followed by season three winners Alex and Corban who took home $307,000.
But in the excitement of the auctions, a lot of questions went unanswered - so we're answering them for you.
Why does the purple team always win?
We're not kidding. Five seasons and literally every single time the purple team wins: Libby and Ben, Alice and Caleb, Alex and Corban, Brooke and Mitch, and Sam and Emmett all rocked the purple.
Coincidence? Probably.
But if we look at what the colour represents, maybe not.
Purple is said to combine the stability of blue and the energy of red. It's associated with royalty, luxury and ambition, as well as creativity, imagination, and uniqueness.
It represents the future and promotes mental balance and peace of mind - which, when you're running on no sleep and working to Block deadlines, can't hurt.
Depends what you believe, doesn't it?
What's happening to the fifth house?
Basically it's none of your business.
The fifth house was only on the show as a challenge for the teams but otherwise isn't a part of it.
The good folks at TV3 say the fifth house was purchased at the same time as the other four properties and production renovated it at the same time as the other Block properties but "it will be sold at a later date".
So unless you've got a spare million dollars or two lying around and you're in the market for some new digs, you can probably just forget house five ever existed.
What will the winners do with the money?
They have no idea.
After the auction on Sunday night, Sam and Emmett said they were only expecting to win $50,000-$100,000 and figured they'd pay some bills and spoil the family.
But now they've got nearly half a million dollars and they're just trying to wrap their minds around it.
They did say they would definitely be using it to celebrate, "thank some people", take care of their builders and buy some new clothes. But they didn't get much further than that.
Like Emmett says: "It's half a million dollars - it's bonkers".
Why did they go last when most other winners went first?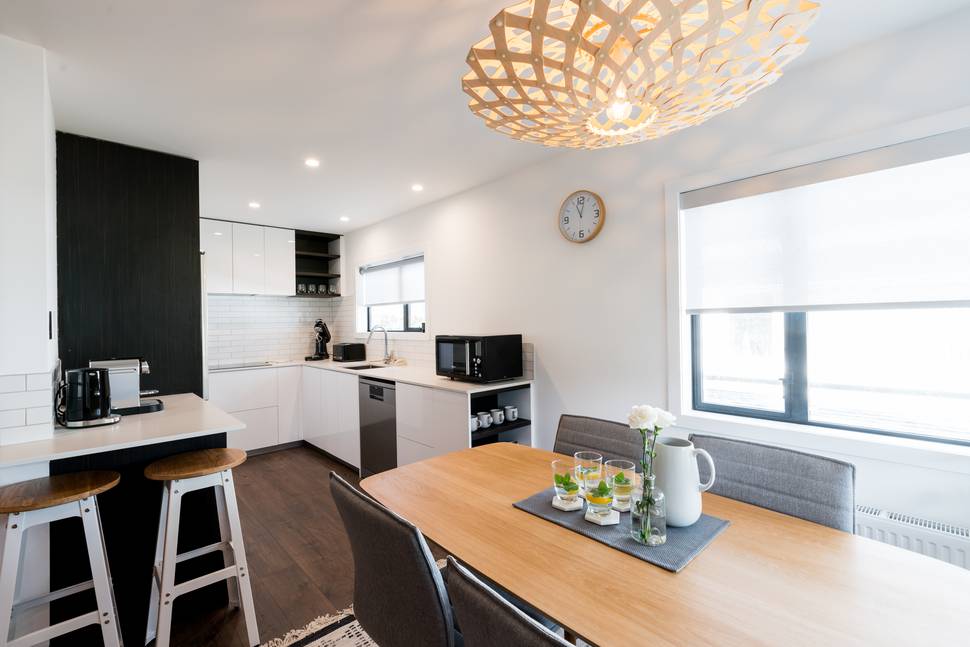 True story. Of the last four seasons, three of the winners went to auction first.
Yet last night, Sam and Emmett - who got to pick the auction order - elected to go last, on the advice of Bayleys Real Estate.
Bayleys' Block NZ project manager Hayden Stanaway says they advised the boys going last would "be in their best interests", because they saw "the bigger picture encompassing prospective buyer interest in all four homes".
Stanaway says: "Going first or last varies depending on a multitude of factors - including not only the merits of the individual properties, but also how those merits are valued by prospective buyers."
Either way, the advice clearly paid off for the boys.
What's next for the winning team?
Well, Sam and Emmett quit their jobs to go on The Block so everything's up in the air, though fans are gunning for the pair to get their own TV or radio show, hailing them as "way funnier than Jono and Ben".
And they've told fans they're looking at relocating to Auckland to pursue just that, though there are no offers on the table as yet.
Since the show finished filming, they've been doing the publicity rounds and catching up on sleep and some family time, but they seem ready to get back into the swing of things now.
What will become of Sam and Emma's not-quite-romance
Literally nothing. They've made it clear they're just friends and frankly, Sam looks really, really tired of being asked the question.
That's what happens when you pull a "prank" in which you pretend to have slept with someone on national television, mate.
Besides, Emma and Courtney came second, taking home $300,000 so she's got a lot on her plate too.
After the whole saga, Emma made it clear to Woman's Day at the time: "Sam and I, we're like brother and sister. We get along really well but it won't be anything more than that".
Is it possible the houses have been bought just to be flipped?
It turns out the same buyer who bought Sam and Emmett's house also bought Emma and Courtney's house.
That's about $3.12 million dropped on two houses virtually on the same section, which begs the question: what's the likelihood at least one of these houses was bought with the intention to flip?
No one knows, but like Bayleys' Hayden Stanaway says: "What they intend [on] doing with them is their business".
Will there be a season six?
Absolutely. TV3 has already confirmed The Block NZ will return for a sixth season.
No one knows where or when or what it will entail, but you can definitely get ready to do this all over again next year.
Will team purple triumph again?