Lindsay Lohan has taken to social media to accuse her fiancé of cheating on her.
The 30-year-old actress took to Instagram and Twitter in the early hours of Sunday morning to claim that millionaire businessman Egor Tarabasov, 22, had been unfaithful to her with a "Russian hooker".
She wrote: "I guess I was the same at 23... S***ty time- it changes at 26/27 @e2505t thanks for not coming home tonight. Fame changes people
"Wow thanks #fiancé with Russian hooker @dasha_pa5h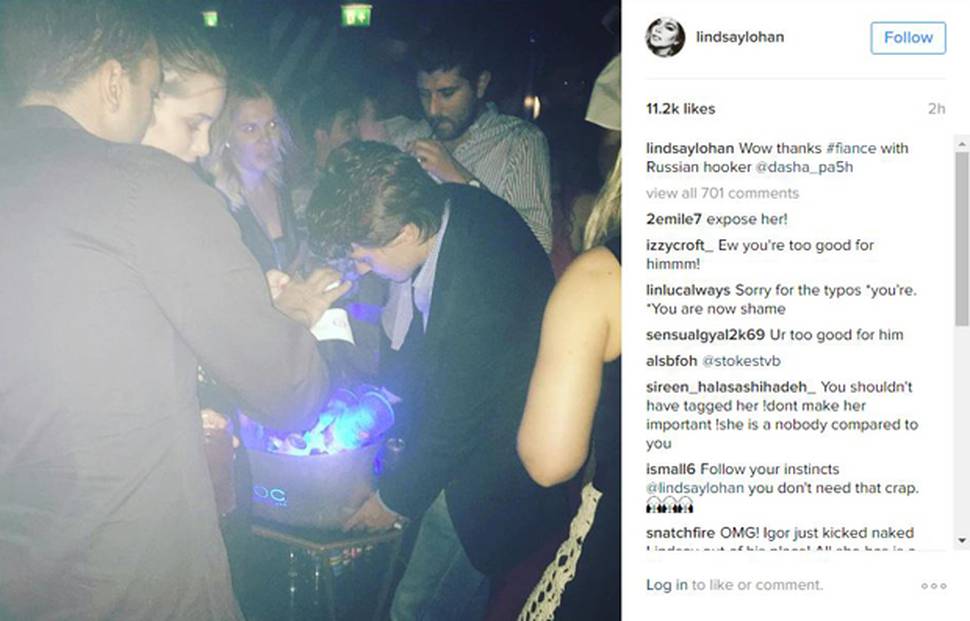 "Home? First time in my life- bare with me/ he cheated on me with hooker #meangirls#meanboysu b.
"You're suits are As only as myself, Roman and tags ahi. Wiggins v (sic)."
Lohan also posted a video of Egor enjoying himself at a nightclub.
And the drama did not end there as Lohan claimed she is pregnant.
She shared a link to a google image of herself sporting a baby bump for the 2009 movie Labor Pains and wrote: "lindsay lohan labour pains trailer - I am pregnant!! (sic)."
The day before, Lohan hinted at trouble in their relationship in a video she posted on Snapchat.
She said: "My fiancé's being really angry at me, but I'm drinking water to get him to come home. Honey, come home, please."
She also posted a picture on Instagram of her and Egor, but with his face scribbled over.
Lohan quoted Cher's song Bang Bang (My Baby Shot Me Down) when she wrote, "He wore black and I wore white" and added the three wise monkey emojis and an anchor.
She finished the caption with: "I guess #art is whatever you make of it (sic)."
Earlier this month, the pair shocked friends and family - including the businessman's mother Elena - by having a huge row at Chinawhite on Rakkan Beach in Mykonos, Greece, during a getaway to celebrate Lohan's birthday.
An onlooker said: "Everything was fine between them before something on Egor's phone upset Lohan.
Read more:
• Actor spills on affair with Sienna Miller
• A brief encounter with actress Sarah Gadon
"They then started shouting and screaming at each other.
"Lindsay threw his phone in the sea, she looked absolutely furious.
"The security at the beach club had to pull them apart and Lindsay left in her car while Egor went back to the party."
Tarabasov's mother was left unimpressed by the incident and she was overheard urging her son to end their volatile romance.
- Bang! Showbiz