Ubisoft has unveiled Watch Dogs 2, a sequel to the 2014 original which struggled to deliver on years of built-up hype.
The sequel, which takes place in San Francisco and features a new protagonist by the name of Marcus Holloway, will be available on November 15 for PlayStation 4, Xbox One and PC.
In an overview supplied by Ubisoft, the story involves the Bay Area becoming the latest place to adopt ctOS 2.0, an advanced operating system networking the city's infrastructure.
In the wrong hands, ctOS 2.0 can be used to control and manipulate everyday citizens, and so it is for Marcus, who is targetted by ctOS 2.0's predictive algorithms and accused of a crime he did not commit.
Fortunately, Marcus is a brilliant hacker, able to hack into the city's infrastructure and also every person and any connected device they possess to trigger unpredictable chains of events.
The game will features co-op and player-versus-player activities in "a seamless shared world", said Ubisoft.
As per Ubisoft: "With the ability to take control of drones, cars, cranes, security robots, and much more at their disposal, players can choose whether to use stealth hacking to complete missions without killing a single enemy or go guns blazing for a more ferocious approach.
"In this vast open world, players can hack their way through traffic while engaging in dangerous car chases through the winding streets of San Francisco, traverse the rooftops of the vibrant neighbourhoods of Oakland, and infiltrate the offices of cutting-edge companies in Silicon Valley."
According to Ubisoft, the game's topics of data security, privacy, and hacking are more current than ever in today's society.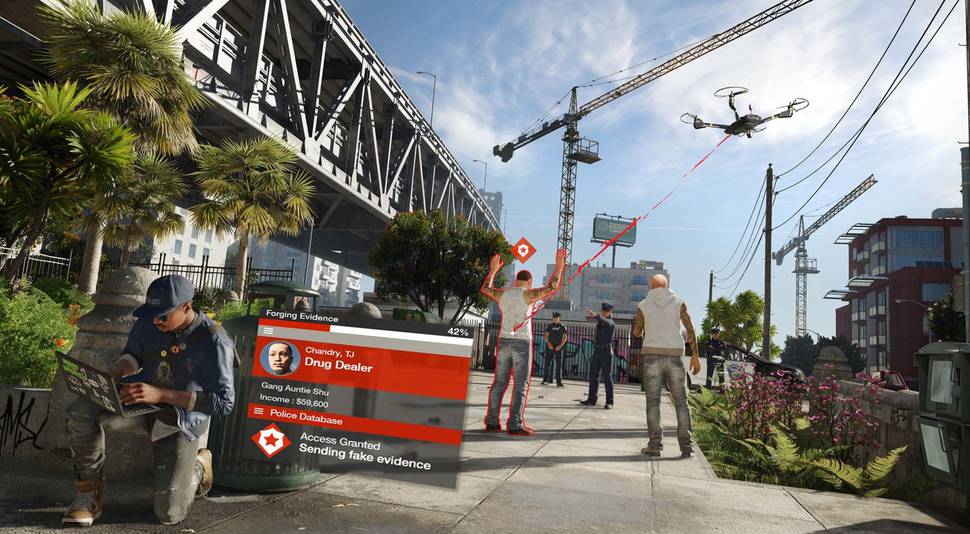 In addition to the standard game, several editions are available for pre-order:
• Deluxe Edition includes the game, an exclusive sleeve, a San Francisco map, lithographs and the deluxe pack of digital customization items.
• Gold Edition includes the game, the deluxe pack and the season pass.
• San Francisco Edition with its collector's box, includes the game, extra digital content: The eeluxe pack and Zodiac killer mission, the Marcus Figurine, SF-themed laptop stickers, lithographs, and a San Francisco Map.
• Exclusively on the Uplay shop, fans of the franchise can pre-order Wrench Junior Robot Collector's Pack and The return of DedSec Collector's Case. The return of DedSec Collector's Case contains the Gold Edition and DedSec themed memorabilia including among other collector items, the DedSec art Marcus figurine, Marcus' scarf and cap replica and an exclusive 64 page artbook. Wrench Junior Robot Collector's Pack includes the Gold Edition and a 20cm replica of the ingame Wrench Junior robot, controlled by an app (Iphone or Android).
Players who pre-order any edition get an extra mission named Zodiac Killer: a copycat of the Zodiac Killer is murdering people and taunting the police with coded messages. Players have to decrypt the codes and hunt down the killer to complete the mission and get an additional exclusive outfit.
Watch Dogs was one of 2014's most highly anticipated games and broke sales records upon its release. But it was criticised for its boring lead character and for failing to live up to years of hype that had built up around it.
It has an 80 per cent approval rating on Metacritic.