Auckland artist Flox speaks to Dionne Christian about her children's book collaboration.
Artist Flox is well-known for making her mark on large surfaces, using stencil-cut, spray-painted and brightly-coloured depictions of native birds, lush ferns and flowers to transform the dullest of city walls.
Now, for the first-time, Flox (real name Hayley King) has used her talents on an altogether smaller and different surface but one that's still likely to be seen by thousands around the world. The graffiti artist with a fine arts degree has collaborated with television editor Malcolm Clarke on a children's book, Tu Meke Tui!
Five years in the making, the elaborately illustrated book is a story of friendship, courage and celebrating difference starring characters Tere the Tui and Taitu the Takahe.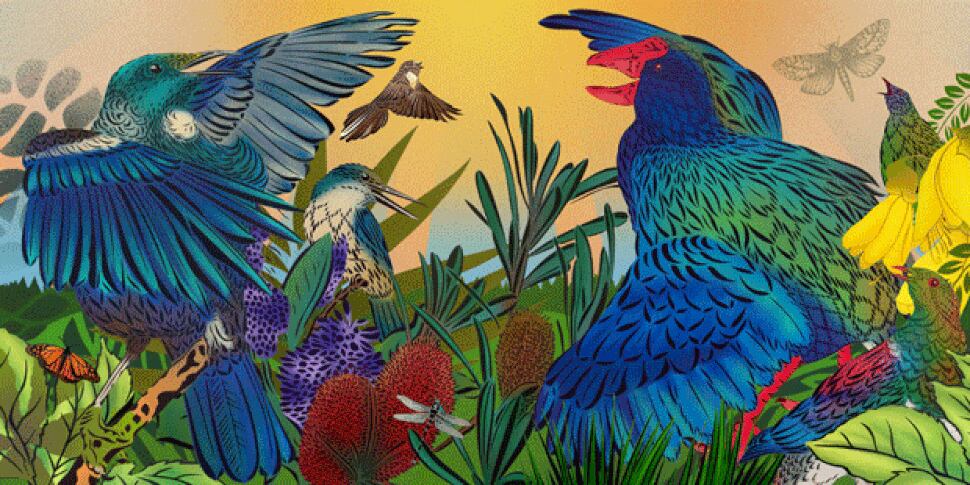 Clarke, an enthusiastic advocate for New Zealand wildlife, got the idea while watching tui flitting around his Mt Albert backyard.
Months earlier, he and Flox met while Clarke was working on the Maori Television series Kete Aronui. He was so impressed with her work, he bought one of her prints.
"I was outside watching the tui, then I walked inside, saw the artwork and knew instantly I was going to write a children's book and Flox was the person to illustrate it," Clarke recalls.
She immediately agreed to join him in the endeavour, saying it was another chance to challenge herself with a different type of project. But Tu Meke Tui! has been a lengthy one, partly because Clarke moved to London to work on TV programmes such as X Factor UK, Britain's Got Talent and I'm a Celebrity, Get Me Out of Here!
Flox has kept busy too, producing prints and graphic design pieces, participating in live painting projects, including with the musical collective Fly My Pretties, and exhibitions. Appearances on TV3's The Block led to a rise in private commissions for her straight-on-the-walls murals. Last year, she spent three months in Taipei after being awarded an Asia New Zealand Foundation/ Creative NZ residency.
Clarke, the writer of a couple of plays including the Auckland Fringe Festival hit Memoirs of a Serial Dater, worked as often as he could researching the birds in the book " "takahe really do eat with their feet" " and polishing the words before sending them to Flox.
Using her trademark techniques, she worked in page order alongside editors at Mary Egan Publishing. She says to have looked ahead might have meant getting overwhelmed.
"But it was really enjoyable especially when I started seeing each page come together," she says. "I think I got better as I went along; you can see the birds becoming more animated. I certainly got faster with my computer skills plus I've learned a lot about the ways in which pictures are used to illustrate a story that already exists."
Money was raised via crowd-funding website Kickstarter, with 750 books presold. Clarke says they're going to homes around New Zealand but also as far away as South Africa and Dubai.
The art of illustrating children's books
Can you imagine a captivating children's book without the illustrations?
Chances are getting the young ones to sit down and appreciate books would be a lot more difficult without the whimsical, fanciful and often amusing illustrations that accompany the most lively and compelling children's books.
Fiona Cable, director of Railway Street Gallery in Newmarket, says illustrators need opportunities to shine so she's organised an art exhibition that celebrates their work.
The Art of Illustration includes original sketches, paintings and prints and shows the process illustrators go through to make pictures, which show as much as they tell. Illustrations from Donovan Bixley's new book, Much Ado About Shakespeare, are likely to be one of the main attractions.
Not only does Bixley's text bring a new interpretation to Shakespeare, but his drawings - frequently cheeky, sometimes saucy and always complementary to his words - show the Bard as a more down-to-earth figure than the solemn one he is often portrayed as.
Like Bixley, Stephanie Thatcher frequently writes and illustrates her own books. Great Galloping Galoot and Little Hoiho are among the most popular and will also feature prominently in the exhibition.
Other illustrators to be included are Sara Mutande, whose images are described as coming from the "surreal worlds that play in her mind like lucid dreams throughout the day"; artist and designer Amy MacKinnon, and Diana Pearl.
Cable says the exhibition will appeal to young and old alike, especially those who are interested in the work that goes into making picture books works of art.
Exhibition
What:
The Art of Illustration: An Exhibition of Book Illustrations and Paintings
Where and when:
Railway Street Gallery, 8 Railway St, Newmarket; April 28-May 15