Disclaimer: Answer is shown below!
The latest baffling brain teaser challenging the internet sees a gold trophy hidden in a mass of golden robots.
In a meeting of Oscar excitement and Star Wars hysteria, illustrator Michael Rogalski has created the puzzle in which the golden Oscar statuette nestles amongst a crowd of CP30, the diplomatic droid who returns in The Force Awakens with a new red arm.
READ MORE: Adults struggle to figure out 'simple' children's brainteaser
Which way is the bus going?
Duck or rabbit? What this optical illusion says about you
Users find themselves struggling to find one bald, gilded figurine in a mass of other bald, gilded figures - even if he is sporting his new red arm.
The image by Rogalski was posted on Imgur where users struggled to spot the hidden statue.
Some joked on the picture-sharing site that the gong is hanging out among Star Wars characters but not with Leonardo DiCaprio.
After not being able to find it, they commented:"'I can tell you it's not at Leo's house."
One even said that the puzzle is "straight out of Leo's nightmares".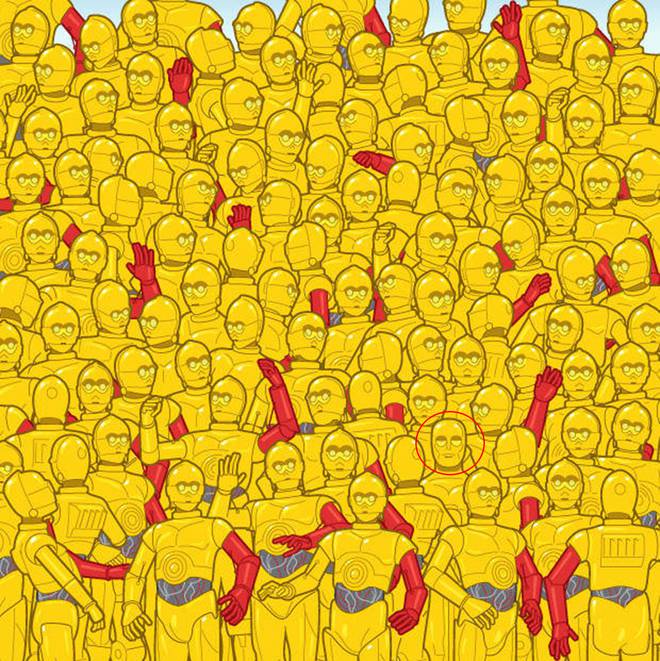 The acclaimed actor is gunning for his first ever Oscar this weekend for his turn as fur trapper Hugh Glass in The Revenant, who survives being mauled by a bear to haul himself through the frozen frontier to exact his revenge.
Rogalski, a graphic designer from Philadelphia, works as an editorial cartoonist, scenery designer, comic book artist, screen printer and children's book author and illustrator.
His addition to the latest internet trend follows a slew of teasers including a picture of a hidden panda that left thousands of people flummoxed.
Hungarian artist Gergely Dudás posted the Christmas puzzle on his Facebook page on 16 December, showing hundreds of hand-drawn snowmen with the single black and white bear hidden between them.
He told his 13,000 Facebook followers: "There's a panda amongst them! Can you find it?"
The Where's Wally-style cartoon was liked by 42,000 people and shared 100,000 times within days, with many struggling to find the panda at all.
The illustrator planted a few red herrings such as colourful scarves and hats, and the snowmen's facial features, made from coal, also make it difficult to spot the panda's black-rimmed eyes.
The panda is actually hidden on the eighth row from the top, fourth from the right.
More than 12,000 people had commented on the image in just six days, with hundreds sharing their frustration at not being able to find it.
The world's biggest awards show The Oscars is on on Monday and Spy.co.nz is bringing you all the action. Spy Editor Ricardo Simich joins The Hits host Polly Gillespie and NZME's Laura McGoldrick to deliver our take on who got it right and who got it wrong on the red carpet. Tune in for our live blog from 11.30am and don't miss our Red Carpet Report video, live on Spy.co.nz from 5pm.
-Daily Mail