Beyonce ruled this years Super Bowl halftime performance, with her fresh hit Formation, which speaks to the Black Lives Matter movement.
The 2016 show featured Coldplay with special guests Beyonce and Bruno Mars.
Queen B was not officially the main attraction, but managed to blow the crowd away flaunting bare legs in a black leotard, twerking to brand new song Formation.
Released Sunday (NZ time), the track was much more than halftime entertainment, it addressed an important social issue.
She used the platform as a way to deliver a message, already spelled out in her controversial new video: 'stop shooting us'.
The expletive laden verses were tweaked and the song cut short to make for family friendly viewing.
Fans held their breath when the singer almost slipped during an otherwise smooth dance sequence, but she recovered just in time.
Formation
was trending worldwide before and after the Super Bowl appearance.
Beyonce returned to the showcase three years after sending shock waves around the globe in her last Super Bowl performance with a backdrop sign that read: "FEMINIST."
Headliners Coldplay jumped around a stage swirling with psychedelic colour, opening Viva La Vida with a full compliment of violinists.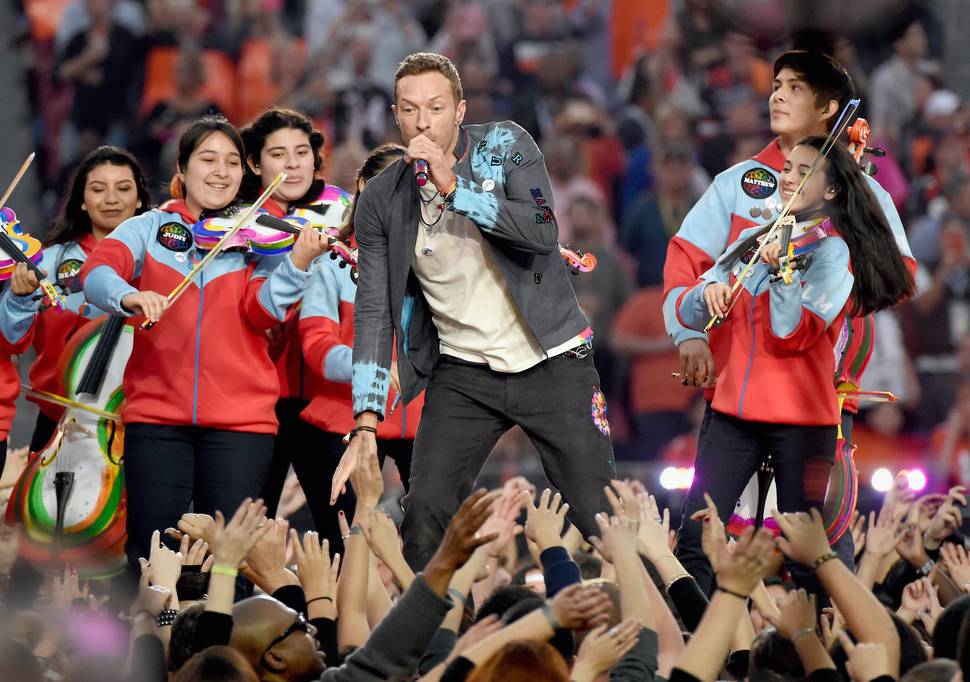 Frontman Chris Martin spun at a dizzying pace as a brass band marched out to Paradise, before launching into most energetic of all three songs - their latest hit Adventure of a Lifetime.
Martin said they wanted to honour the past, present and future and hoped to make history in the process.
"We've watched all of the other halftime shows many times, and most of them are fantastic," he said.
"I think we're going to try to celebrate those other years and hopefully make a show as memorable as some of our favourites."
But there was nothing that stood out as a spectacle - unlike last year's act Katy Perry who rode into the stadium on a giant golden lion singing Roar.

Bruno Mars burst onto the scene with an up tempo version of Uptown Funk, dressed head-to-toe in a shiny black suit ensemble, and flanked by MC Hammer style backup dancers.
All three performers joined forces for a mashup of his hit, with a rendition of Coldplay's Fix You to finish.
As millions of viewers watched, screens flashed with clips of past halftime performances from the likes of Michael Jackson, Black Eyed Peas and Bruce Springsteen.
Beyonce was working overtime this weekend: After releasing a new song on Saturday and performing at the Super Bowl on Sunday (today NZ time), she announced a new stadium tour.
The Grammy-winning singer delivered the news of her 2016 Formation World Tour in a commercial after she left the stage.
The tour will kick off April 27 in Miami and the diva will perform shows in North America and Europe. The tour wraps in Brussels on July 31.
There is no word yet on whether Beyonce plans to add further dates in Australia and New Zealand.
The singer was last on a stadium tour - the On the Run Tour with husband Jay Z - in 2014, a year after she headlined the Super Bowl halftime show in New Orleans.
- nzherald.co.nz