The movie poster for Dirty Grandpa is tragic but also unsurprising.
There's Robert De Niro, shirtless in a sumo stance, hoisting co-star Zac Efron onto his shoulders. Watch the trailer, and feel the despair deepen: The renowned method actor plays a pervy recent widower who dupes his uptight grandson into chauffeuring him to spring break in Daytona Beach, Florida, where the retiree aspires to impregnate a college student or two. So this is what happens when frat boys become AARP eligible.
It feels as if De Niro has been doing a lot of these types of movies recently. Should the sight of Vito Corleone slumming it in a January release that didn't even screen for critics depress us? Let's investigate.
Look at this chart to see the past 45 years of De Niro's career, broken into five-year blocks. At the start of his career, De Niro made a limited number of movies - averaging about a movie a year. These include classics such as Bang the Drum Slowly, Mean Streets, The Godfather: Part II, Taxi Driver, The Deer Hunter and Raging Bull. During that period, he was nominated for four Oscars and won two, for Raging Bull and The Godfather.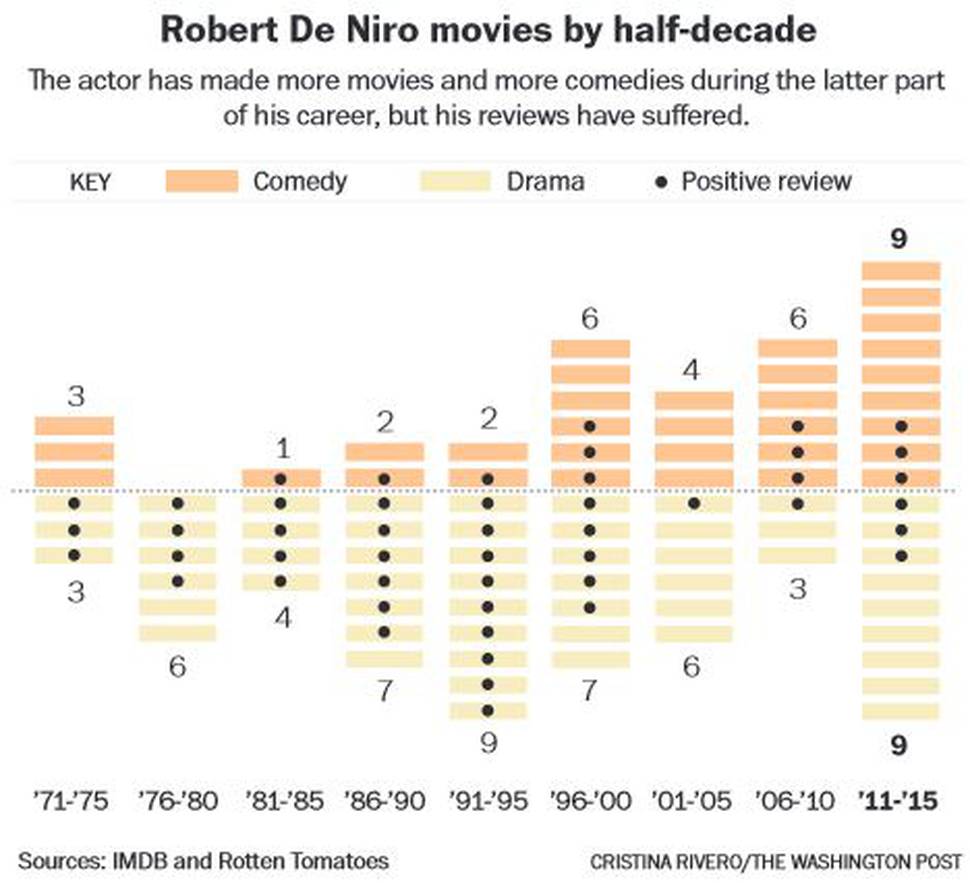 Meanwhile, the five years leading up to 2015 were his most prolific. He starred in 18 movies and received one Oscar nomination, for Silver Linings Playbook.
As he was making more movies, he was also making more comedies. Until the late 1990s, De Niro was known for playing tough guys - gangsters, boxers, criminals, military men - facing tough dilemmas. But a big turning point came when he played his macho man persona for laughs in 1999's Analyze This, as a mobster whose panic attacks lead him to a wimpy psychiatrist. Similar parts followed, as he played a nightmare of a future father-in-law in Meet the Parents, a mafia guy under witness protection in The Family and a cop starring in a reality series in Showtime.
De Niro's late-career shift is not as pronounced as we usually think. Some of his earliest movies were comedies, including two for Brian De Palma, playing the same character in Greetings and Hi, Mom! in 1968 and 1970. Likewise, while his comedies get more hype these days, he's still doing the serious stuff; it's just that fewer people are watching those movies. Killing Season, with John Travolta, made less than $40,000 at U.S. theaters when it came out in 2013. Heist, released in November, made just more than $50,000.
How did his shift to comedy affect movie quality? According to Rotten Tomatoes, it didn't help. Notice how nearly all of his films got good reviews early in his career, and how the bad reviews started to pile up later on.
More from Spy:
• TV3 reporter was groped, claims boyfriend
• 'Brilliant' Rhys Darby gets rave X-Files reviews
It's not just the comedies that are affecting the quality of De Niro's films. During the stretch between 2001 and 2005, the actor made 10 movies. Six were dramas, but only one received positive reviews, the action movie The Score with Edward Norton.
And then there is another barometer of success: Four of De Niro's five highest-grossing films, adjusted for inflation, are comedies. They are Meet the Fockers, Meet the Parents, Shark Tale and Analyze This. The sole drama is The Godfather: Part II.


- Washington Post