Congratulations to All Black Ben Smith, 28, and his wife Katie Menzies, 27, who welcomed a newborn daughter on March 12. They have named her Annabelle Clair Smith.
The sporting couple (Menzies is a top triathlete and a former junior basketball rep) tied the knot in January on the shores of Lake Wanaka. They are clearly overjoyed with their new family addition - if not a little exhausted.
The new dad posted a photo to his personal Instagram page of his new wife crashed out asleep on the couch in their home next to his snoozing daughter in her Moses basket. The family labrador takes a nap too.
"Been a big week for everyone if you couldn't tell," Smith wrote, adding the hashtags #welcomeannabelle and #worththewait.
The Smiths knew they were expecting a daughter and decided to use their wedding day to share the news with family and friends ahead of the impending arrival.
Annabelle, however, kept her parents waiting, arriving a week past her due date. The couple are understood to have negotiated a deal with a women's magazine for exclusive details about the birth; the same mag that featured their nuptials.
Meanwhile, new dad Victor Vito is also playing the cooing parent.
His 3-month-old son Karlos Mateo Leaupepetele Vito made his social media debut last week, with dad writing: "Best third wheel @realrosy [his wife Amber Rose] and I have ever had," before adding the hashtags #familytime and #fatherslove.
The professional sports stars may be all tackles and toughness on the field, but they're a soft cooing mess at home.
Shannara stars here until June
Shannara
, a major new US television series, is being filmed at Auckland Film Studios in Henderson and will do so until June, the show's international stars Austin Butler (right) and Daniel MacPherson have told The Diary.
The actors call the Heritage Hotel home while they shoot the fantasy adventure series adaptation for MTV Networks and Sonar Entertainment. They have been here since January and are making themselves familiar with Auckland's eateries.
We found the stars at the Food Truck Garage on Saturday night chowing down on burgers and beers.
"We only live around the corner," MacPherson said. "We like to hang out together off set. Auckland's a great place." He was joined by Butler and co-stars Ivana Baquero, Aaron Jakubenko and Poppy Drayton.
Stevens axed from band
Last month he was charged with assault against his socialite girlfriend Jodhi Meares and released on bail. Now 53-year-old Kiwi singer Jon Stevens has been axed as frontman of Dead Daisies as the band prepares for their Australian and European tour supporting rock band Kiss, the Daily Mail reported.
The couple have reportedly split, say the Sydney press, and Stevens has moved out of the seaside apartment they shared and back to his old flat. His next court appearance is on May 18.
The singer will tour with his solo shows in Melbourne and Sydney over the next few weeks. He would probably welcome the distraction.
10 questions
1.
Who awoke to rain yesterday fearing the worst? Um, most of us. But also Black Cap Jimmy Neesham, who joked: "I can hear the rain absolutely slamming into the roof. This is awful, like waking up on Christmas morning and being told that you're Jewish." Definitely a career in comedy after cricket.
2. Dan Carter showed his Black Caps support in the heart of enemy territory - South Africa. The Crusaders play the Bulls in Pretoria on Saturday, but Carter and the team watched the semifinal yesterday, showing their allegiance. Nice to see the cross code support, eh?
3.
Which contestant on
The Bachelor
has a secret tawdry past as a stripper?
4. Is Art Green the perfect man in that he can catch fish and flash his abs? Multi-tasking.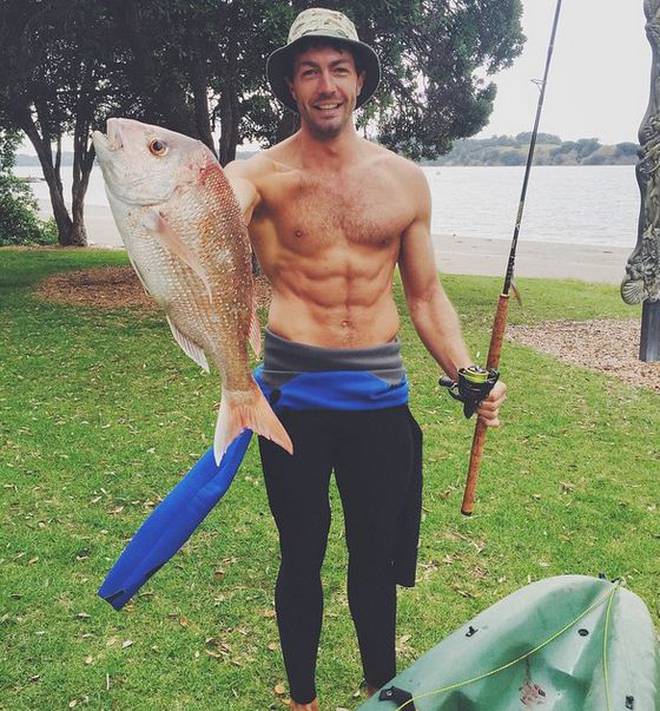 5.
Prince Harry will be here on May 9. Can we expect to see the Party Prince get down with promising DJ and First Kid Max Key?
6. How bitter is Willy Moon after his public sacking? Very. He lashed out on Twitter yesterday over Shelton Woolright's addition to The X Factor judging panel in replace of his wife Natalia Kills. "New Zealand. Pours racist hatred on an opinionated black woman, replaces her with a guy in blackface." He deleted the tweet an hour later. Woolright controversially likes to perform with his band with black paint on his face. He claims artistic expression; others cry racism. Moon calls it not-letting-go-of-the-drama.
7. Reality TV show veteran Natalie Bassingthwaite has slotted into her new X Factor role with ease. Too much ease, right? The judging panel is like an old pair of slippers now: well-worn and dull. We know it's format TV but it'd be nice to spice up the routine a tad.
8. Will TV3 shower Mel Blatt with an expensive gift for her 40th birthday today and her all-round loyalty throughout the trainwreck?
9. Which reality TV face has been labelled a "sex pest" and is under investigation?
10. David Cunliffe has separated from his wife of more than 30 years, Karen Price. Who gets custody of the beehives and the chooks?